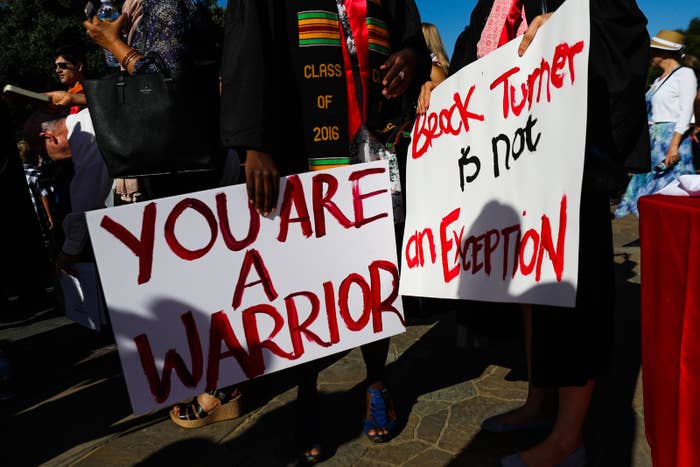 When the trial of former Stanford student Brock Turner was over, the woman he was accused of sexually assaulting thought the hardest part was over. Instead, she was "struck silent" when Turner was sentenced to just six months in jail, she wrote in an essay published Tuesday in Glamour, her most extensive comments to date.

The woman — who has remained anonymous and is known as Emily Doe — was named one of Glamour's Women of the Year. In the magazine, she detailed what happened in the months after she read her powerful victim statement during Turner's sentencing that was shared around the world.
The letter was widely shared on social media and was read aloud on CNN and in Congress. The letter prompted vice president Joe Biden to write an open letter to the woman.
Turner, who was was convicted of sexually assaulting the woman behind a dumpster when she was unconscious in 2015, was released from county jail after serving half of his six-month sentence.
"Immediately I felt embarrassed for trying, for being led to believe I had any influence," she wrote. "The violation of my body and my being added up to a few months out of his summer."
Doe wrote she "started getting e-mails forwarded to me from Botswana to Ireland to India." She added, "I received watercolor paintings of lighthouses and bicycle earrings. A woman who plucked a picture of her young daughter from the inside of her cubicle wrote, 'This is who you're saving.'"

The woman went on to say that while most of the responses she received were encouraging, there were occasional trolls who leaked her name and photo online. She said she has grown to be proud of her strength and "knowing that the world will
no longer stand for this."
"Victims are not victims, not some fragile, sorrowful aftermath," she wrote. "Victims are survivors, and survivors are going to be doing a hell of a lot more than surviving."
The essay appears in Glamour's December issue, on national newsstands Nov. 8.