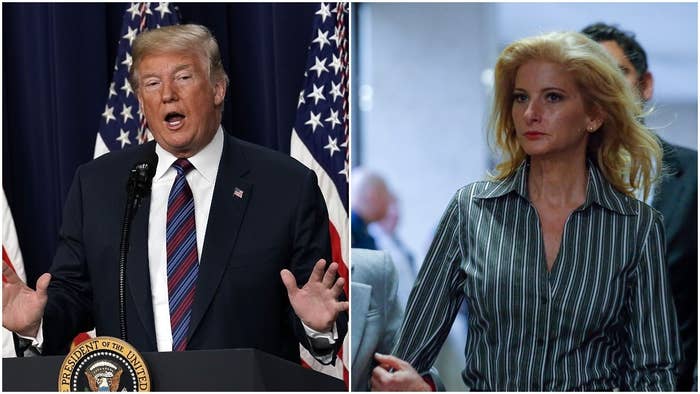 All parties involved in Summer Zervos's defamation lawsuit against Donald Trump — including the president himself — should be deposed by Jan. 31, 2019, a New York judge said Tuesday.

Summer Zervos, a former contestant on The Apprentice who had made public accusations against Trump during the campaign about "unwanted sexual misconduct," sued him after he said "these allegations are 100% false" and began calling her and others "phony people coming up with phony allegations," among other statements.
In a hearing Tuesday in Manhattan, Judge Jennifer Schecter set deadlines for discovery, saying that all party depositions should be completed by Jan. 31, 2019. All nonparty depositions are due the following month.
Trump's lawyer in this case, Marc Kasowitz — whose previous appeal to have the case temporarily halted while the president is in office, were denied — said he's ready to take the issue of whether a sitting president can be sued in state court all the way to the US Supreme Court.

Lawyers for Trump had asked that the lawsuit be dismissed, arguing, in part, that he is too busy running the country to be subjected to a civil lawsuit like this. The trial court considering the request, the Supreme Court of the State of New York in New York County, heard arguments on the request in December 2017 and denied it in March.
Trump appealed the March decision and asked the case's proceedings be paused while the appeal is considered — a request the New York appeals court denied last month.
"We have made applications for stays in the appellate division. The Court of Appeals is considering whether or not it has jurisdiction," Kasowitz said. "This issue will likely reach the Supreme Court of the United States."

Mariann Wang, Zervos's attorney, on Tuesday asked the case proceed without any more delays, saying it's been a year and a half since the lawsuit was filed and that "we should get moving."
Wang indicated that her team will seek information and documents related to other women who have accused Trump of sexual misconduct.
Kasowitz said information about those women is "irrelevant" in Zervos's case.

Judge Schecter ordered both sides to submit a briefing on the issue and said lawyers must make their demands for discovery by July 13. The parties will have until October to respond.

"We will do our best to abide by those dates and deadlines," Kasowitz said, adding that he may need to ask for adjournments given the "significant attendant duties that the president must perform."