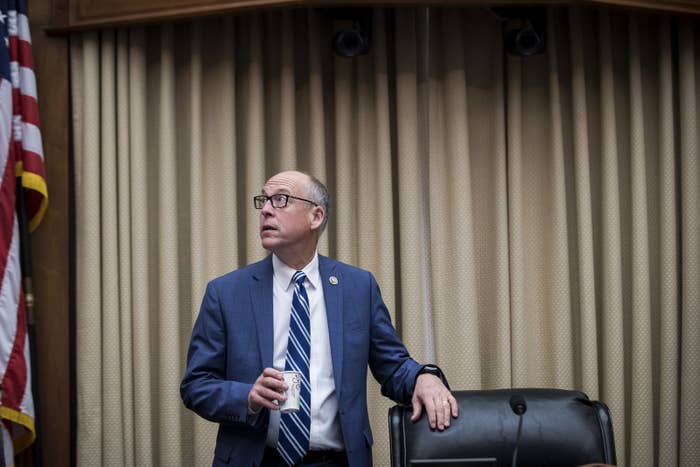 Members of the House Energy and Commerce Committee opened an investigation into sexual abuse in organized sports days after disgraced doctor Larry Nassar was sentenced to 40 to 175 years in prison for sexually abusing young athletes under the guise of medical treatment.
Members of the committee sent letters to USA Gymnastics, the US Olympic Committee, and Michigan State University Friday demanding answers to questions such as when Nassar's abusive behavior was first reported and who it was reported to.
Letters were also sent to USA Swimming and USA Taekwondo in response to reports of sexual misconduct — unrelated to Nassar — in those sports in 2014 and 2017, respectively.
"The abhorrent abuses associated with Dr. Nassar's case and the allegations by US Taekwondo athletics and U.S. swimmers are disgusting and outrageous, and raise serious concerns about protecting athletes from abuse and mistreatment in organized sports," the committee's chairman, Greg Walden, said in a statement. "These organizations must have mechanisms in place to ensure complete oversight and prevent such abuses from occurring. As we move forward in gathering the facts, this committee intends to hold a hearing in order to investigate these critical issues further."
The committee instructed the organizations to prepare a briefing and be ready to answer questions by Feb. 9.
Earlier on Friday, three members of Congress representing Michigan called on the House Committee on Energy and Commerce to investigate the organizations.
US Reps. Debbie Dingell, Fed Upton, and Tim Walberg said they "must get to the root of this issue and ensure it never happens again."
Sen. Jeanne Shaheen on Wednesday sent a letter sent to Senate Majority Leader Mitch McConnell and Minority Leader Chuck Schumer calling for a select committee to investigate the roles the US Olympic Committee and USA Gymnastics had "in allowing serial pedophile Dr. Larry Nassar unsupervised access to hundreds of girls across three decades."

In a call with reporters Thursday, Shaheen said she plans to introduce a resolution to create the committee with Sen. Joni Ernst, a Republican from Iowa.

Ernst said in a statement that it is imperative to hold people accountable and ensure something like this never happens again.
"Larry Nassar's reprehensible crimes are on full display and while some justice has finally been served, there are a great deal of questions that still remain," Ernst said. "The reality is, from what we know, this happened to over a hundred athletes over several decades, on the U.S. Olympic Committee and USA Gymnastics' watch."
Congresswoman Carolyn Maloney sent a letter Thursday to the chairman of the House Committee on Oversight and Government Reform asking for an investigation into how these organizations responded to reports of Nassar's abuse.

"Mr. Nassar's trial was only the first phase in finding justice," Maloney wrote in her letter. "We owe each of his victims, and every young athlete in these programs, a thorough and comprehensive investigation."

Several women who spoke at Nassar's seven-day sentencing hearing said officials at USA Gymnastics did not take their reports of abuse seriously.

On Monday, the top three board members of USA Gymnastics resigned amid allegations of not protecting athletes against Nassar.
On Wednesday, the chief executive officer of the USOC, Scott Blackmun, issued a statement apologizing to Nassar's victims.
"We are sorry for the pain caused by this terrible man, and sorry that you weren't afforded a safe opportunity to pursue your sports dreams," Blackmun said.
While Nassar has been effectively sentenced to life in prison, not all parties have been held accountable, Shaheen wrote in her letter.
"The US Olympic Committee and USA Gymnastics helped to create perfect environment for a child predator," Shaheen told reporters Thursday.
Shaheen went on to say that the USOC is a federally chartered institution and the Senate's investigation should include testimony under oath from coaches, executives, and other personnel. She is also calling for the authorization to subpoena internal communications and relevant documents as part of the investigation.

Shaheen wants the select committee to be created before the Winter Olympics begin Feb. 9.
A spokesperson for Schumer said the senator believes the Senate must take action to investigate the role of the USOC and USA and that "He looks forward to examining all the proposals to do so."
McConnell's office also said he received the letter and will review it.