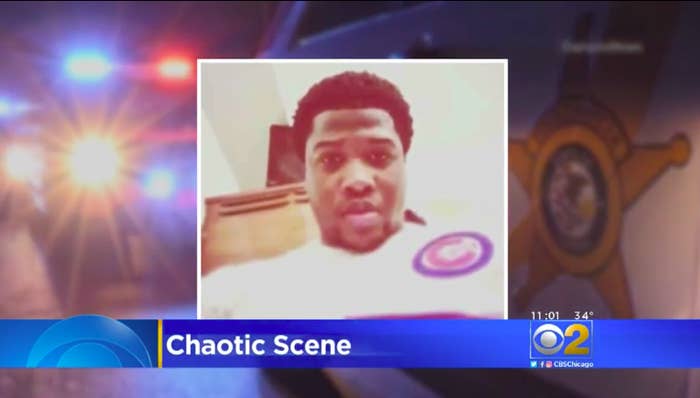 A security guard at an Illinois bar was shot and killed early Sunday by a police officer who arrived at the scene following reports of a shooting.

Jemel Roberson, 26, was shot by a Midlothian police officer who arrived at Manny's Blue Room Lounge in Robbins, Illinois, around 4 a.m. on Sunday.
According to a statement by Midlothian Police Department Chief Daniel Delaney, officers who arrived at the scene "learned there were several gunshot victims inside the bar."
"Officers encountered a subject with a gun and was involved in an Officer involved shooting," the statement, which does not identify the police officer, said. Roberson was transported to a local hospital where he later died.
It remains unclear exactly what happened inside the bar. One witness told WGN9 that a drunk patron who was asked to leave the bar returned with a gun and opened fire inside.

According to witnesses who spoke to local reporters, Roberson apprehended the suspect until police arrived.
"He had somebody on the ground with his knee in back, with his gun in his back like, 'Don't move,'" witness Adam Harris told WGN9.

"I guess when the police got there, they probably thought he was one of the bad guys, cause he had his gun on the guy and they shot him," Harris told Fox32.

In a video Harris posted on his Facebook page showing the aftermath of the shooting, a man is seen laying on the asphalt as someone administers chest compressions.

"He was just breathing," someone is heard saying in the video. Harris did not immediately respond to BuzzFeed News' request for comment.
Another witness told reporters that the Roberson was standing over the suspect with his gun drawn. She said she did not hear police tell Roberson to put his gun down.
Four other people, including the suspected shooter who reportedly instigated the incident inside the bar, sustained non-life-threatening injuries.

According to a GoFundMe page, Roberson was "a gifted basketball player and musician, and his love for God and his family were at the forefront of his life."
Roberson played music at the Purposed Church in Chicago for the past several years, according to Pastor LeAundre Hill, who tweeted that Roberson "had just played for my grandma's funeral Friday and now he's gone."
"Every artist he's ever played for, every musician he's ever sat beside, we're all just broken because we have no answers," the Rev. Patricia Hill of Purposed Church said. "He was getting ready to train and do all that stuff, so the very people he wanted to be family with, took his life."
"Sadly, Jemel's life was tragically and unexpectedly cut short this morning as he tried to save others from senseless violence," the GoFundMe page reads. "Today, many remember him as a hero; one who put others before himself."

The Illinois State Police Public Integrity Task Force is investigating the police-involved shooting. The agency did not immediately respond to a request for comment.