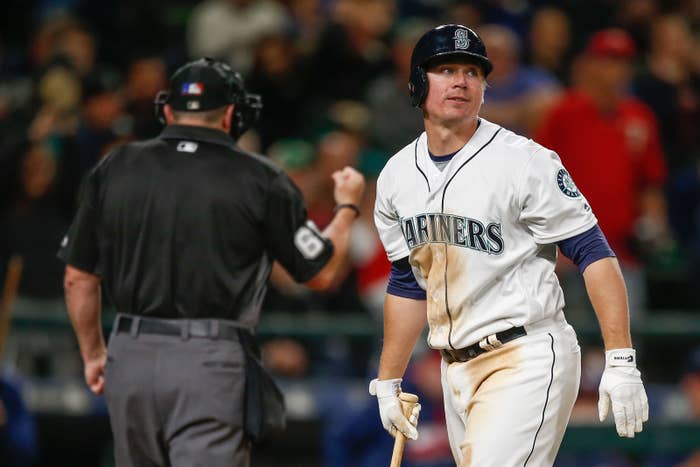 The Seattle Mariners have suspended catcher Steve Clevenger for sending racially charged tweets calling Keith Lamont Scott, the black man fatally shot by police in Charlotte, a "thug" and suggesting protesters "should be locked behind bars like animals."

"Black people beating whites when a thug got shot holding a gun by a black officer haha shit cracks me up. Keep kneeling for the Anthem!" he tweeted in reference to Scott, who was fatally shot by police in Charlotte.

Scott's death has sparked protests in Charlotte, which Clevenger also mocked.
"[Black Lives Matter] is pathetic once again! Obama you are pathetic once again! Everyone involved should be locked behind bars like animals!" the professional athlete tweeted.
He has since made his Twitter account private.
The Mariners announced on Twitter that Clevenger will be suspended for the remainder of the season without pay. He hasn't played since suffering an injury in June.
"The Seattle Mariners are very disappointed at the tweets posted on Steve Clevenger's account," Jerry Dipoto, the Mariner's executive vice president and general manager said in a statement. "While he is certainly free to express himself, his tweets do not in any way represent the opinions of the Seattle Mariners. We strongly disagree with the language and tone of his comments."
Clevenger apologized on Thursday in a statement posted on Facebook by Fox reporter Ken Rosenthal.
"I am sickened by the idea that anyone would think of me in racist terms," he said. "My tweets were reactionary to the events I saw on the news and were worded beyond poorly at best and I can see how and why someone could read into my tweets far more deeply than how I actually feel."