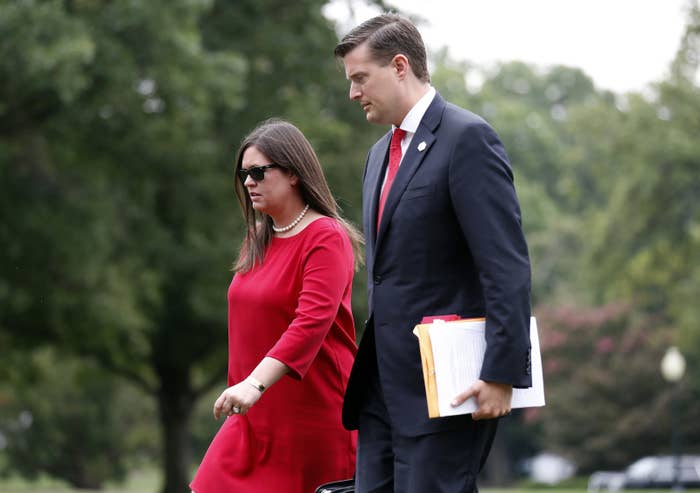 White House staff secretary Rob Porter resigned Wednesday after his two ex-wives told the Daily Mail he had abused them.

Porter's ex-wives claim he was physically and emotionally abusive against them. His first wife, Colbie Holderness, alleged to the Daily Mail that he had punched her during a trip to Florence, Italy, in the early 2000s. The Daily Mail posted pictures of Holderness with a bruised face.
His second wife, Jennifer Willoughby, told the news site that she had obtained a temporary protective order against Porter after he allegedly violated their separation agreement.
Porter denied the allegations in a statement, calling them "simply false."
"These outrageous allegations are simply false," the statement issued Wednesday reads. "I took the photos given to the media nearly 15 years ago and the reality behind them is nowhere close to what is being described. I have been transparent and truthful about these vile claims, but I will not further engage publicly with a coordinated smear campaign," he said.

"My commitment to public service speaks for itself. I have always put duty to country first and treated others with respect. I am deeply grateful for the opportunity to have served in the Trump Administration and will seek to ensure a smooth transition when I leave the White House."
Holderness and Willoughby also detailed their allegations to CNN. Holderness alleged repeated physical abuse, including choking. The two former wives also shared with CNN messages from a woman who said she was Porter's girlfriend in 2016 and also alleged that she faced abuse.
White House press secretary Sarah Huckabee Sanders confirmed his resignation during Wednesday's press briefing, saying he will be leaving the White House soon but "it won't be immediate." She said the president and chief of staff John Kelly "have full confidence in his abilities and his performance."
In a second statement from Kelly released late Wednesday, the chief of staff said he was "shocked" by the allegations and condemned domestic violence, but said he stood by his earlier comments on Porter.
"I was shocked by the new allegations released today against Rob Porter," the statement read. "There is no place for domestic violence in our society. I stand by my previous comments of the Rob Porter that I have come to know since becoming Chief of Staff, and believe every individual deserves the right to defend their reputation."
Porter was among Trump's most influential aides in the White House. As staff secretary, he vetted everything that made it to the president's desk and often traveled with him on Air Force One and remained close to the president throughout the day.
"I accepted his resignation earlier today, and will ensure a swift and orderly transition," Kelly said in a statement.
Before the Daily Mail published its first story on Tuesday, the White House press shop canceled other meetings and went into crisis mode to figure out how to respond.

Porter, in securing a high-level White House job, likely had to undergo a vigorous background check, which almost certainly would have turned up the protective order. Both of Porter's former wives told CNN they spoke to FBI investigators last year as part of the process for Porter to obtain a security clearance, and they said they were truthful about their experiences in their marriages. Sanders said Wednesday that the White House would not comment on whether or not Porter was ultimately granted a security clearance for his position, which involved handling information read by the president.
But a former White House official said Trump aides likely kept Porter on and continue to defend him now because the allegations go against the person they've seen in the Oval Office.
"I think if the right questions were being asked Rob, being the whip smart, soft-spoken, and otherwise congenial and clean cut person he is, gave a satisfying explanation," the former official said. "You just don't get that vibe from him and if he said the restraining orders were meritless, I think people would have believed him."
Sanders added at Wednesday's briefing that Porter was "not pressured" to resign, and that she is unsure if President Trump had seen the images of his ex-wife with a black eye.
Porter had reportedly already been considering offers to leave the administration well before the allegations surfaced Tuesday.

The White House released a number of statements praising Porter, making it clear that he had not been fired despite the allegations of abuse against him.
Kelly in a statement earlier Wednesday called Porter "a man of true integrity and honor."
"I can't say enough good things about him," Kelly said in the initial statement. "He is a friend, a confidante and a trusted professional. I am proud to serve alongside him."
In another strongly worded statement released by the White House, Porter's old boss, Utah Sen. Orrin Hatch, called the allegations against him a "vile attack on such a decent man," adding, "shame on any publication that would print this."

Hatch's office, however, released a different statement after Porter resigned. "I do not know the details of Rob's personal life. Domestic violence in any form is abhorrent and unacceptable."