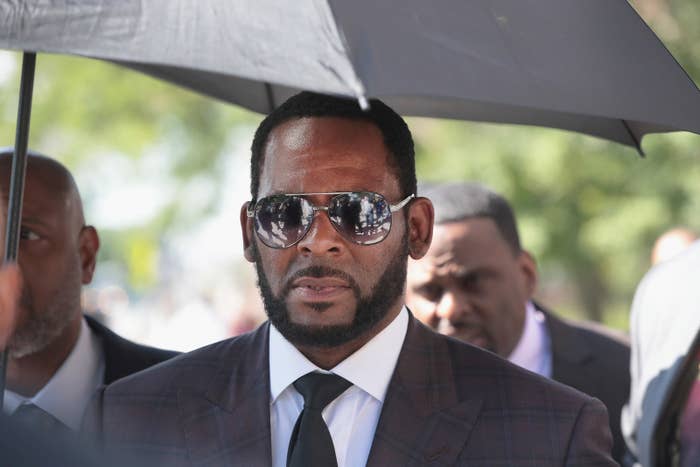 R. Kelly was arrested on federal sex crime charges while walking his dog in Chicago on Thursday night — the third time the R&B singer has been taken into custody this year.
A 13-count indictment includes charges of sexual exploitation of children, child pornography, and conspiracy to defraud the United States.
Prosecutors in Chicago allege that Kelly, his former manager, and a former employee took extraordinary steps to conceal the singer's sexual contact with minors, including instructing a girl to lie to police and paying off the family involved in his 2008 trial to also lie to investigators.
Prosecutors allege that over the years, Kelly paid hundreds of thousands of dollars to recover tapes that allegedly showed him having sex with the girls.

The indictment also alleges that as a condition of receiving money for returning the tapes, Kelly had minors take polygraph tests to determine if all copies of each tape were returned.
Separately on Friday, federal prosecutors in Brooklyn unsealed a five-count indictment against Kelly, charging him with leading a cult-like organization that recruited women and underage girls for illegal sexual activity.
The charges out of Brooklyn include five counts of racketeering based on sexual exploitation of minors, kidnapping, forced labor, and coercion of five "Jane Does," with incidents ranging from 1999 to 2018. It also includes four charges related to the Mann Act for trafficking women and girls interstate for sex.

Two of the Jane Does were age 16 at the time of the incidents, and another was under 18, according to a detention letter released Friday.
The letter reports one Jane Doe being kept locked in a bedroom without food or drink for three days. After finally being given food, she felt tired and dizzy — later waking up to find Kelly in the bedroom "in circumstances that made clear he had
sexually assaulted her while she was unconscious."
Another Jane Doe said Kelly forced her to undress and give him oral sex in a room where a gun was visible.
The indictment also outlined how Kelly's alleged cult worked, which had been widely reported by BuzzFeed News and in the documentary Surviving R. Kelly, but which previous criminal charges did not cover.
Kelly and his staffers — managers, bodyguards, drivers, personal assistants, and members of his entourage — made up what the indictment called the "Enterprise," an organization that worked to promote Kelly's music and "to recruit women and girls to engage in illegal sexual activity with Kelly."
According to the indictment, rules for the women and girls were specific: They could not eat or go to the bathroom without permission from Kelly, they could not leave their hotel room without his permission, they had to wear baggy clothes if not with him and avoid eye contact with other men, and they had to call Kelly "Daddy."
At Kelly's concerts, members of the Enterprise would hand out wristbands to specific women and girls to give them backstage access, according to the indictment. Kelly would choose who he wanted to remain in contact with, and keep in touch with them via text messages, phone calls, and FaceTime — and usually requested they send him photographs. The girls and women had to declare their absolute commitment to Kelly and would then be isolated from friends and family and become finally dependent on him, prosecutors allege.
Kelly agreed to be held in custody until his next appearance on Tuesday, when he is scheduled to be arraigned and the court will hear arguments on his detention and removal to the Eastern District of New York.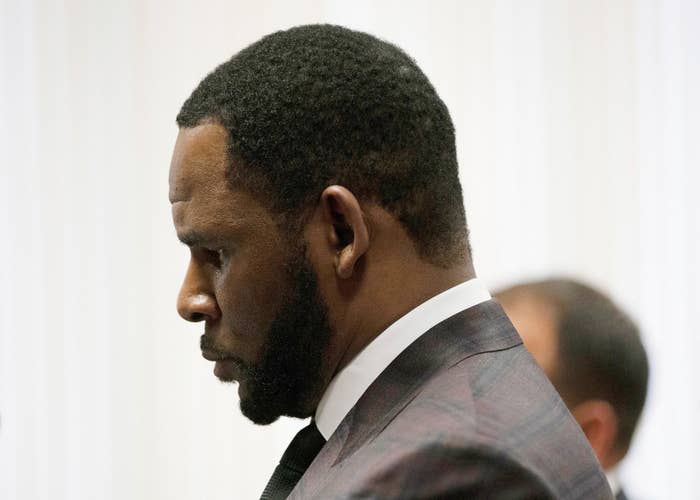 Thursday's arrest marks the second time this year Kelly has been taken into custody in Chicago for alleged sex crimes. In February, he was arrested on 10 state counts of aggravated criminal sexual abuse. He was also arrested in March and sent back to jail over $161,663 in unpaid child support.

Then, in May, prosecutors added 11 additional counts of sexual assault and abuse. The new charges are related to one of four alleged victims from the February indictment, according to Kelly's attorney Steve Greenberg.
Kelly pleaded not guilty to those charges and was free until Thursday on a $1 million bond.
Greenberg issued a statement saying Kelly is looking forward to the truth coming out and "being able to continue making wonderful music and perform for his legions of fans that believe in him."
"The conduct alleged appears to largely be the same as the conduct previously alleged against Mr. Kelly in his current State indictment and his former State charges that he was acquitted of," Greenberg said. "Most, if not all of the conduct alleged, is decades old."
In a press conference Friday in Atlanta, Kelly spokesperson Darrell Johnson said that the charges are "nothing new … we expected this to happen."
During his remarks, Johnson was interrupted by Timothy Savage, a father who claims his 23-year-old daughter has been brainwashed and is being held captive and sexually abused by the singer.
"I got a question — where is my daughter?? Where's Jocelyn?" Savage asked Johnson.
Johnson denied seeing anything "suspicious or harmful" happening to the man's daughter in Kelly's residence.
"These are grown women. I'm not in charge of them. I'm a crisis manager, not a babysitter," Johnson said. "If they want to go home … they can do that."
CORRECTION
Thursday's arrest is the third time R. Kelly has been taken into custody this year. A previous version of this story said in its opening sentence it was his second arrest of the year, but omitted his arrest for unpaid child support.