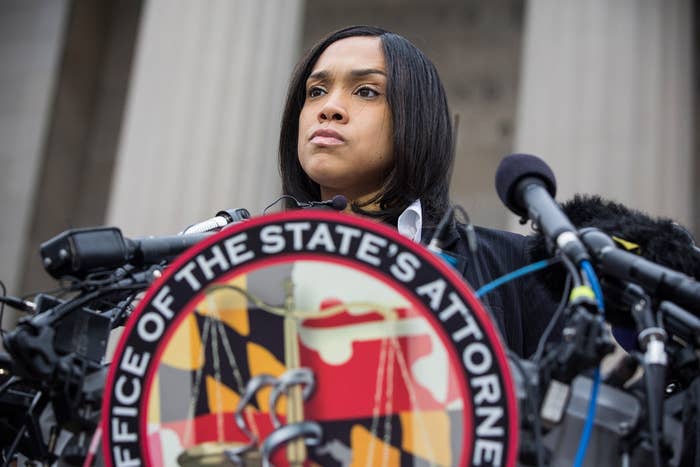 Baltimore state's attorney Marilyn Mosby announced Friday that the six police officers involved in the arrest and death of Freddie Gray will face criminal charges. During her news conference, Marilyn Mosby laid out an excruciating timeline of Gray's fatal ride in a police van after his arrest.
The arrest was improper and without probable cause, she said, and the medical examiner ruled his death a homicide.
The following is Mosby's accounting of events after an investigation by her office:
On April 12, around 8:45 p.m., Baltimore police Lieutenant Brian Rice made eye contact with Gray, who was walking near North Avenue and Mount Street.
Gray fled on foot, and Rice called for backup. Officers Edward Nero and Garrett Miller chased after Gray and arrested him.
That's when Gray first indicated he couldn't breathe and asked for an inhaler.
Nero and Miller searched him, finding a knife inside Gray's pants pocket. While the knife was able to fold, it was not a switchblade, Mosby said, and was not illegal. But police – who eventually charged Gray with possessing an illegal switchblade – placed stomach-down on the ground. He flailed his legs and began to scream, and Miller used a restraining technique called a leg lace – where the restrained person's limbs are crossed and held in place by an officer's arms.
Video taken by bystanders of the arrest show Gray yelling and dragging his feet as officers carry him to the van.
When the police wagon arrived, Gray was placed in the back and wasn't secured by a seat belt – a violation of police policy. Video taken by citizens of Gray's arrest shows him yelling and dragging his feet as officers carry him to the wagon. The van then began its five-stop journey.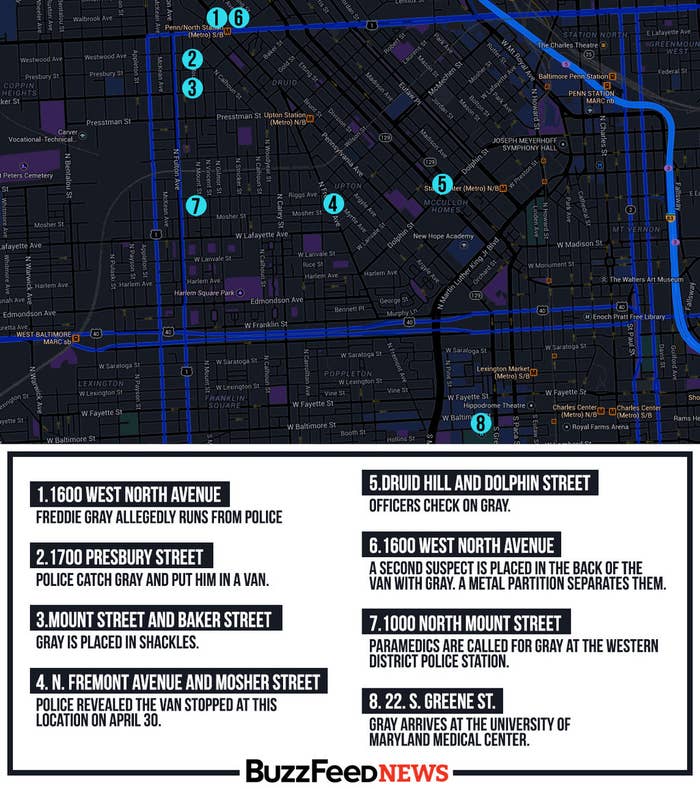 The first stop was at Baker Street, where Gray was removed to have flex cuffs placed on his wrists and shackles on his ankles. The officers also took time to complete paperwork while there.
Gray was placed back in the wagon, on his stomach, without a seatbelt. Rice told the driver, Officer Caesar Goodson, to go to Central Booking and Intake Facility.
"Following transport from Baker Street, Gray suffered a severe neck injury as a result of being handcuffed and unrestrained inside wagon," Mosby said.
At some point, the Baltimore Sun reported on Friday, Gray hit a protruding bolt in the van, causing a serious injury to his head.
The van made another stop at Fremont Avenue and Mosher Street, where the officers went to check on Gray. They opened the door, observed him, and again didn't secure him with a seatbelt. This stop was not initially known to authorities. In a press conference, Police Commissioner Anthony Batts said that through the use of CCTV and private cameras, officials determined the van made this stop.
Several blocks later, at Dolphin Street and Druid Hill Avenue, the officers stopped to check on Gray again. When they did, Gray asked for medical help and indicated he couldn't breathe.
Officer William Porter and Goodson assessed Gray's condition and "at no point did either restrain Gray or render or request medical assistance," Mosby said.
Goodson then got a call to transport a prisoner from an unrelated arrest, near where Gray was detained earlier.
In what Mosby called a "grossly negligent manner," Goodson chose to respond to that request with Gray still unsecured in the back of the van.
Sgt. Alicia White, who was apparently present at the other arrest, opened the back door of the van and found Gray lying face-down on the ground and unresponsive.
When she spoke to him and he did not respond, she didn't do anything further, despite Gray's "seriously deteriorating medical condition," Mosby said.
The wagon later arrived at the Western District police station. When Gray was removed he was not breathing and in cardiac arrest.
Until now, details for exactly happened in the back of the wagon were unknown, leading to massive riots on the streets of Baltimore, as people demanded the truth and transparency from city officials.
Goodson, who was driving the van, was charged with second-degree murder, manslaughter, second-degree assault, two vehicular manslaughter charges and misconduct in office.
Porter was charged with involuntary manslaughter, second-degree assault, and misconduct in office.
White was charged with involuntary manslaughter, second-degree assault, and misconduct in office.
Nero was charged with second-degree assault and misconduct in office.
Miller was charged with second-degree assault, misconduct in office, and false imprisonment.
Rice was charged with involuntary manslaughter, assault, misconduct in office, and false imprisonment.
The crowd of Baltimore residents that attended the press conference erupted in cheers when Mosby announced the criminal charges.
Mosby said warrants were issued for all six officers, and by Friday afternoon five were arrested.
The state's attorney's office was investigating the incident independently of the police's investigation. Mosby's investigation began on April 13, a day after Gray's arrest.
"We knew that this was a serious case," she said. "From day one, we investigated. We're not just relying solely on what we were given by the police department."
Mosby called for peace and cooperation in the wake of the charges.
"I heard your call for 'no justice, 'no peace,'" she said. "Your peace is sincerely needed as I work to deliver justice on behalf of this young man."
"I assured his family that no one is above the law," she said, "and that I would pursue justice on their behalf."