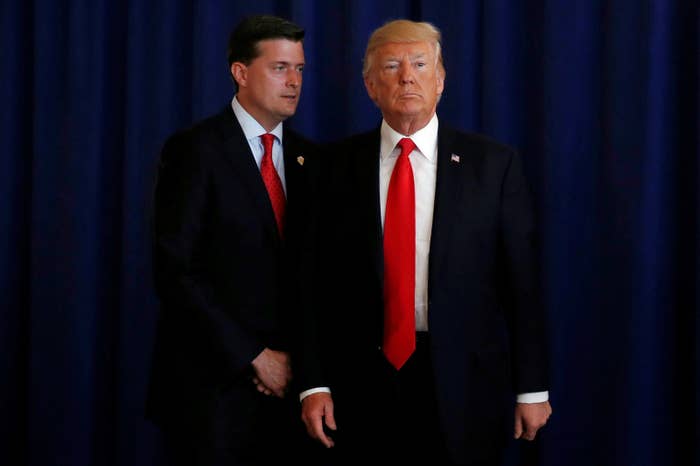 President Trump on Friday defended former White House staff secretary Rob Porter, who resigned amid reports he abused his two ex wives, saying, "it's a tough time for him."
"He did a very good job when he was in the White House," Trump said in his first public comments on the matter. "And we hope he has a wonderful career and he will have a great career ahead of him."

Porter's ex-wives claim he was physically and emotionally abusive to them. His first wife, Colbie Holderness, told the Daily Mail that he had punched her during a trip to Florence, Italy, in the early 2000s. The Daily Mail posted pictures of her with a bruised face.

His second wife, Jennifer Willoughby, told the Daily Mail that she had obtained a temporary protective order against Porter after he allegedly violated their separation agreement.
Porter denied the allegations and called them "simply false," a statement Trump reiterated Friday.
"He also, as you probably know, says he's innocent and I think you have to remember that," Trump said. "He said very strongly yesterday that he's innocent so you have to talk to him about that, but we absolutely wish him well, he did a very good job when he was at the White House."

It's not the first time Trump has defended someone accused of misconduct. Last year, he voiced support for Roy Moore, the Republican Senate candidate in Alabama who was accused of sexual misconduct with teen girls, saying he "totally denies it."
Moore would go on to lose to Democrat Doug Jones.
Both of Porter's former wives told CNN that when they spoke to FBI investigators last year as part of the process for Porter obtaining a security clearance, they were truthful about what happened during their marriages.

The FBI told the White House about the abuse allegations against Porter last year, CBS and CNN reported Wednesday.
In a statement, chief of staff John Kelly said he was "shocked" by the allegations and condemned domestic violence.
"I was shocked by the new allegations released today against Rob Porter," Kelly said. "There is no place for domestic violence in our society. I stand by my previous comments of the Rob Porter that I have come to know since becoming Chief of Staff, and believe every individual deserves the right to defend their reputation. I accepted his resignation earlier today, and will ensure a swift and orderly transition."
On Thursday, deputy White House press secretary Raj Shah told reporters that the administration "could have done better" in handling how it responded to the situation.
Shah added that Kelly only became "fully aware" of the allegations against Porter on Wednesday, but refused to go into specifics when asked if he had been "partially aware." Shah also said Trump was not aware of the allegations until Tuesday night.
Watch the full statement here: