Prep School Graduate's Bail Revoked After He Was Caught Violating Curfew
Owen Labrie was convicted of sexually assaulting a 15-year-old freshman at elite St. Paul's School.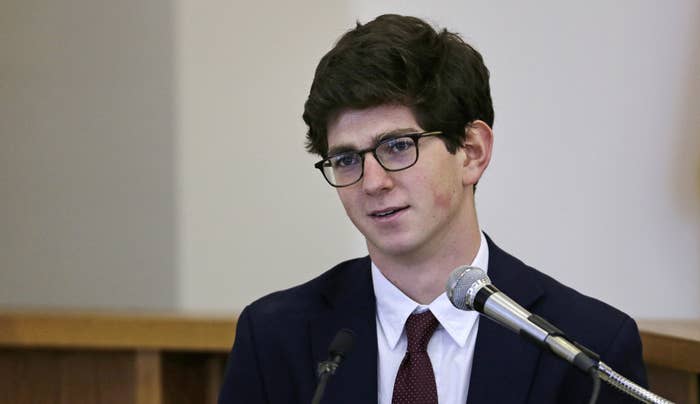 The New Hampshire prep school graduate convicted of sexually assaulting a younger classmate was escorted out of a courtroom in handcuffs Friday after a judge revoked his bail for violating his curfew.
Owen Labrie, now 20, was convicted in 2015 of luring a 15-year-old freshman — who was under the age of consent — to the top of a math and science building at the elite St. Paul's School in New Hampshire in May 2014 and sexually assaulted her. The incident happened during a decades-long tradition St. Paul's known as the "senior salute," whereby male and female students invite underclassmen out on dates.
He was found guilty on three charges of misdemeanor sexual assault and one felony charge and sentenced to one year in jail. He was out on bail pending an appeal. The conditions of his bail required him to be at his mother's home in Tunbridge, Vermont between the hours of 5 p.m. and 8 a.m.
Prosecutor Catherine Ruffle told the court Labrie violated the conditions of his bail at least eight times, showing bus ticket receipts from travel to Boston as proof.
Ruffle said in one instance a ticket was purchased at 7:05 a.m. from a bus stop approximately 40 minutes away from his mother's home – meaning he left his mother's home around 6:30 a.m.
Labrie is "walking with his nose up in the air snubbing the court order," Ruffle said Friday. "The defendant is not above the law. He agreed to these conditions."
Prosecutors looked into Labrie's travel after a VICE reporter spotted him in Boston in February. In a series of tweets, reporter Susan Zalkind described her interactions with Labrie, who told her he was in Boston visiting his girlfriend who attends Harvard.
Labrie's lawyer, Jaye Rancourt, said her client traveled to Boston to meet with a lawyer and to pursue educational opportunities.
Rancourt said Wednesday that her client cannot find employment or attend school in Tunbridge, Vermont because his name is well known and nobody wants to hire or associate with him. She said he traveled to Boston early in the morning on three occasions to attend lectures or conduct research.
Rancourt addressed the VICE reporter's tweets – which claimed that Labrie said he was in Boston visiting his girlfriend – saying her client lied to the reporter because he doesn't want the public knowing where he is, fearing his safety.
"Telling the public where he is at all times is not safe for him," Rancourt said, adding that he has received death threats at his home and got into physical scuffles by people accosting him in public.
"He chose wrongly to fly under the radar and on three occasions go to Boston early in the morning to pursue academic endeavors on the quiet with people not finding out," Rancourt said. "He's sorry for that."