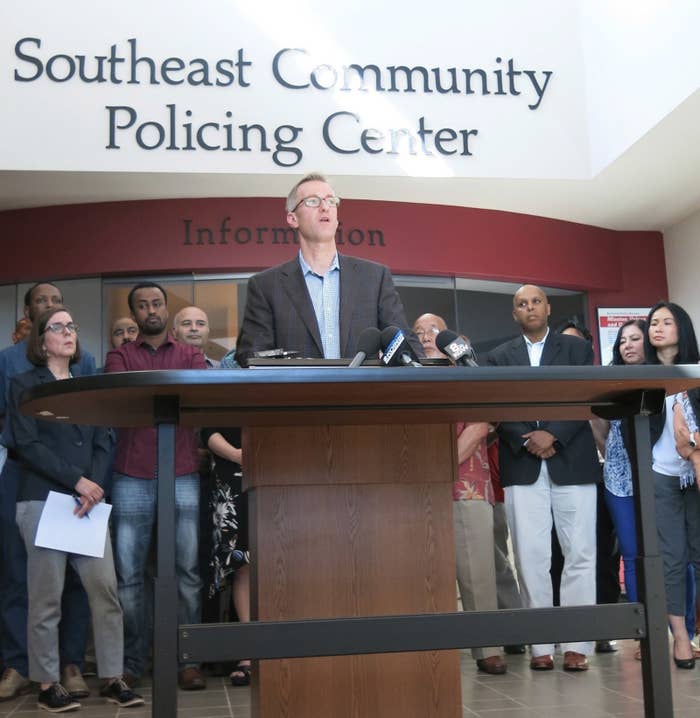 The mayor of Portland on Monday appealed to alt-right protest organizers to "stay away from Portland" after two men were fatally stabbed while trying to stop a white supremacist from shouting hate speech at two young women.

"I am appealing to the organizers of the alt-right demonstrations to CANCEL the events they have scheduled on June 4th and June 10th," mayor Ted Wheeler wrote in a Facebook post. "I urge them to ask their supporters to stay away from Portland. There is never a place for bigotry or hatred in our community, and especially not now."
Ricky Best, 53, and Taliesin Namkai-Meche, 23, were killed Friday on a commuter train after they intervened as white supremacist Jeremy Christian shouted the anti-Muslim comments at the woman.

Micah David-Cole Fletcher, 21, was also stabbed but survived. He is recovering at a local hospital.
Christian was charged with two counts of aggravated murder, two counts of second-degree intimidation, and being a felon in possession of a restricted weapon.
"Our community remains in shock and mourning," Wheeler said in his statement. "But we are also tremendously grateful to our heroes and their families for their selflessness and heroism. They will serve to inspire us to be loving, courageous people we are meant to be."
The mayor also asked the federal government to revoke a permit for an alt-right protest scheduled for June 4 at Terry Schrunk Plaza — a federally-controlled park in downtown Portland.
"Our City is in mourning, our community's anger is real, and the timing and subject of these events can only exacerbate an already difficult situation," Wheeler wrote.

The protest is organized by Joey Gibson, who has invited Kyle Chapman — also known as "Based StickMan" and "Alt-Knight" — to the event. Chapman was arrested last month for allegedly hitting an anti-fascist protester in the head with a stick in Berkeley.
Gibson has also organized a "March Against Sharia" for June 10 at the same park.
"My main concern is that they're coming to peddle a message of hatred and bigotry," Wheeler said of the protesters during a press conference Monday. "They have a First Amendment right to speak but my pushback is that hate speech is not protected by the First Amendment."
Wheeler went on to say that he will speak to event organizers this week and ask them to "please back off" and give the families and the community the space it needs to mourn.
He went on to say that the city of Portland needs to process "this horrific crime of hate, bigotry, and terrorism."
When asked if the incident was an act of terrorism, Wheeler said, "there is no question in my mind that the two young ladies on the train were subjected to terror ... what else would you call it?"
The ACLU of Oregon later tweeted a statement saying "the government cannot revoke or deny a permit based on the viewpoints of the demonstrators. Period."
The statement went on to say:
"It may be tempting to shut down speech we disagree with, but once we allow the government to decide what we can say, see, or hear, or who we can gather with, history shows us that the most marginalized with be disproportionately censored and punished for unpopular speech.

We are all free to reject and protest ideas we don't agree with. That is a core, fundamental freedom of the Untied States. If we allow the government to shut down speech for some, we will all pay the price down the line."