Police Officer Was Too Upset After Shooting To Help Akai Gurley, Lawyers Say
Officer Peter Liang himself needed an ambulance.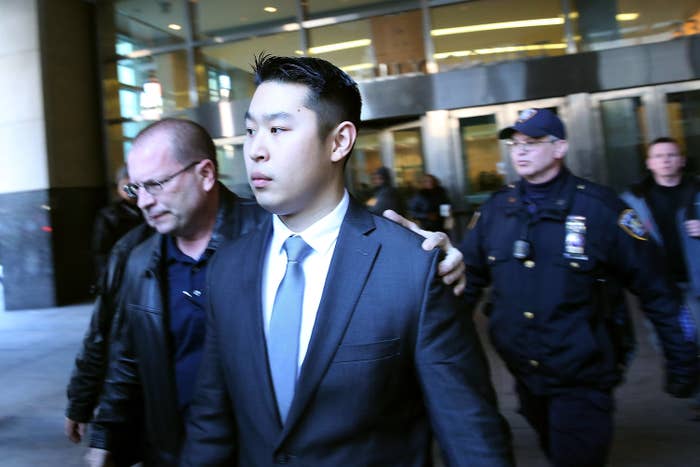 The NYPD officer charged with fatally shooting Akai Gurley in November 2014 couldn't render aid as the unarmed man lay dying in a housing project stairwell because "he was a wreck, hyperventilating," his defense lawyer said in court on Monday.
"He was so upset," attorney Rae Koshetz said about rookie Officer Peter Liang. "He needed oxygen. An ambulance was called for him."
Liang was "shaken, terrified, but totally unaware that his bullet had struck anything," Koshetz said.
Koshetz's comments came during opening arguments in Liang's manslaughter trial in Brooklyn Supreme Court. Earlier, prosecutors said Liang violated critical police training by recklessly pulling out and firing his weapon — the bullet gun hit a wall, ricocheted, and fatally struck Gurley in Brooklyn's Pink Houses.
Both Liang and his partner Shaun Landau — on the job for less than a year — were assigned to patrol NYC Housing Authority buildings. On that November night, they were conducting a routine vertical patrol, where officers ascend to the top of a housing facility and walk down the stairs, checking every floor.
Assistant District Attorney Marc Fleidner said Liang, 28, ignored police protocols and didn't try to help Gurley by administering CPR while he was lying, shot, in the stairwell.
Instead, Fleidner argued, Liang was concerned about himself, repeatedly telling Landau, "I am fired" after the gun went off.
Fleidner said Liang and Landau argued for several minutes before calling to report the shooting.
"Neither [officer] immediately called in the shooting," Fleidner told jurors. "Instead they argued and minutes passed. They argued as Akai Gurley passed."
During his statement, Fleidner knelt on the ground in front of the jurors and said that Liang did not stop to help Gurley or even "look into his dying eyes."
"None of them did CPR despite being trained," Fleidner said. "None checked if he was okay, if he had a pulse."
Defense attorneys responded by saying that Liang's gun discharged accidentally and that he did not intend to hurt anyone. Koshetz also said that Liang was so shocked after the shooting he was in no shape to take care of anyone else.
Gurley's fiancé, Kimberly Ballinger, was the first witness to testify, telling jurors that she identified Gurley's dead body.
Next up was Melissa Lopez, a resident of Pink Houses who first called 911. Lopez detailed how she called for help after Gurley's friend, Melissa Butler, knocked on her door, covered in blood, asking for help. While on the phone with EMTs, Lopez repeated first-aid instructions to Butler, such CPR and how to use a towel to apply pressure on the gunshot wound.
Lopez also testified that she did not see Liang help Gurley and that she also did not see him cry, or act emotional.
The trial is scheduled to continue Tuesday.