Police Officer Said "I'm Fired" After Fatally Shooting Akai Gurley, Partner Testifies
NYPD Officer Liang's partner, Shaun Landau, testified that after the shooting, the two men argued for approximately four minutes about who should call their supervisor.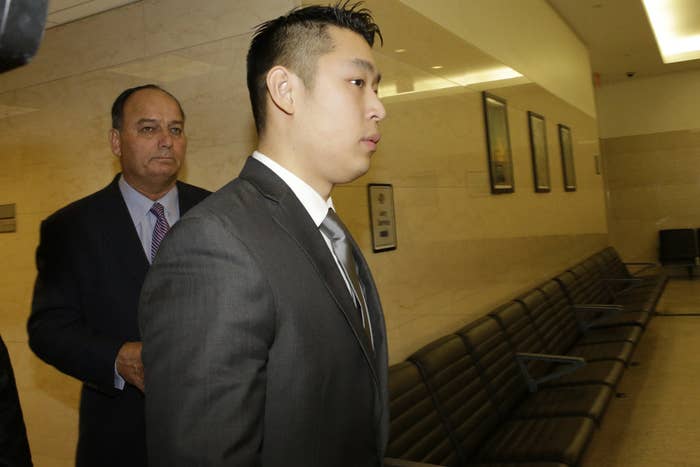 The partner of an NYPD rookie charged with fatally shooting Akai Gurley in November 2014 testified against his fellow officer on Tuesday, laying out a detailed narrative of the night the unarmed black man was killed in a Brooklyn housing project.
The testimony of Officer Shaun Laundau — who was granted immunity from prosecution — ended a day of gripping and emotional witnesses in Brooklyn Supreme Court. Melissa Butler, who was with Gurley when he was shot, earlier recounted kneeling in a "puddle of blood" as she tried to perform CPR on her dying friend.
Peter Liang, 28, is charged with manslaughter, criminally negligent homicide, assault, reckless endangerment, and two counts of official misconduct in the death of Gurley. Liang allegedly fired while he was on the eighth floor stair landing of the Pink Houses in Brooklyn. The bullet hit a wall and ricocheted, before fatally striking Akai Gurley, who was standing on the seventh floor stair landing.
Landau graduated from the police academy in December 2013 – just like Liang. The two rookie officers, who became partners in March 2014, were assigned to patrol the housing developments in Brooklyn.
While they worked together daily, Landau testified that they rarely socialized outside of work.
Nov. 20, 2014 was supposed to be Landau's day off but he worked overtime. He and Liang were sent to the Pink Houses to conduct vertical patrols – where officers ascend to the top of a housing facility and walk down the stairs, checking every floor.
Once they arrived, Landau said they walked into the lobby. Like they were instructed to do, the two officers took the elevator to the eighth floor – the building's top level.
Landau said they exited the elevator and turned left to start their checks. At the end of the hallway, they peered through the window of the metal door leading to stairwell A.
"It was pitch black," Landau said, adding that there was no noise, people, or disturbances on the eighth floor. "Officer Liang told me to give him some light."
Landau said he removed his flashlight with his left hand from his holster, held it high above his head, and shined the light downward.
The two men were standing side-by-side directly in front of the doorframe with Liang to the right of Landau.
"I gave light to the window," Landau recalled. "I put my left hand over my head. Officer Liang pulled out his flash light and service weapon."
According to Landau, Liang, who is left-handed, had his flashlight in his right hand and his gun in his left.
Even with the flashlights, Landau said they still could not see anything through the window.
He demonstrated for the jurors how he and Liang were positioned in front of the door. When Liang pulled out his flashlight and gun, he was about four feet diagonally behind Landau, to his right.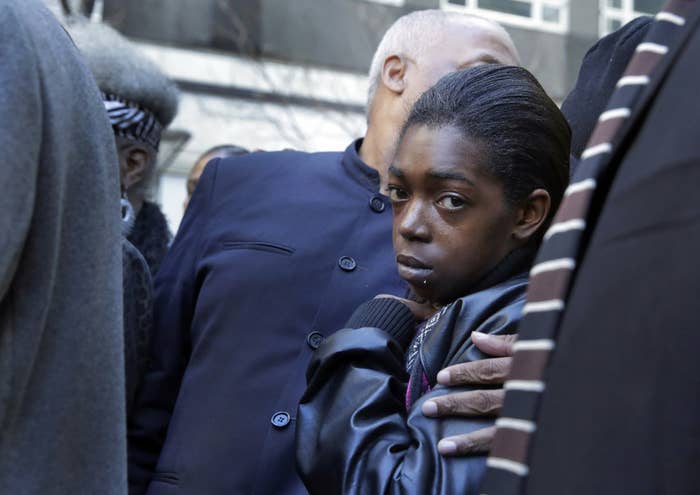 With both of his hands full, Landau said Liang passed by him, pushing the door open using his right shoulder. Landau didn't see if either of Liang's hands touched the doorknob.
With Liang partially through the door into the stairwell and Landau still in the eighth floor hallway, Landau said he heard the gunshot.
"I heard the shot and officer Liang immediately came back into the hallway," Landau said, adding that he heard what sounded like running from the floor below.
"What the fuck just happened?" Landau recalled asking Liang.
"It went off by accident," he testified his partner responded. "He then said, 'I'm fired.'"
Landau said he tried to ease Liang's worries by telling him he wouldn't lose his job because the discharge was accidental.
Landau said he was in shock at the time and that Liang also looked very upset, but was not crying. The two men "went back and forth" over who was going to call their supervisor.
"I said, 'you call,'" Landau testified, adding that he took out his cell phone to give Liang their supervisor's phone number. "He's the one who had the discharge, I felt he's the one who should have to call him."
The two men spent the next four minutes arguing over who would call the sergeant and decompressing from "the initial shock of everything," Landau said.
Still not having called the sergeant, Landau said he and Liang went into the stairwell to see if the bullet struck the wall.
That's when he heard noise from the floors below, Landau said.
"It was kind of like, grunting, crying," he said.
He ran down the steps, and when he arrived on the fifth floor landing, he testified he saw a man laying on his back, with his eyes open. A woman was standing above him, crying, he said.
Landau said he told Liang to 'put it over' – meaning to radio the shooting. He then heard Liang use his radio to say "Pink House Post One" over the radio, Landau testified.
Landau testified that neither he nor Liang performed CPR or tried talking to the other people in the stairwell – including Gurley, Butler, Melissa Lopez — who called 911 — and her husband.
Once other officers arrived on the scene, Landau said a supervisor took Liang's weapon and Liang broke down.
"Officer Liang then fell to the floor and started crying," Landau said, adding that they were both then transported to the hospital.
Landau had his gun and shield removed and is on modified duty, doing administrative work. While he cannot be criminally prosecuted, he could face departmental charges for not rendering CPR or calling his supervisor. He is also part of a civil lawsuit filed by Gurley's family.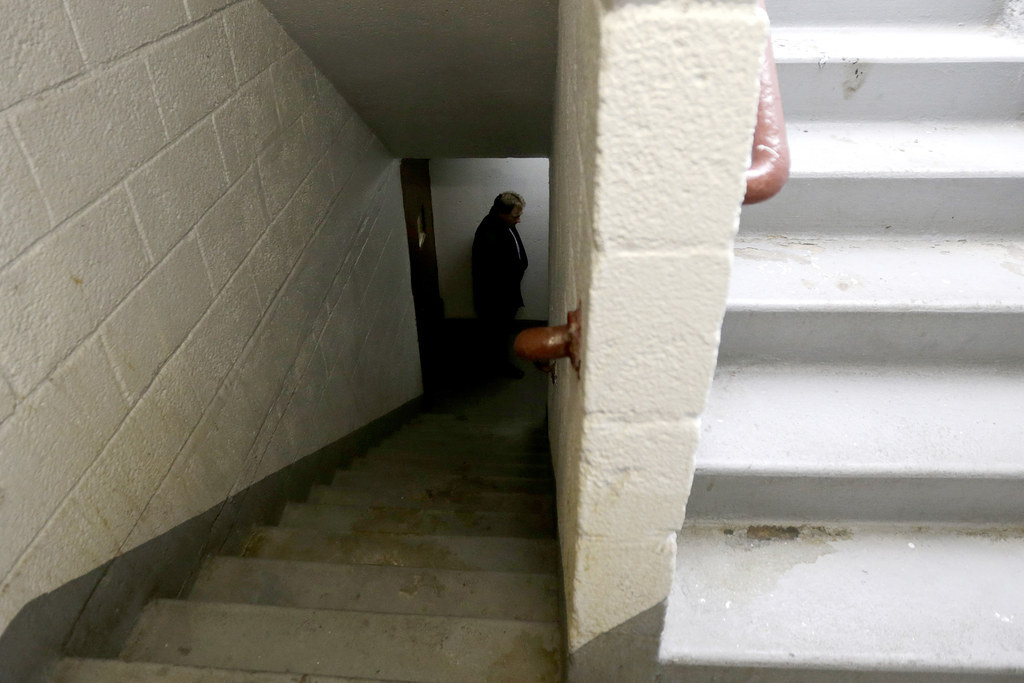 Two other experts testified, including Detective Leonardo Pino, who oversees the police academy's training curriculum, and Detective Joseph Agosto, who trains police recruits in firearm safety and tactics.
During cross-examination, Landau testified that after the shooting, Liang radioed their location to supervisors but didn't immediately say someone was wounded.
Defense lawyers pointed out that in Landau's previous statements — made during a police interrogation shortly after the shooting — Landau said that Liang radioed for an ambulance saying there was an accidental gun discharge, a male was shot, and that an officer was involved.
"So when you first got down there, between the sixth and fifth floors," — Gurley eventually made his way down some stairs after being shot — "you heard [Liang] say on the radio about an accidental discharge," Liang's defense attorney, Robert Brown, asked Landau during cross examination.
"Not at first," Landau responded.
"When did you hear it?" Brown asked.
"Somewhere down the line," Landau said. "Initially I just heard him say. 'Pink Houses Post One.'"
Brown followed up by asking if Landau knows Liang is being charged with official misconduct for failing to call an ambulance. "He did in fact call an ambulance," Brown said.
"Yes," Landau said.
"He did say a male was shot," Brown asked.
"Yes," the officer responded.
Landau's cross examination is expected to continue Thursday.