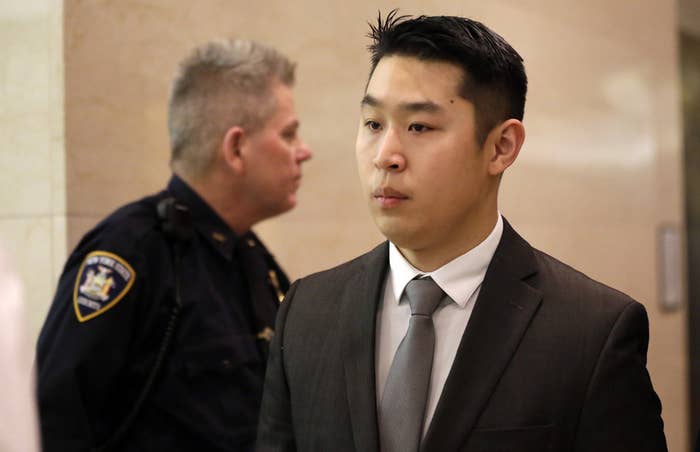 NYPD officer Peter Liang — charged with fatally shooting an unarmed black man in November 2014 — broke down in tears testifying in his own defense Monday morning, telling jurors a "quick sound" startled him and led him to accidentally fire his gun.
Akai Gurley was shot in the stairwell of a Brooklyn housing development when the bullet fired from Liang's gun ricocheted off a wall and struck him on the left side of his chest. Liang and his partner were conducting a routine vertical patrol – where officers ascend to the top floor of a building and walk down the stairs, checking every floor – of Brooklyn's Pink Houses.
Speaking in a soft voice and often stopping to wipe his eyes, Liang, 28, testified that entered the dimly-lit eighth floor stairwell from the hallway with a flashlight in his right hand and his gun in his left – saying that his finger was not on the gun's trigger.
Prosecutors argue that entering a dark stairwell with a gun drawn is reckless. Defense lawyers say there is no rule forbidding officers taking their gun out of its holster.
"Whenever we feel unsafe, it is our discretion when to take out our firearm," Liang said. "There's no set rule."
Liang said he heard a "quick sound" coming from the left when he entered the stairwell, acknowledging he "tensed up" and the gun went off accidentally.
"It happened so quick – split seconds," he said of the gun shot. Liang could not identify the noise that startled him.
Contradicting testimony his partner, Shaun Landau, gave last week, Liang said that after the gunshot he reentered the hallway and they spent 30 to 45 seconds "at most" arguing over who should call their supervisor.
Liang said he was worried about getting fired and told Landau, "You call it in, nothing's going to happen to you."
Ultimately, Liang said he dialed his supervisor's number on his partner's cell phone, but Landau yanked the phone out of his hands and hung up.
Liang said he didn't notify his supervisor about the shooting over the police radio because he didn't want the call about a gun fired to go out to all police officers.
"In the police world, if you put it over the radio that there's a gun shot everyone was going to swarm over," he said. "I didn't want everyone [coming] over. I wanted to deal with it with my sergeant."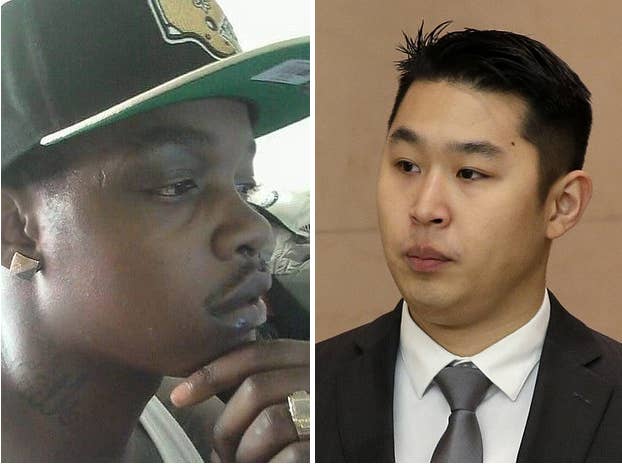 Liang eventually descended to the fifth floor stairwell and found Gurley there bleeding. He said he immediately radioed, "Pink Houses Post One" and said a male was shot and needed an ambulance.
Liang knelt down to look at Gurley, he said, noticing that his eyes were rolling to the back of his head. He decided to wait for a professional to administer medical help.
Assistant district attorney Joe Alexis asked Liang if he thought he or Melissa Butler, Gurley's girlfriend who was administering CPR on him, was in a better position to perform first aid.
"I couldn't tell you who did it better," Liang responded. "I didn't know what she does for a living."
Alexis pressed Liang about the training he received in the Police Academy, questioning him on the tests he was required to pass in order to graduate.
Liang said he got very little time with a dummy during CPR training in the academy and that during the test, instructors fed recruits the answers.
Liang was taken to the hospital once other officers arrived and given an oxygen mask to help him breathe better, he said. Liang is currently on modified duty with the police department, performing administrative work.
After court adjourned, Gurley's mother, Syliva Palmer, told reporters that "nobody deserves to die the way Akai did."
Gurley's aunt, Hertencia Petersen, said that as she has sat in court for the past two weeks, she felt Gurley has been murdered "over and over again."
"If you're fearful on patrol, policing isn't the job for you," Peterson said outside the courthouse. The officers "who took [an] oath to serve and protect did nothing to save his life."
Closing arguments will take place Tuesday morning.