A Pennsylvania police officer lost both her jobs after posting a photo of herself in uniform along with a racial slur on Snapchat.
Melissa Adamson, a recently hired part-time officer who was training as a probationary employee, posted a photo of herself with the caption "I'm the law today," followed by the n-word.
The photo actually cost Adamson her two jobs with local departments in Pennsylvania.
The mayor of McKeesport addressed the photo in a Facebook post, calling it "unacceptable," and confirmed the officer was terminated.
"This post displays a degree of conduct and character that is far different from what I would expect from an officer in this city," Mayor Michael Cherepko posted on Facebook. "Without hesitation, my office and the police chief's office immediately concluded that this officer's actions will not be tolerated in the City of McKeesport."
Adamson resigned from her second job, where she worked as a part-time officer in Versailles, according to WTAE.com.
Adamson apologized for her actions, calling the photo a "stupid mistake."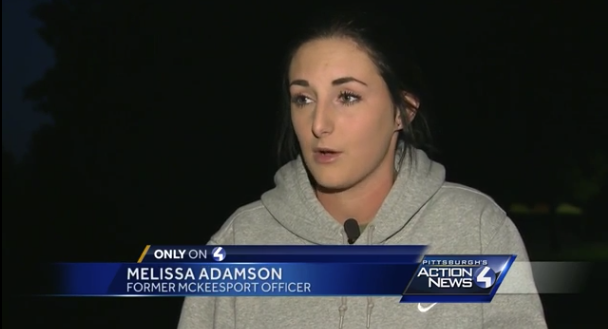 "Everyone knows that I don't have a racist bone in my body," she told WTAE.com. "And people who don't know me, I can understand why it was misconstrued to where it looks racist. But like I said, everyone who knows me, knows I'm not racist."
Adamson maintains that the photo was not posted with malicious intent, adding that she loves her job.