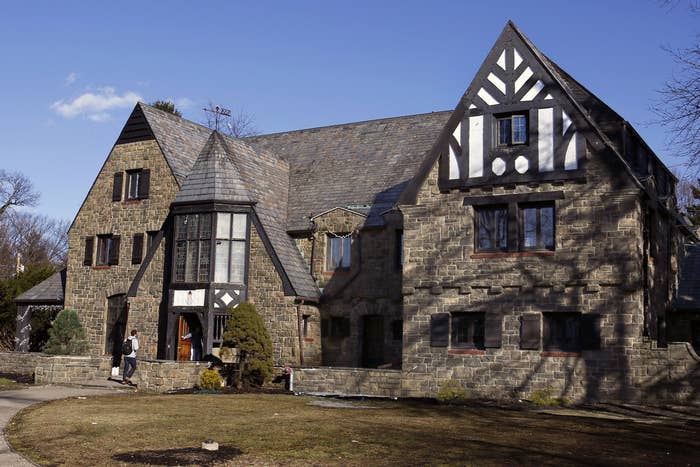 Penn State University suspended the Kappa Delta Rho fraternity after members were accused of taking photos of mostly naked women — while sleeping or unconscious — and posting them online, according to the State College Police Department.
Members of the fraternity also posted pictures of drug sales and hazing on the two private Facebook pages, which had about 144 members, including current students and alumni, police said.
State College police applied for a warrant to search the Facebook page, called "2.0," on Jan. 30 after a former member of the fraternity informed them about the page. The former member also brought his laptop to the police station and grabbed about 20 pages of evidence for investigators — including photos of women who were passed out, and text messages from women concerned about their interactions with frat members from the night before.
"Some of the postings were of nude females that appeared to be passed out and nude or in other sexual or embarrassing positions," the application read. "It appears from the photos provided that the individuals in the photos are not aware that the photos had been taken."
By the time the search warrant was approved and executed, much of the Facebook page was wiped clean, police told WJAC.
Lt. Keith Robb said the State College police were able to download more photographs and information.
"Right now we're working through those," he said. "We're going through those images to determine what would rise to a criminal charge."
He said many of the photos he recovered were posed party photos that did not include nudity.
"The ones we're concerned about are the ones with women who appear unconscious and unaware they were being photographed," he said.
In a press conference held Tuesday afternoon, police said anyone who posted the photos could face misdemeanor charges of harassment or invasion of privacy.
Penn State is conducing its own investigation to see if student code of conduct was violated.
"Quite honestly will probably get more out of that [school's investigation] than the criminal system," he said. "What we're looking at is a misdemeanor."
In the exchange below, a member responded to a lewd comment someone wrote about a female with "Lol delete those or we will be on cnn in a week."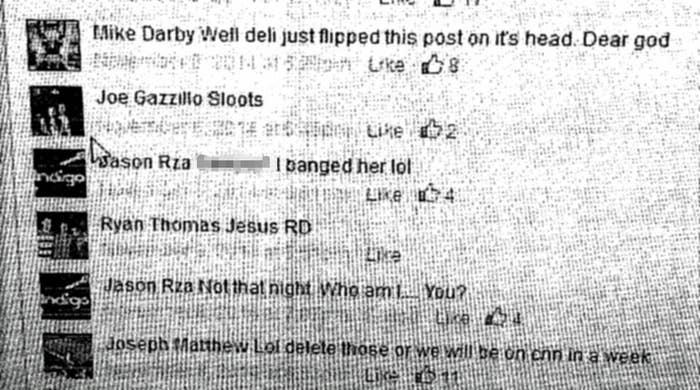 While the exact topic of the conversation below is unclear, one member's comments suggest the fraternity had previously been on probation.
The Facebook page "2.0" was created about eight months ago, after the initial page, "Covert Business Transactions," was shut down after a victim discovered it. According to the search warrant, a female visiting the fraternity saw a topless photo of herself on a Facebook page a member had left open on his computer.
State College police are now working with the school's Interfraternity Council and Office of Student Conduct to investigate further.
"The evidence offered by the Facebook postings is appalling, offensive and inconsistent with the University community's values and expectations," Damon Sims, vice president for student affairs at Penn State said in a statement.
Joseph Rosenberg, executive director of Kappa Delta Rho's national fraternity, said the national leadership placed the Penn State chapter on suspension for a year and are conducting a full membership review and reorganization.
"The national leadership of Kappa Delta Rho is committed to hold our brothers accountable for their actions," Rosenberg said in a statement. "We embrace the principle of respect for all persons and we will adhere to that principle in this matter."
Rosenberg added that there are a wide range of outcomes that could result from the review.
The chapter's social activities have been suspended. The Kappa Delta Rho fraternity has 38 active chapters nationally.
The local chapter will be suspended for one year and will be reorganized. This means that all chapter social and related activities are suspended.This action is being taken in response to the chapter allegedly hosting private Facebook pages where highly inappropriate photographs were posted of activities and events that are in direct violation of the standards and values of a recognized student organization at Penn State. The evidence offered by the Facebook postings is appalling, offensive and inconsistent with the University community's values and expectations.We are confident that the various investigative and review processes, both internal and external to the University, will determine responsibility in this case. The University will hold accountable any groups and individuals found responsible. Discipline and accountability for Penn State's fraternities can occur on several levels since these are private organizations. Such investigations are conducted in partnership with fraternity nationals, chapter alumni boards, and the Penn State Interfraternity Council, as well as local law enforcement. If there are students or others who have information about this situation or feel that they have been victims associated with this matter, they are encouraged to contact the Penn State Office of Student Conduct at 814-863-0342 or the State College Police Department 814-234-7150 as soon as possible.
Here's the Penn State Interfraternity Council banning the Kappa Delta Rho chapter after the Facebook incident:
Download PDF