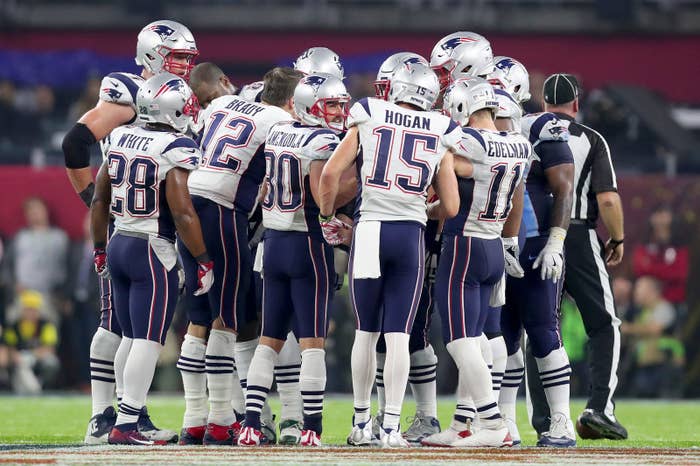 Two dozen members of the New England Patriots still haven't said whether they'll be attending a celebration with President Donald Trump at the White House, an annual victory party that has become a tense political standoff.
Six Patriots are skipping the traditional event, with one citing Trump's "prejudices" as the reason he's boycotting. And the split over the Super Bowl party is the latest mark of how little is safe from the all-encompassing politics of America in the Trump era, in which everyone from linebackers to mainstream retail brands feel pressure to choose sides.
Only one Patriot has publicly committed to attending the event. Long snapper Joe Cardona, who told BuzzFeed News he's going in part in his capacity as "a government employee myself" — a naval officer.
"As an American and a patriotic person, [meeting a president] is special every single time, whether you agree with their policies or not," Cardona said, adding that he has no quarrel with his teammates who are choosing to skip the meeting.

"I respect every single one of them tremendously," he said. "These are really great guys, smart guys that have a diversity of opinion outside of football. It's really special to see them exercising that right as Americans."
Quarterback Tom Brady, a Trump friend who skipped the Patriots' April, 2015 celebration with Obama citing a family commitment, did not respond to a question sent to the assistant of his agent, Don Yee, about whether he will attend this year.
BuzzFeed News contacted 25 Patriots players whose contact information was accessible — through agents, open Twitter DMs, publicly available telephone numbers, or email — to ask whether they would attend the traditional celebration. Of that group, 21 did not respond to the inquiry; two players' representatives and one player avoided a definitive answer about attending; and Cardona said he would go.
Cristina Alor, a representative for Rob Gronkowski — a tight end who is one of the team's most popular players — told BuzzFeed News on Friday that he "doesn't have a comment as of right now."
And Brandon Bolden's agent, Joseph Behar, said he is under the impression the running back will visit the White House. "He hasn't mentioned anything to us regarding that topic," said the agent, who didn't reply when BuzzFeed News asked for an interview with Bolden.
And offensive tackle Nate Solder told BuzzFeed News on Friday, "I'm not interested in talking thanks."
On Monday, Patriots owner Robert Kraft told the Today show that he doesn't see anything out of the ordinary in players choosing to not attend.
"Every time we've had the privilege of going to the White House, a dozen of our players don't go,'' Kraft said. "This is the first time it's gotten any media attention."
He continued, "this is America, we're all free to do whatever's best for us, and we're just privileged to be in a position to be going."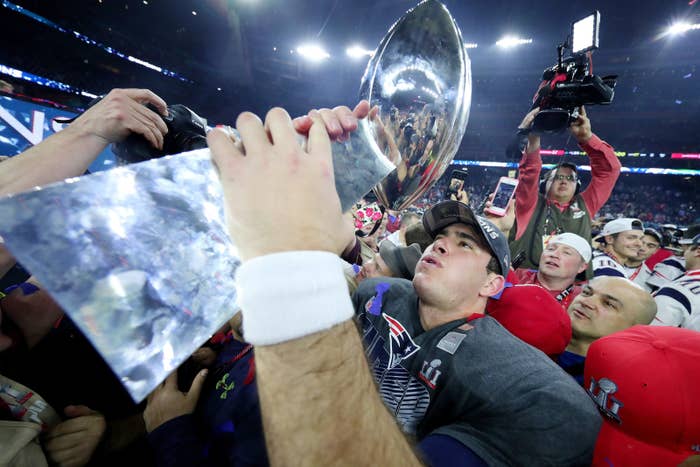 Tight end Martellus Bennett on Monday was the first player to say he wouldn't attend the meeting at the White House. The next day, safety Devin McCourty joined Bennett, saying he would not attend because "I don't feel accepted in the White House."

"With the president having so many strong opinions and prejudices I believe certain people might feel accepted there while others won't," he said in an interview with Time.
By Thursday, four more players — linebacker Dont'a Hightower, running back LeGarrette Blount, defensive tackle Alan Branch, and defensive end Chris Long — all said they would not be meeting with Trump.

Branch said he's not going to meet with Trump so he can spend more time with his family.

Hightower told ESPN he's not going because he's, "been there, done that." A representative for Hightower told BuzzFeed News he is unavailable to discuss the topic further.
During an interview with Rich Eisen on Thursday, Blount said he does not feel welcomed at the White House.

Long, who is white, announced he wouldn't attend in response to an open letter in the New York Daily News criticizing a "pathetic sea of NFL white silence this year."

And running back James White told Sirius XM on Tuesday that he has not decided whether he will join his teammates at the White House. "I'll wait 'til the time comes and decide then," he said.
The New England Patriots and the White House didn't immediately answer requests for comment.

The day of the Patriots visit has yet to be scheduled. Last year's ceremony honoring the Denver Broncos took place on June 6. When New England won the championship in 2005, the White House visit took place on April 13. After the 2004 Super Bowl win, the Patriots visited George W. Bush on May 10. In 2002, the visit occurred on April 2.