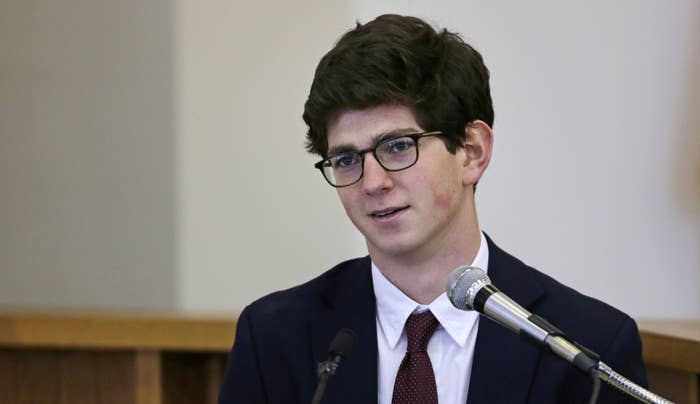 Owen Labrie, the 19-year-old student accused of raping a teenager girl at St. Paul's School in Concord New Hampshire in 2014, took the stand Wednesday to testify in his defense, claiming he and the girl never had sex.

The following account was live-tweeted by several reporters in the courtroom, including from the New York Times, NH1, and the Concord Monitor.

The teenage boy, who attended the elite prep school on a full scholarship, testified that while he and the girl were kissing, he had a moment of clarity and realized having sex with the girl "wouldn't have been a good choice for me to make."
Labrie had invited the girl to hang out as part of the Senior Salute – a tradition at St. Paul's School in which seniors invite underclassmen to hang out. While the girl initially declined his invite, she eventually changed her mind and agreed to go out with him.
After entering the math and science building, Labrie said the two began kissing up against a wall, and after a few minutes, put a blanket on the ground for them to sit on.
JW Carney, Labrie's attorney, asked his client how he knew the girl, who was 15 at the time of the alleged assault, wanted to get on the blanket.
"She helped me put It there. She kissed me some more. She was smiling," he said, adding that her hands were on his back pulling him closer to her as they kissed and that she lifted her hips so he could remove her pants.
Labrie said the girl was laughing and giggling the whole time.
"I thought she was having a great time," he added.
There was a moment when he was on top of her that he thought they were going to have sex, so he grabbed a condom, he testified.
"I was standing over the blanket looking down at [her], and I thought to myself, 'Maybe we shouldn't do this,'" he said. "It wouldn't have been a good move to have sex with this girl."
At that moment, he said he put his pants back on – without removing the condom – and left the building. On his way out, he said he reached in to his shorts to remove the condom, which he said had some premature ejaculation in it.
On Tuesday, a criminalist at the New Hampshire State Police forensic lab testified that he found no signs of sperm or semen on the girl, but that was not unusual for days after an alleged assault. Another criminalist testified that she did find sperm on the girl's underwear. She was able to find it because she was looking at a much more concentrated sample. Labrie was a contributor to the DNA found on the girl's underwear, the criminalist said.
When he returned to his dorm room later that night, after attending a concert, he said younger boys were high-fiving him, saying they heard he had sex with her. Labrie said he hadn't told anyone, and assumed the girl had told her friends.
When asked why he didn't correct the people who were congratulating him for having sex with the girl, Labrie said "I wanted to look good. I wanted people to think it went great."
In stark contrast to the accuser's account, Labrie starkly denied any of the sex acts for which he's been accused. When asked if at any time he put his fingers, tongue, or penis under the underwear of the accuser, Labrie answered no to each.
After the lunch break, the prosecution asked Labrie to read and explain his Facebook and email exchanges with the girl. "When a boy actually takes your virginity, I hope it's golden," one of the messages read. "There's a difference between making love and messing around," he wrote in another.
In another of the messages he asked the girl about birth control. When questioned, he said he did this because afterward he felt "a wetness in his pants" and because the girl seemed nervous and he wanted to reassure her.
"People have been saying some scary things considering that we never had sex," Labrie messaged her again at a later date.
Labrie admitted to the prosecution to telling his friends that he and the girl had had sex. He said he wanted to "look good" and was embarrassed about how awkwardly it ended. "It was easier for me to just go yeah and change the subject."
Later he admitted to deleting 119 "juvenile" online messages with his friends – many of which referred to having sexual interactions with the girl – per the advice of his mother.
An assistant county attorney, Joe Cherniske, cross-examined Labrie, repeatedly asking him if he ever wanted to have sex with, "slay," or "pork," the girl.
Labrie said his use of language was meant to be a joke and that though while he found the girl "cute," he did not "necessarily" want to have sex with her.
Later he added that "in this case, slaying really just means spending time with a girl."

"You want all these people to believe that after all that time spent thinking about her and having foreplay," Cherniske asked, "you just stopped?"
Labrie responded that they did not "just stop," but continued kissing.
He also pointed out that the pre-ejaculate Labrie mentioned in court was never mentioned to detectives.
"That wasn't important enough until you found out that there was sperm in [her] underwear?"
The girl left the courtroom in tears, before Labrie gave his version of events.
During her testimony last week, the girl said she giggled because she was uncomfortable.
"I didn't know how to deal with it because I've never been in a situation like this," she testified in court, while crying. "I'd never been touched in that way."
She testified that she said "no" when Labrie tried to remove her underwear.
"I didn't kick or scream or really push," she said in court. "I didn't. But I did say no. I said no three times."
Both sides rested their case on Wednesday. Closing arguments are scheduled to begin on Thursday.