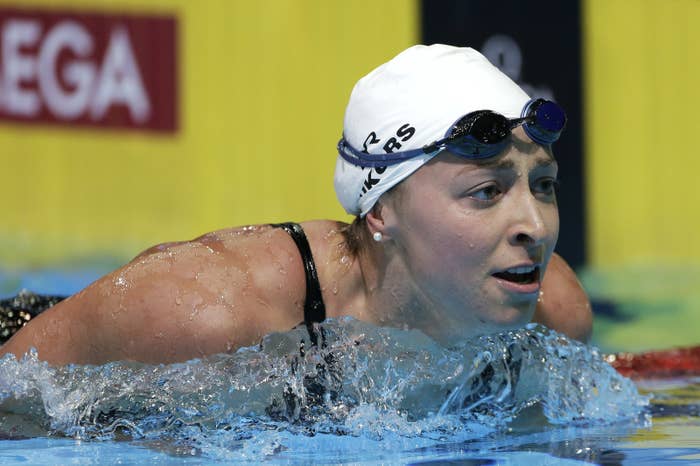 Olympic swimmer Ariana Kukors publicly accused her former swim coach, Sean Hutchison, of sexually abusing her when she was 16 years old.
Kukors, 28, came forward with her story the day after authorities searched Hutchison's Seattle home for evidence he took sexually explicit photos of Kukors when she was a teenager. Kukors' lawyer said computers and phones were seized for examination.
In a statement released Wednesday night, Kukors, a Seattle native, said her former coach began grooming her — a term used to describe when a perpetrator will gain a victim's trust and break down their defenses — when she was a 13-year-old training at King Aquatic Club in Washington state.
Michael Brooks, the head coach at King Aquatic Club, issued a statement Thursday saying "last night's news broke our collective hearts."
"Ariana Kukors is part of the King Aquatic family and we only want the best for her," Brooks said. "Our staff is meeting to review this devastating news."
Hutchison, an executive at King Aquatic, has not had direct interactions with swimmers "for a very long time," the statement added.
Hutchison did not immediately respond to BuzzFeed News' request for comment.

"I never thought I would share my story because, in so many ways, just surviving was enough," Kukors said in a statement. "I was able to leave a horrible monster and build a life I could have never imagined for myself. But in time, I've realized that stories like my own are too important to go unwritten. Not for the sake of you knowing my story, but for the little girls and boys whose lives and future hangs in the grasp of a horribly powerful and manipulative person. That they may not have to go through the same pain, trauma, horror, and abuse. That their parents, mentors, and guardians are better able to spot the signs of grooming and realize its tragic consequences before it's too late."
Kukors' attorneys, Robert Allard and Ray Mendoza, said in a statement that investigators with the Department of Homeland Security and officers from the Des Moines, Washington, police department executed the search warrant.
"We are still in the very preliminary stages of this investigation, but our top priority in all cases involving alleged online child exploitation is identifying any possible minor victims," Homeland Security spokesperson Lori Haley said in a statement, urging anyone with information to contact Seattle's DHS office.

The Des Moines police department said in a statement that it received information last month from Seattle police regarding a victim of alleged sex crimes that occurred between 2002 to 2007, when the alleged victim turned 18.
A joint investigation between Department of Homeland Security and the Des Moines police department is ongoing. Hutchison has not been charged with a crime.
Hutchison was the head coach on the 2008 US Olympic team and the US team at the 2009 world championships. He resigned his position as a US Olympic coach in 2010 after reports that he was in a sexual relationship with a swimmer he coached. At the time, Hutchison said the reports were untrue.
A statement from USA Swimming on Thursday said the organization conducted an investigation in 2010 into the rumored relationship between Hutchison and then 21-year-old Kukors. They interviewed the swimmer and her sister and both women "unequivocally denied the existence of a romantic or sexual relationship," according to the statement.
Kukors, the former record-holder in the 200-meter individual medley, placed fifth in the 2012 Olympics.
Last month, after former USA Gymnastics doctor Larry Nassar was sentenced to up to 175 years in prison for sexually abusing young athletes, members of the House Energy and Commerce Committee opened an investigation into sexual abuse in organized sports including USA Swimming.
"The abhorrent abuses associated with Dr. Nassar's case and the allegations by US Taekwondo athletics and US swimmers are disgusting and outrageous, and raise serious concerns about protecting athletes from abuse and mistreatment in organized sports," the committee's chairman, Greg Walden, said in a statement.
Allard, Kukors' lawyer, said USA Swimming failed to protect the swimmer.

"Much like the USOC knew about Larry Nassar years before his arrest and did nothing, USA Swimming had notice in 2010 that Sean Hutchison was involved in an inappropriate coach-athlete relationship with Ariana and took no actions to protect her or other swimmers from this pedophile," Allard said in a statement. "If this organization had immediately reported what it knew to authorities, Hutchison likely would have been stopped, Ariana would have been spared years of abuse, and countless other young girls would have been protected from this sexual predator."
USA Swimming issued a statement Thursday saying Kukors' public statement is the first time the organization heard the allegations that Hutchison sexually abused the swimmer when she was a minor.
"Our hearts go out to Ariana and the difficulty she has gone through to reach this point of disclosure," a statement from USA Swimming said. "We fully support her in her case for answers and justice and applaud her courage in sharing her story in an effort to empower victims and protect athletes."