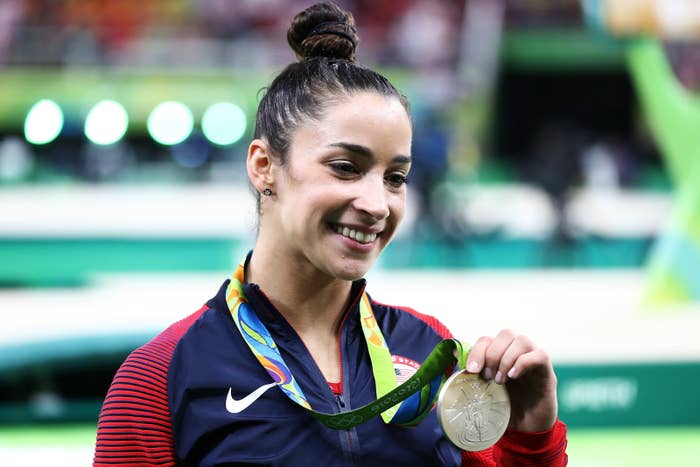 Six-time Olympic medalist Aly Raisman has said she was sexually abused by former USA Women Gymnastics team doctor Larry Nassar, becoming the second member of the "Fierce Five" team that won gold in the London Olympics to accuse Nassar of abuse.
In an interview that aired Sunday, Raisman told CBS's 60 Minutes that she spoke to FBI investigators about Nassar following the 2016 Olympic Games in Brazil.
The longtime USA Gymnastics physician has been accused of sexual assault by dozens of gymnasts and athletes, and faces more than 20 counts of first-degree criminal sexual conduct. If convicted, Nassar could be sentenced to life in prison. He also pleaded guilty in July to federal child pornography charges after authorities found him in possession of thousands of images, including some with victims as young as 6 years old.
In the 60 Minutes interview, Raisman, who is now 23, does not detail the alleged sexual abuse by Nassar, but said she was first treated by him when she was 15. The three-time Olympic gold medalist explains that she didn't know what was happening.
"I was just really innocent—I didn't know," Raisman said. "I trusted him." When asked if she thought it was medical treatment, she replied, "I didn't know anything differently."
"We were told 'he's the best doctor. He's the United States Olympic doctor and the USA Gymnastics doctor and we were very lucky we were able to see him,'" she said.
Raisman went on to say she is angry with how USA Gymnastics, the sport's governing body, dealt with the abuse.
"Why are we looking at why didn't the girls speak up? Why not look at what about the culture? What did USA Gymnastics do, and Larry Nassar do, to manipulate these girls so much that they are so afraid to speak up?" Raisman asked.

In the interview, Raisman also discussed how Nassar groomed her. "He would always bring me deserts or gifts, he would buy me little things, so I really thought he was a nice person," she said. "I really thought he was looking out for me."
Raisman said that she does not think the system looked out for her, saying that she was never told to make sure she wasn't alone with an adult, and that she didn't really know what signs to look for with sexual abuse.

"I didn't know what sexual abuse really was, and I think that needs to be communicated to all of these athletes, no matter what the age," she said.
She said she was approached by an investigator hired by USA Gymnastics in the summer of 2015, who asked her about Nassar's treatment. She said at the time, she told the investigator, "his touching makes me uncomfortable, but he's so nice to me, and I don't think he does it on purpose, because I think he cares about me."

But later, Raisman said, she started to think about it more and to realize what was going on. "It's important for people to know that I'm still starting to put the pieces together. It impacts you for the rest of your life," she said.
Raisman is the second member of the Fierce Five Olympic gymnastics team that won gold in the London Olympics to come forward with allegations regarding Nassar. Her former teammate McKayla Maroney said last month that she was sexually abused by Nassar beginning when she was 13 years old.