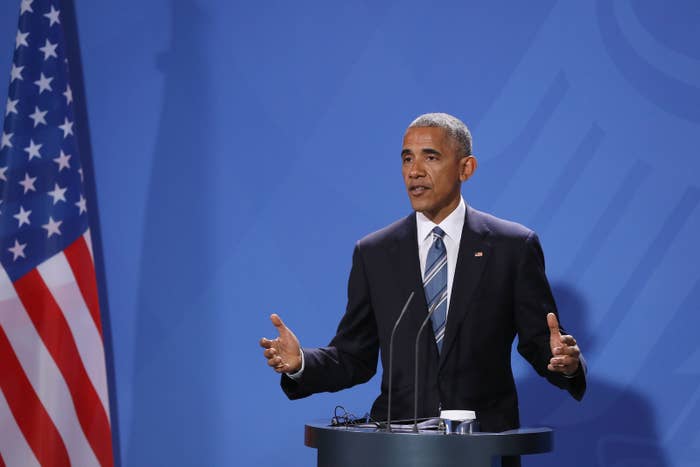 President Barack Obama on Thursday weighed in on the spread of fake news on Facebook, saying "if we can't discriminate between serious arguments and propaganda, then we have problems."
In a press conference in Berlin alongside German Chancellor Angela Merkel, Obama said the dissemination of fake news can hurt democratic freedoms.
"In an age where there's so much active misinformation," he said, "and it's packaged very well, and it looks the same when you see it on a Facebook page or you turn on your television, where some overzealousness on the part of a US official is equated with constant and severe repression elsewhere, if everything seems to be the same, and no distinctions are made, then we won't know what to protect."

"We won't know what to fight for," Obama said, "and we can lose so much of what we've gained in terms of the kind of democratic freedoms and market-based economies and prosperity that we've come to take for granted."
A BuzzFeed News investigation in the last three months of the presidential campaign revealed that the top-performing fake election news stories on Facebook generated more engagement than the top stories from major news outlets.

Mark Zuckerburg called the notion that fake news on Facebook affected the election "a pretty crazy idea."

Obama had previously called out the issue of fake news while campaigning for Hillary Clinton in Michigan.
"And people, if they just repeat attacks enough, and outright lies over and over again, as long as it's on Facebook and people can see it, as long as it's on social media, people start believing it," he said. "And it creates this dust cloud of nonsense."