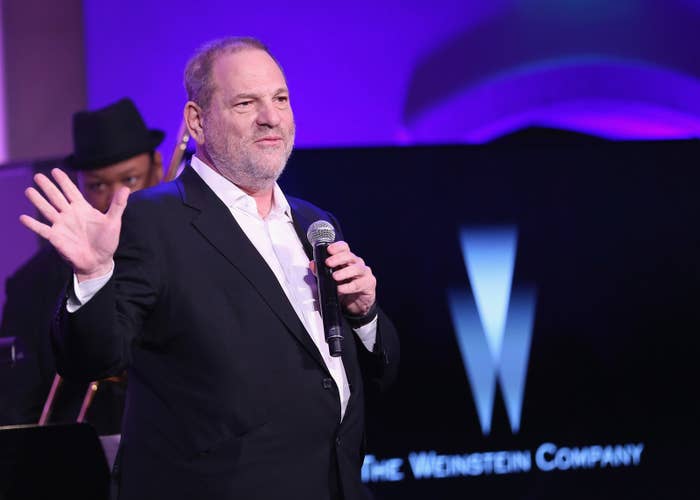 Police in London are investigating a further three allegations of sexual assault against Harvey Weinstein, BuzzFeed News understands.
The Metropolitan Police Service, without naming the Hollywood mogul, said a second woman had alleged on Saturday she had been sexually assaulted in Westminster in 2010 and 2011, and in Camden in 2015.
The London force was already investigating another claim made against the same man dating back to the 1980s, while police in New York are still investigating separate sexual assault claims against the Hollywood mogul.
Last week the NYPD said it was investigating an allegation that Weinstein sexually assaulted someone in 2004, and is conducting a "review" to determine if there are any "additional complaints" against him.
"A complaint was never filed with the NYPD. The NYPD is investigating an allegation of sex assault from 2004," an NYPD spokesperson said when asked if the department was investigating any previous allegations against Weinstein.

"Based on information referenced in published news reports, the NYPD is conducting a review to determine if there are any additional complaints relating to the Harvey Weinstein matter. No filed complaints have been identified as of this time and as always, the NYPD encourages anyone who may have information pertaining to this matter to call the CrimeStoppers Hotline at 1-800-577-TIPS," said NYPD spokesman J. Peter Donald.

A spokesperson for the Manhattan District Attorney's office said prosecutors intend to work with the NYPD in an investigation "into any potential victims of this individual."
A spokeswoman for Weinstein declined to comment. He did speak to paparazzi earlier Thursday before the new investigations were reported, saying, "And you know what, I've always been loyal to you guys. Not like those fucking pricks who treat you like shit. I've been the good guy."
"Guys, I'm not doing okay," Weinstein said, "but I'm trying. I gotta get help, guys. You know what, we all make mistakes. Second chance, I hope."
In London, the Metropolitan Police said it "was passed an allegation of sexual assault" by Merseyside Police, a separate jurisdiction, on Wednesday. "The allegation will be assessed by officers from Child Abuse and Sexual Offences Command," a spokesperson said.

Merseyside Police, which covers the city of Liverpool, told BuzzFeed News it "can confirm a report was received at 8.40am on Wednesday (11 October 2017) of an alleged sexual assault in the London area in the 1980s. The report has been referred to the Metropolitan Police."
In New York state, there are no statutes of limitations for rape, criminal sexual act, and aggravated sexual abuse charges. The statutes for other felony sex offenses is five years.
"We encourage additional victims to contact the office at our hotline and obviously, we will investigate those new matters that may come to our office," Manhattan DA Cy Vance said in a statement Thursday.
The investigation was first reported by the New York Daily News, citing anonymous sources.
Meanwhile, LAPD and Beverly Hills police officials told BuzzFeed News they are not investigating past allegations against Weinstein. A source in Grasse, France — an area near Cannes — said local prosecutors have not received a complaint against Weinstein, and without one, there's nothing they can do. Similarly a source close to the Paris prosecutor said there is no complaint filed against Weinstein in the French capital and there is no open investigation.
Police in Toronto — where Weinstein allegedly began massaging actress Mira Sorvino in a hotel room during the Toronto International Film Festival in 1995 — said they do not have any investigations relating to Weinstein. "There are currently no reports on file with Toronto Police with the name of Harvey Weinstein," a spokesperson for the Toronto Police Service wrote.
The New York Times and The New Yorker both published explosive reports detailing actors who said they were victims Weinstein's alleged unwanted sexual harassment and assaults — an open secret of sorts in Hollywood and the film industry. Since then, many more have come forward.

But significant questions remained as to why no law enforcement authorities took action over the years. The New Yorker piece included an audio recording of Weinstein from a 2015 NYPD sting operation where he apparently admitted to groping a model — but the Manhattan District Attorney's office declined to prosecute, saying the NYPD didn't capture sufficient evidence.
The New Yorker piece included an interview with Lucia Evans, who said she was sexually assaulted by Weinstein in 2004 at Cipriani Upstairs in New York City. She said Weinstein took her into an office and told her she might fit for several television or film roles, adding she'd have to lose weight for one. Then, she said, "he forced me to perform oral sex on him."
The NYPD didn't say if Evans' account from 2004 is under investigation, or if there is another that has gone unreported. Evans told BuzzFeed News she has no comment on the police investigation.

Manhattan District Attorney Cy Vance, who has faced mounting criticism over his office's decision not to prosecute the 2015 case, defended the choice Sunday, and announced an independent review of how his office handles campaign donations. At least two of Weinstein's defense attorneys were donors to Vance's campaign in 2015.

"In my seven years as district attorney, I've never allowed someone's wealth, power, race, or campaign contributions to influence my decisions," Vance wrote in an op-ed published by the New York Daily News. "Over the past few days, I've learned that it's not enough for me to have confidence in my independence from donors."

The announcement also follows reports that, in 2012, Vance had prosecutors drop a criminal fraud investigation in Jared Kushner and Ivanka Trump after meeting with Trump lawyer Marc Kasowitz. Kasowitz later raised more than $50,000 for Vance's campaign.
"I'm prepared to dramatically restrict who can donate money to our campaign — including lawyers — and the amounts that our contributors are able to give," Vance, who is running for his third term unopposed, wrote Sunday. "At the end of the day, I don't expect people to agree with every call that we make. But I want them to have faith that we make those calls without fear or favor, based on the merits alone.