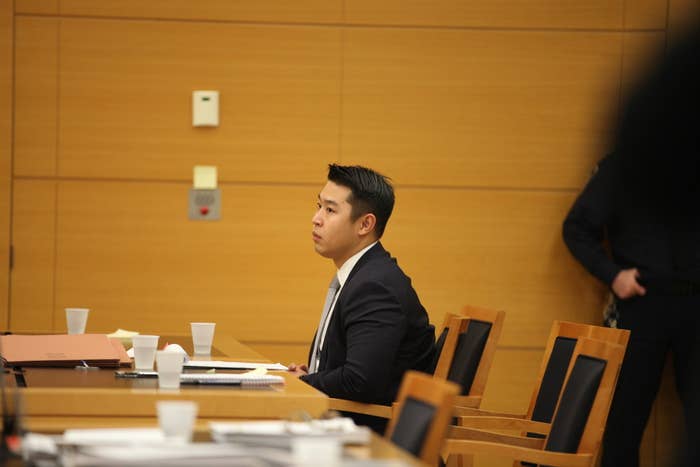 A judge on Tuesday reduced the conviction against former New York Police Officer Peter Liang — who fatally shot unarmed Akai Gurley in 2014 — from manslaughter to criminally negligent homicide.
"I apologize to Melissa Butler and Akai Gurley's family," Liang said in court as he turned and faced the gallery. "I love my wife and family for supporting me I want them to be proud of me."
He added that he wanted to be a police officer from a very young age.
"My parents thought it was a foolish dream to become a police officer," Liang said. "It was a dream come true when I graduated the police academy. The shooting was an accident...My life has forever changed."
Liang fired his service weapon while he was on the eighth floor stair landing of the Pink Houses in Brooklyn. The bullet hit a wall, ricocheted, and fatally struck Gurley, who was standing on the seventh floor landing.
Brooklyn Supreme Court Judge Danny Chun sentenced Liang to five years probation and 800 hours of community service. Brooklyn District Attorney Ken Thompson had previously requested Liang not be sent to prison.
"As I watched the video of the defendant entering the lobby of the Pink Houses, I couldn't help but get the impression that he was entering with a serious mind of doing his job of protecting the people," Chun said. "Shooting that gun and killing somebody was probably the last thing on his mind. This was not an intentional act. This was an act of criminal negligence."
But the judge's decision didn't go over well with family members.
"There is no justice," Gurley's aunt, Hertencia Petersen, said as she exited the courtroom after the hearing. "This is ridiculous."
Inside the courtroom, family and others told the court how Gurley's death had affected them.
"When you stole Akai's life, you stole mine as well," Gurley's girlfriend, Melissa Butler, said as she addressed the former officer. "You took a piece of me. You took a piece of my heart."
Kimberly Ballinger, the mother of Gurley's daughter, said in court that she has to relive what happened that night over and over.
"Every day she asks me why her dad was killed by a police officer," Ballinger said.
Protesters gathered outside the courthouse after the hearing to denounce the judge's decision.
"Michael Vick did 18 months for killing a dog. Peter Liang killed a human being and he's getting community service," Daniel Sanchez said. "What community is he going to serve? Not ours."
Other protested in solidarity with Gurley's family.
"I'm going to keep going out in public spaces and demand our voices be heard," a protester who refused to give her full name said. "I'm standing with the people who lost loved ones from reckless violence."
Thompson, meanwhile, vowed to appeal the modification from manslaughter to the lesser criminally negligent homicide.
"While our sentencing recommendation was fair under the unique circumstances of this case, we respectfully disagree with the judge's decision to reduce the jury's verdict and will fight to reverse it on appeal," the district attorney said in a statement.