NEW YORK — A colorful party of love and acceptance took over Manhattan on Sunday as thousands of people flooded New York City's streets to celebrate Pride.
While love was the theme of the day's festivities, the victims of the tragic mass shooting in Orlando on June 12 — which left 49 dead and dozens more injured — were on everyone's mind.

"We're going to enjoy ourselves today for those who can't be here," Justine Santos, who said she came out to her family only recently, told BuzzFeed News at the beginning of the parade.
The day kicked off with a moment of silence in honor of the victims. In a rare Manhattan moment, the streets fell completely silent.
Moments later, the crowd broke out in deafening cheers as motorcycles at the front of the march roared their engines at the official start of the parade.
And with that, DJs began blaring top hits as thousands of people of all ages danced down Fifth Avenue.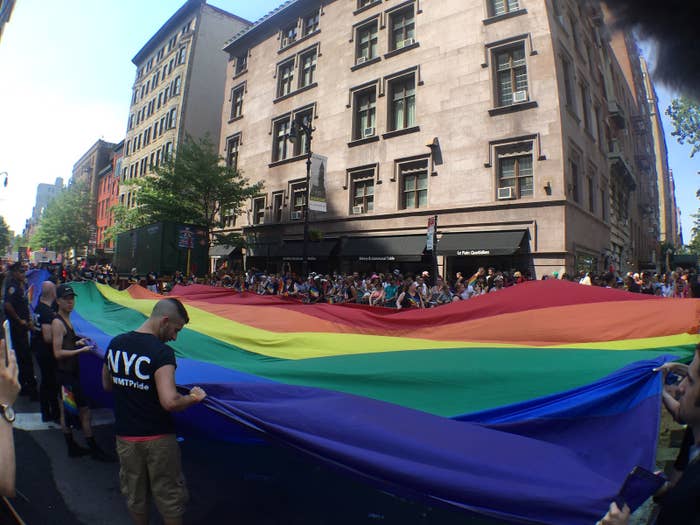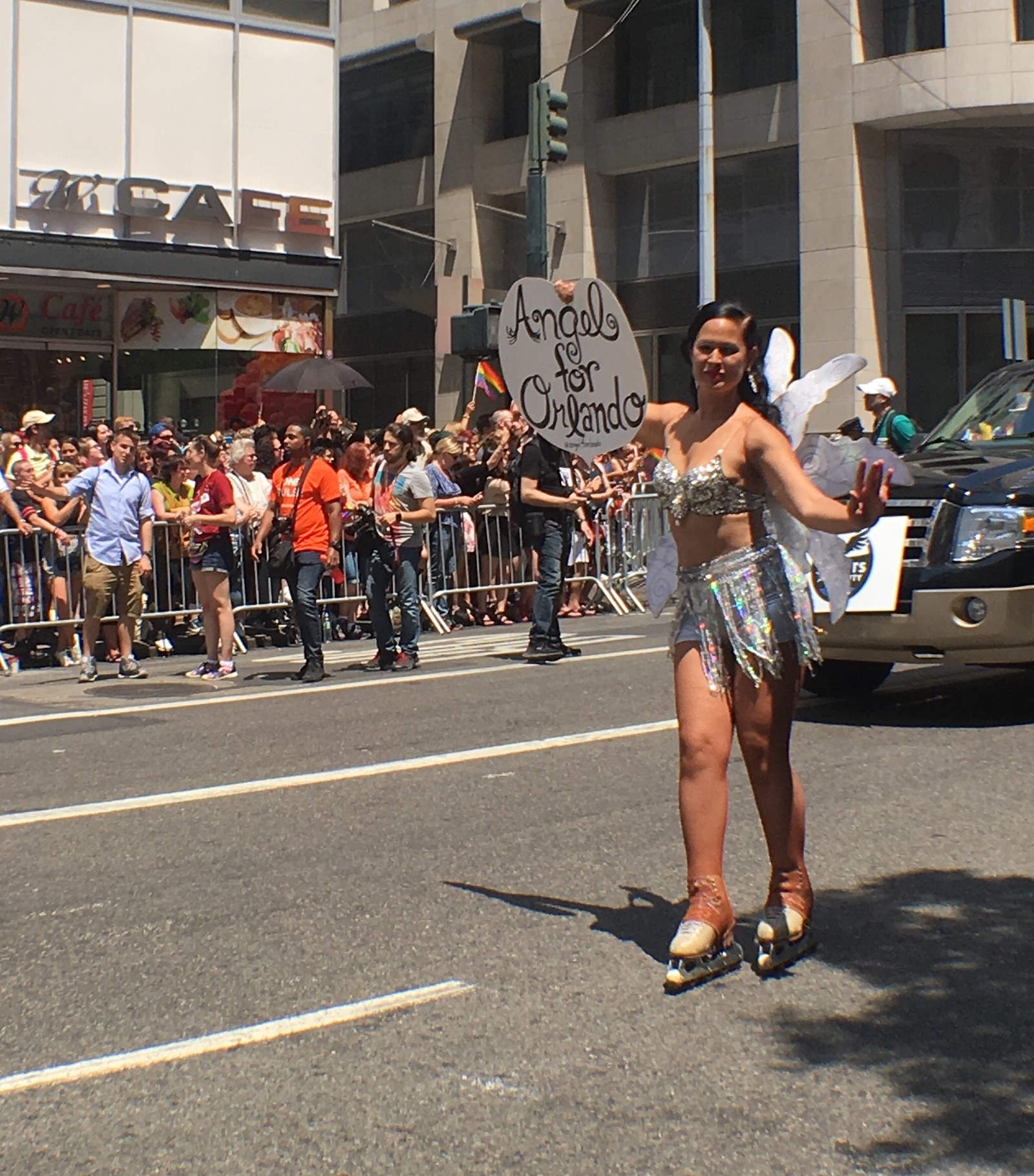 As floats began crossing the start line — a pedestrian crosswalk painted in rainbow colors — the tributes for the victims of Orlando began.
Signs such as "We will not be silenced," "We are Orlando," and "Angels for Orlando" were aplenty.
Members of Gays Against Guns, a group created in the aftermath of the Orlando shooting, chanted for stricter gun laws.
"Hey, hey, ho, ho, these gun laws have got to go," members chanted as they paraded.
Gays Against Guns believe homophobia and lax gun laws "are a deadly combination for our community," according to their Facebook page.
Meanwhile, a ghostly group shrouded in white carried the names and photographs of all the Orlando victims as part of a powerful tribute.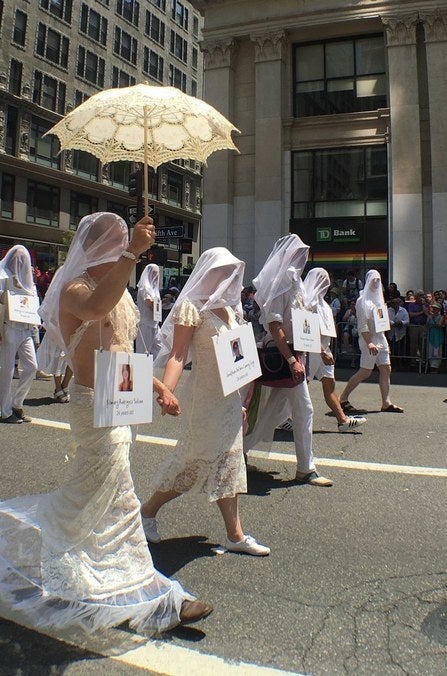 Several spectators said the tribute was so emotional it brought them to tears.
John Zolanowski, who was in town with his wife and four kids from San Diego, called this moment the most touching of the day.
"This is all about freedom for me," Zolanowski said. "This is an exciting day because the gay community can have a major impact on all of our freedoms."
The father of four remembers attending a pride parade in Boston in 1995 and recalls it being much smaller event.
"[The parade] is all about life, liberty, and the pursuit of happiness," he said. "It's the perfect phrase to describe what today means."
Zolanowski said it was important for him to bring his children – aged 13, 11, 8, and 6 – to teach them the importance of tolerance.

When asked if he was having a good time at the parade, Zolanowski's young son, Jack, shyly responded, "Yeah," as he clutched on to his pride flag.
For Casey Jensen, who was in town from Orlando, Sunday was an emotional day.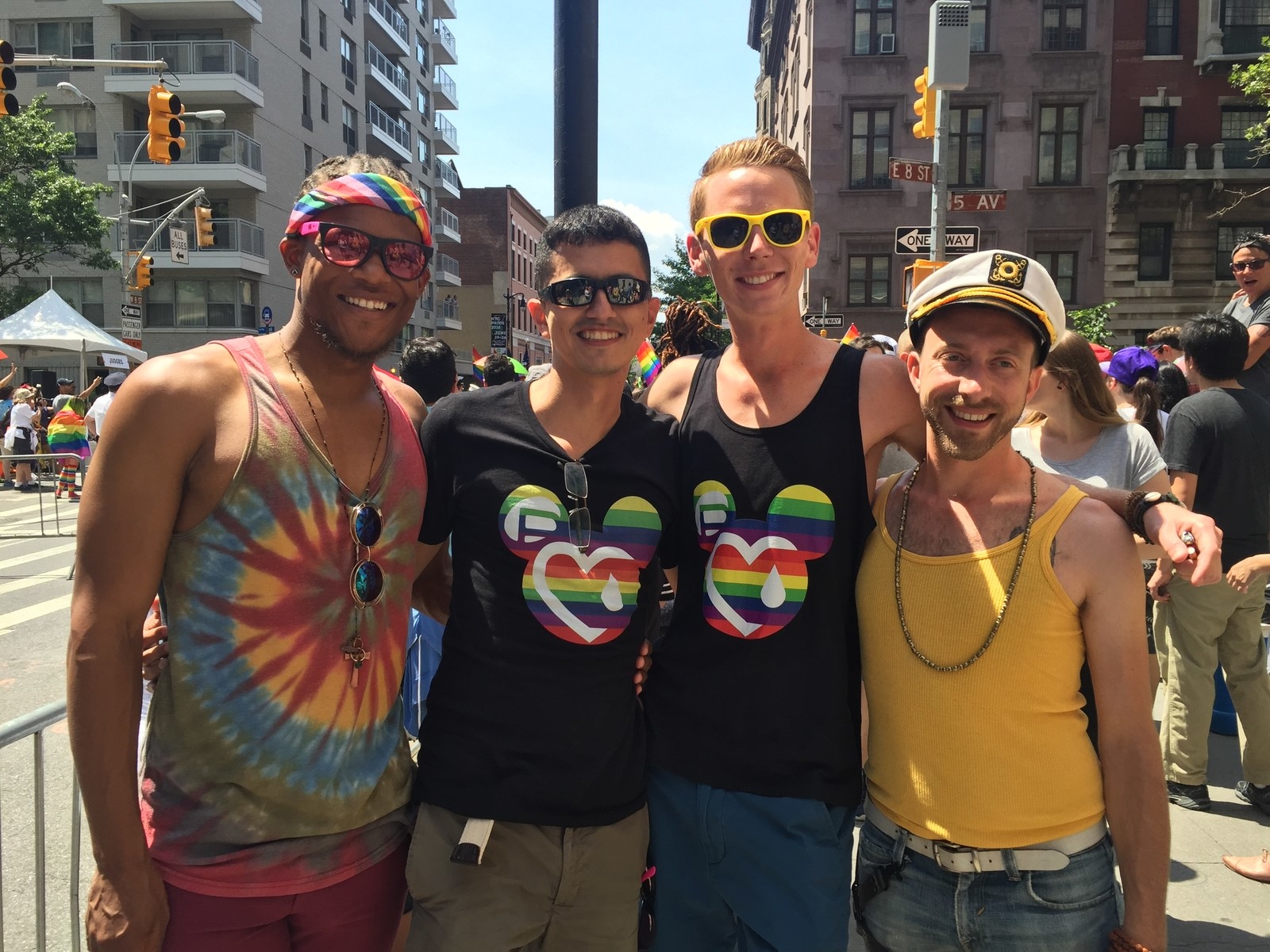 "This parade is everything to me," he said. "Hate will always exist everywhere but this is the most equal I've ever felt . What happened in Orlando is not going to scare us away."

Jensen's friend Joseph Alexiou, who is from New York, agreed that this year's parade felt different.
"It feels like today even the most cynical came out in support of the [LGBT] community," he said.
Linus Osario, who is from Miami and visiting New York with Jensen, said a few years ago he might have hesitated to wear a gay-friendly T-shirt freely on the subway, but today he wore it with pride.

"It's fucking awesome to be welcomed," he said.
Joseph Allen (pictured third from left) and his friends donned white clothing with colorful paint splattered all over, to create a Jackson Pollock-like look.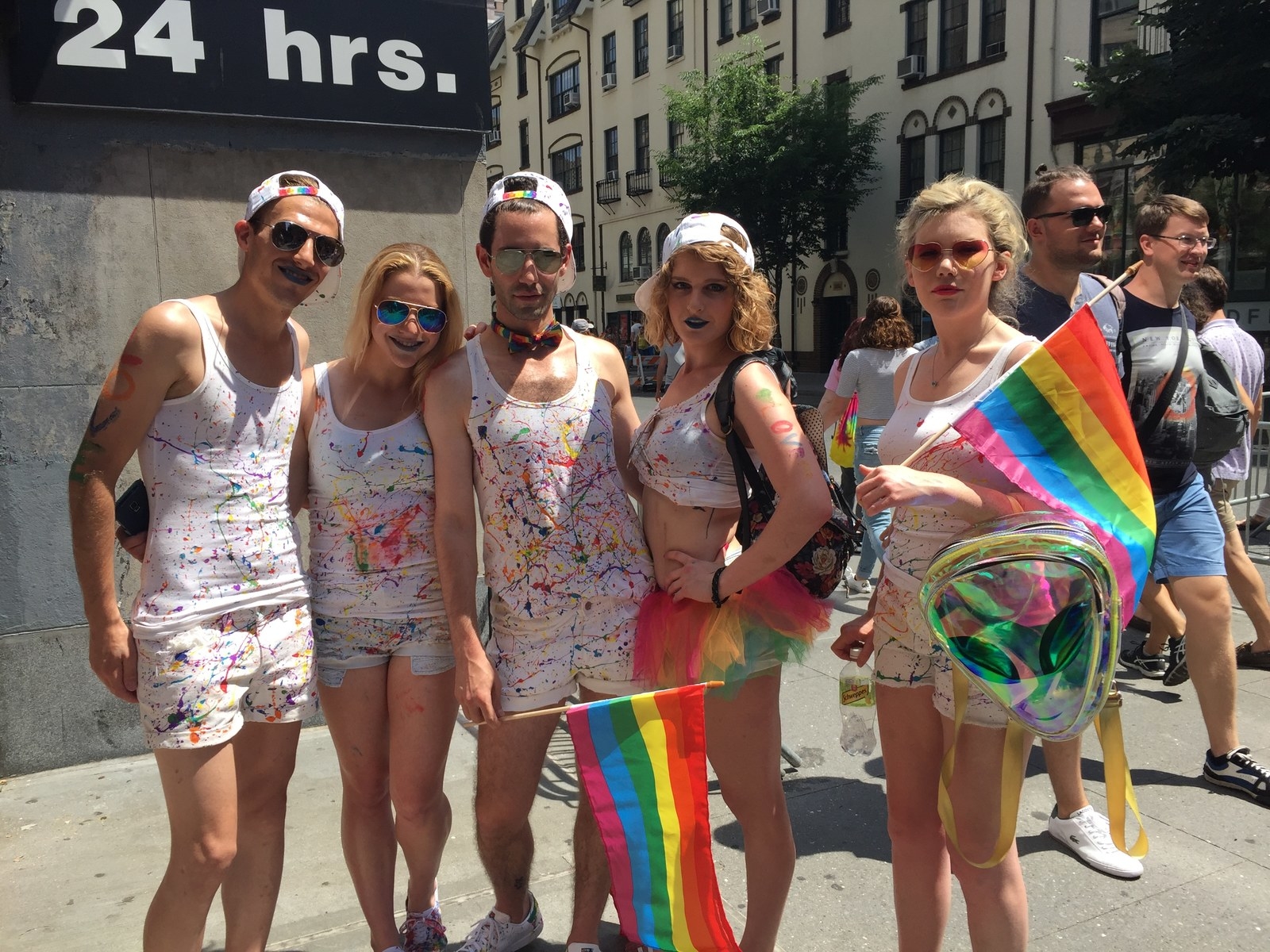 "There's a lot of pain with this year's pride parade," he said. "We're hoping the colors will replace the pain."
Allen, who is from Brooklyn, said the community's resilience following the Orlando attack was evident in the sheer number of people who came out to march in the parade and cheer from the sidewalks.
"It's an act of defiance," he said of not letting fear stop people from attending the parade. "You can attack us but we're not going to shy away. We are unapologetically here."
As thousands of people of all ages lined the streets of New York City to watch the parade, many said today was about the LGBT community and its allies.
"Being a member of the community, this is an awesome celebration, including allies of every color, race, and ethnicity under the sun," Shannon Weaton said.

Weaton admitted she felt a bit nervous about attending this year's parade given what happened in Orlando.
"Our existence is resistance," she said. "I'm not going to let bigotry win."
"I'm here to celebrate love and good vibes," said Dakota Orbach, who was at the event with eight of his friends. "It's very gay and I love it."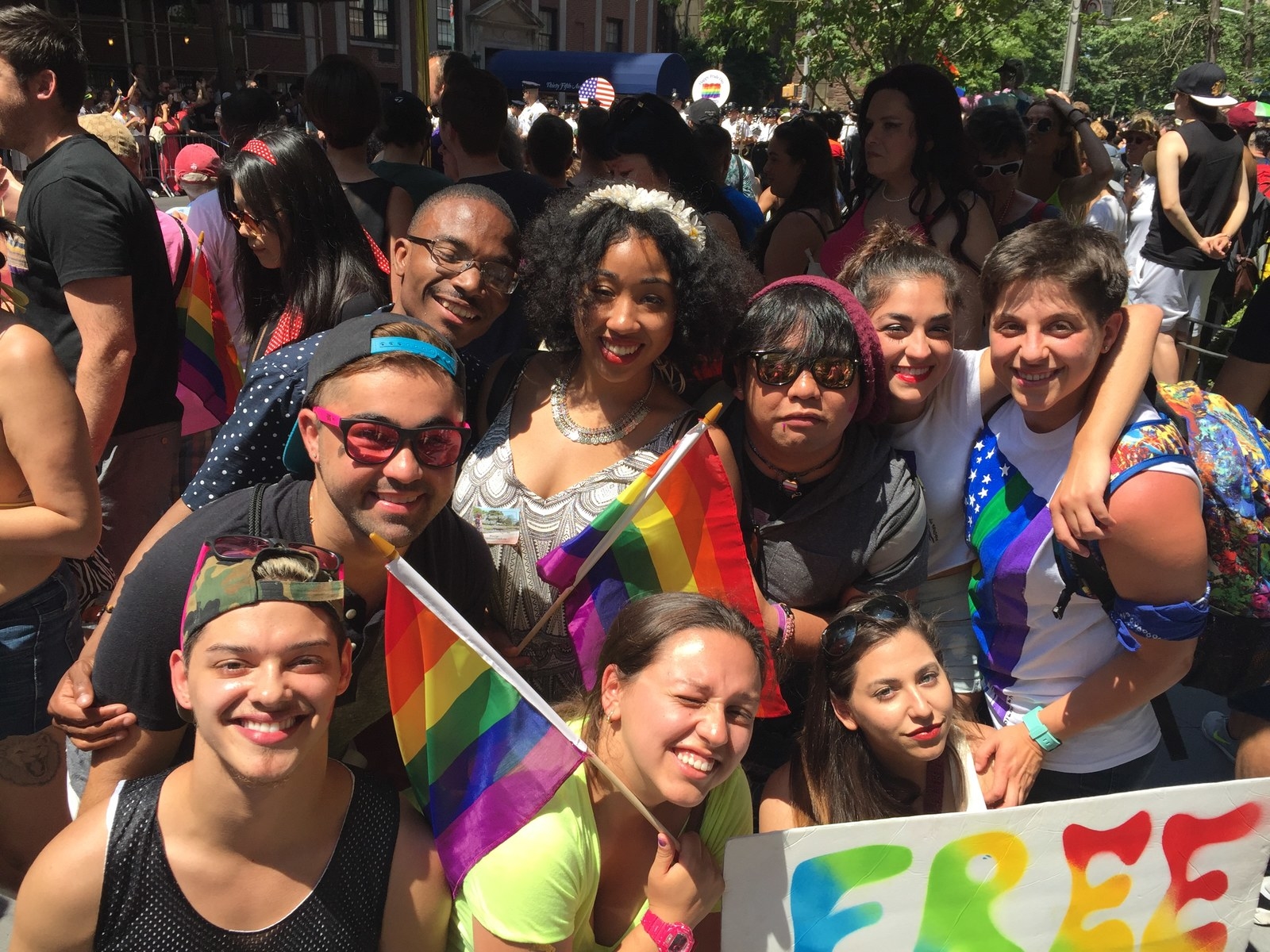 Nicole Spano said it was important for her to come to the parade as she recently came out and wanted to celebrate with her first girlfriend, Quinn Vaticino.

"I'm so excited because I'm around people that have the same values as me," she said, while hugging Vaticino, and stealing a quick kiss.