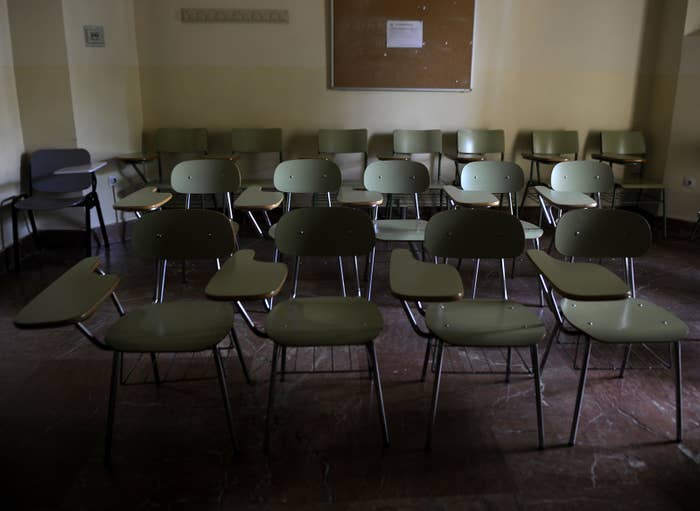 A lawyer has filed two complaints asking federal officials to open an investigation into New York City Department of Education, alleging city schools have a pattern of discrediting and punishing students who are victims of sexual assault.
Attorney Carrie Goldberg, whose firm specializes in sexual assault, this week requested the U.S. Department of Education and Department of Justice open a joint investigation into two separate cases, alleging there is an "epidemic" of school administrators mishandling cases of rape and sexual assault.
A previous complaint, filed by Goldberg in November 2015 on behalf of a third girl, is currently being investigated by the Office for Civil Rights, Goldberg told BuzzFeed News in an interview.
"It is our strong belief that these incidents are indicative of institutionalized deliberate indifference to the needs of black female victims of sexual assault 'educated' by the New York City Department of Education," Goldberg wrote to the Department of Education's Office for Civil Rights in a letter obtained by BuzzFeed News.
Goldberg wrote that all three girls she is representing were "formally or informally suspended" from their Brooklyn public schools.
Under the federal gender equity law Title IX, schools that receive federal funding must properly investigate all claims of sexual assault and harassment, as well as ensure that students are not denied their right to a fair education on the basis of sex.
"Whether by official act or omission the end result is that sexual assault victims suffer twice in [New York City Department of Education]; once at the hands of the individual that attacked them, and again under the heel of a bureaucracy that is required to act in their best interest," the complaint filed on June 4 reads.
The U.S. Department of Education did not immediately return requests for comment from BuzzFeed News.
Last year's complaint stems from a story first reported by BuzzFeed News.
In April 2015, an eighth grader at Brooklyn's Spring Creed Community School who was waiting for the bus was dragged into an alleyway and forced into performing anal and oral sex. The male student recorded and shared video of the incident.
"It was the most awful thing," the girl told BuzzFeed News in March 2016. "It was bad enough that everyone knew what happened. But knowing that they had seen the video was that much worse."
Goldberg filed a complaint to the Department of Education on behalf of the girl and her family in November 2015.
"Our client was simply told to stay away from her school after a video of being raped by a classmate whet viral around the school – a de facto, if unofficial, suspension," Goldberg wrote in her letter.
In another incident, a tenth grade girl with an IQ of 71 was forced by two boys to engage in oral sex in a Brownsville high school while five other boys watched, according to the complaint. One of the boys was arrested and charged, but the girl was suspended for having consensual sex on school grounds.
"By case number three, I realized that it's no an aberration," Goldberg told BuzzFeed News. "This is a pattern and practice of mishandling."
Goldberg is asking the Department of Education to open a joint probe with the Department of Justice — which also has the authority to investigate Title IX complaints.
"Our legal team is reviewing these deeply troubling complaints and will respond to the Office for Civil Rights regarding any pending matters," a Department of Education spokesperson told the New York Times. "Nothing is more important than the safety of all students and staff, and we have policies in place that ensure that incidents are reported, investigated and appropriately addressed."
The New York City Department of Education has one Title IX coordinator for the approximately 1.1 million students it serves, Goldberg said.
"The New York City Department of Education is obligated to investigate under the same Title IX laws that we hear about in college campus rape incidents," Goldberg told BuzzFeed News. "It's the same rules, it's just that there's not even an apparatus in place to begin to handle these cases."