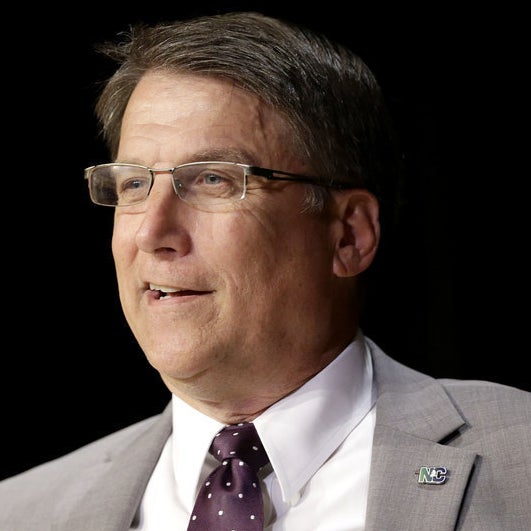 North Carolina Gov. Pat McCrory, facing a Department of Justice deadline to decide if his state would not comply with an anti-LGBT "bathroom law," defiantly sued the federal agency on Monday — and hours later the DOJ responded with its own suit against the state.
Attorney General Loretta Lynch said the law — which was passed in March and bans transgender people access to restrooms that match their gender identity in government buildings and schools — violates federal civil rights laws which prohibit discrimination in the workplace on the basis of sex.
The law — known as HB2 — "created state-sponsored discrimination against transgender individuals, who simply seek to engage in the most private of functions in a place of safety and security – a right taken for granted by most of us," Lynch said at a news conference Monday afternoon.
McCrory, in his lawsuit, called the Justice Department's stance "a baseless and blatant overreach," and sued Lynch and U.S. Principal Deputy Assistant Attorney General Vanita Gupta for "their radical interpretation of Title VII … which would prevent plaintiffs from protecting the bodily privacy rights of state employees while accommodating the needs of transgendered state employees."
The Department of Justice lawsuit says HB2 "stigmatizes and singles out transgender employees, results in their isolation and exclusion, and perpetuates a sense that they are not worthy of equal treatment and respect."
The Justice Department is seeking a statewide ban on the law and has retained options of curtailing federal funding to the state's Department of Public Safety and the University of North Carolina.
"This action is about a great deal more than just bathrooms," Lynch said. "This is about the dignity and respect we accord our fellow citizens and the laws that we, as a people and as a country, have enacted to protect them – indeed, to protect all of us."
Following letters the Department of Justice sent to the McCrory last week, the federal agency had given the governor until Monday, May 9, to respond with a solution to "remedy the situation."
McCrory claims that transgendered people are not protected under Title VII and that a court, and not the Department of Justice, should dictate what laws require.
"This is an attempt to unilaterally rewrite long-established federal civil rights laws in a manner that is wholly inconsistent with the intent of Congress and disregards decades of statutory interpretation by the courts," McCrory's lawsuit reads.
In a press conference Monday afternoon, McCrory said the issue has raised "major privacy concerns about males entering female facilities or females entering male facilities" — a scenario which has never been documented in the 17 states and 225 cities that currently ban transgender discrimination.
McCrory said the Department of Justice's letter was "a substantial request with serious implication," and he only had three business days to respond. He asked the Department of Justice for a two week extension — but was denied unless he publicly stated that he agreed with the federal agency's interpretation of the law.
McCrory is asking the courts to clarify federal law as "North Carolina does not treat transgender employees differently from non-transgender employees," according to the lawsuit.
Lynch delivered impassioned remarks in favor of transgender people both in the suit and during her news conference. She compared HB2 to Jim Crow laws and same-sex marriage bans and said "none of us can stand by when a state enters the business of legislating identity."
"We see you," Lynch said directly to transgender people, "we stand with you; and we will do everything we can to protect you going forward."
"An individual's 'sex' consists of multiple factors, which may not always be in alignment. Among those factors are hormones, external genitalia, internal reproductive organs, chromosomes, and gender identity, which is an individual's internal sense of being male or female," the lawsuit said.
The Attorney General of Texas released a statement standing with McCrory. Last year, Houston voters repealed a city law that protected LGBT people from discrimination.