New Hampshire Rape Trial Calls Into Question Elite School's Tradition Of Sexual Competition
The alleged assault was said to be part of a decades-long tradition known as the "Senior Salute" at St. Paul's School, which boasts Secretary of State John Kerry and a number of U.S. ambassadors as alumni.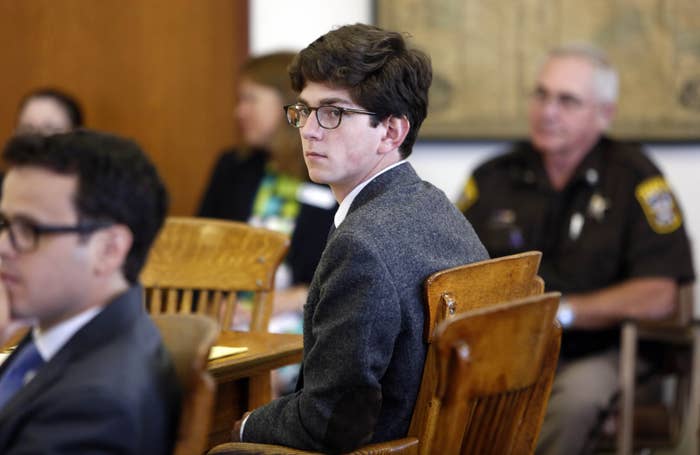 During Tuesday's opening statements in the New Hampshire trial of a prep school student accused of rape, attorneys called into question a tradition in which graduating seniors compete to sleep with younger students at the elite St. Paul's School in Concord.
Owen Labrie, 19, is on trial at Merrimack County Superior Court for allegedly luring a freshman student to the top of a math and science building and raping her in May 2014, as part of the tradition at the school, which boasts Pulitzer Prize winners, U.S. Ambassadors, and Secretary of State John Kerry as alumni.
The alleged assault was part of a decades-long tradition dubbed the "Senior Salute" at the elite prep school, whereby graduating seniors – male and female – plan outings with younger students.
"The current allegations about our culture are not emblematic of our school or our values, our rules, or the people who represent student body, alumni, faculty and staff," the rector of St. Paul's School Michael G. Hirschfeld said in a statement.

Prosecutor Catherine Ruffle explained to the court that the tradition has been passed down year after year, occurring at the end of the school term when seniors are preparing to graduate. Before receiving their diplomas, she said seniors extend invitations, often to younger students, to get together.
Ruffle explained that the definition of the tradition varies from student to student. "Some say 'get together' was as simple as walking to class or kissing," she said. "The point of 'Senior Salute' was to be with someone they've wanted to be with – a final chance as graduation approaches."
Ruffle said that often times student groups, such as athletic teams or dorms, competed to see who could "slay" the most girls – a term coined for the practice of the "Senior Salute." Because the tradition was held at the end of the school year, April was said to be referred to as "Slaypril" and the month of May was called "Slay."
Labrie planned his "Senior Salute" for months, Ruffle said, presenting emails and text messages dated March 2014 that included a list Labrie was said to have written documenting the he wanted as conquests. The alleged victim was the only name written on the list in capital letters, Ruffle said, indicating that she was worth more points.
The prosecutor said Labrie specifically targeted the 15-year-old girl because he had hooked up with one of her relatives, who was also a student. The previous hook-up with the relative increased the point-value of his encounter with the victim, Ruffle said.
On the night of May 30, 2014, Ruffle said the girl willingly accepted Labrie's "Senior Salute" invitation to hang out. The female student expected to kiss Labrie, Ruffle said, but did not want to have sex with him.
Prosecutors alleged Labrie became aggressive toward the female student, pulling down her bra and biting her chest. Ruffle said he attempted to perform oral sex on the girl, but she said no. The girl was said to have held on to her underwear to prevent him from pulling them down. But Ruffle said Labrie managed to pull them down and sexually assault her. When she attempted to pull away from him, he allegedly called her "a tease."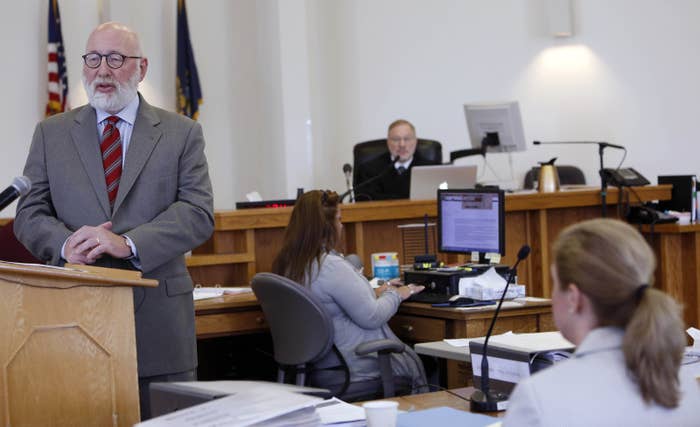 Labrie's attorney, J.W. Carney, who also defended mobster Whitey Bulger, called the case a story about "two high school kids and the experiences they have growing up."
He said the story is full of inconsistencies, and it is up to the jurors to carefully examine the evidence of whether the alleged victim was a willing participant in the activities.
Carney said it was a "source of pride" for girls to be invited to participate in "Senior Salute."
Carney presented a number of emails and texts sent between the two students, often times written in French, calling them "romantic." He points to the affection the two students showed even after the alleged assault, at times calling each other "a gem" and "an angel."
Owen has maintained his innocence, pleading not guilty and claiming he never actually had sex with the girl. According to Carney, Labrie had a moment of clarity during the hook up, realizing what he was doing was not right, and stopped.
"They never did have sex," Carney told the jury.
The elite prep school is no stranger to controversy. On Tuesday, a 19-year-old St. Paul's School graduate pleaded no contest to a non-criminal violation level offense of unprivileged physical contact by pressing a hot lamp against his 17-year-old girlfriend's leg earlier this year. according to the Concord Monitor.
Ronald "Hopper" Hillegrass was fined $500 and ordered to tour the Merrimack County jail.
Following opening statements, the jurors were taken to the location of the alleged assault. The trial is expected to last seven days, and both Labrie and the alleged victim will testify.
Read the indictment:
Download PDF