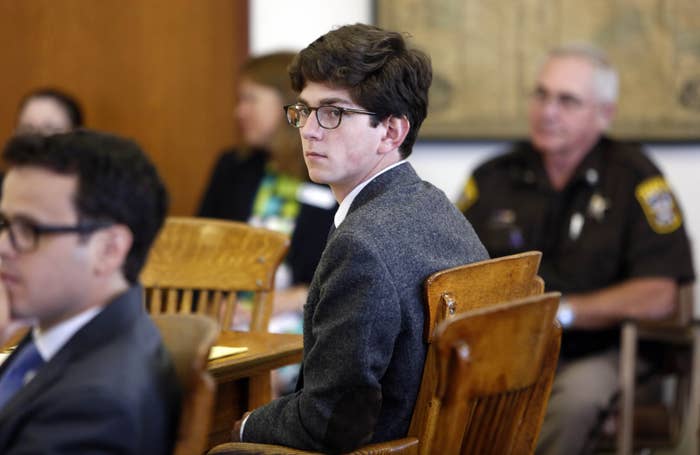 Two months after being found guilty of three charges of misdemeanor sexual assault and one felony charge, a judge sentenced New Hampshire prep school graduate Owen Labrie to a year in jail and probation. He faced up to 11 years behind bars.
In August, Labrie, 20, stood trial for allegedly luring a freshman student to the top of a math and science building at the elite St. Paul's School in May 2014 and raping 15-year-old girl, who was under the age of consent. The incident happened during a decades-long tradition St. Paul's known as the "senior salute," whereby male and female students invite underclassmen out on dates.

Labrie was found not guilty of the three most serious sexual assault charges – all felonies – filed against him. The jury – nine men and three women – indicating that they believe Labrie was guilty of having sex with an underage girl, but they didn't believe the accuser's claim that it was not consensual.
Just because the jury didn't find it was rape, doesn't mean that it was consensual, Judge Lawrence Smukler said during the sentencing hearing on Thursday. "This was not consensual," he said.

Smukler said he is not punishing Labrie for not showing remorse for his actions, but condemned him for taking advantage of a 15-year-old "not sufficiently mature to handle a sexual situation with an older person."

Labrie was found guilty of one felony count of using "computer services" — namely, emails and Facebook messages — to lure the girl into a sexual assault. That felony conviction could mean Labrie be on the state's sex offender registry for life.
Labrie was also found guilty of three charges of misdemeanor sexual assault, one misdemeanor charge of using a computer to endanger a child, and one misdemeanor charge of endangering the welfare of a child. The misdemeanor sexual assault charges could carry a year in prison.
Labrie will remain free on bail pending his appeal but will have to register on the sex offender registry immediately.
"You have done some foolish things in this case, it would be exceedingly foolish to do anything to violate bail condition," the judge said.
The judge, calling Labrie "a leader not a follower," said he is penalizing Labrie for lying to police and to the jury.
"You did deny until you die," Smukler said, referring to a Facebook message Labrie had sent a friend. "You're a very good liar."
In a sentencing motion filed Wednesday, Labrie's attorney, J.W. Carney, recommended probation and community for service for his client, saying "his punishment to date has been enormous."

The sentencing motion, which includes photos of Labrie as a child — playing soccer and learning the violin —said Labrie loved St. Paul's School and excelled academically. Carney contends that Labrie has already "lost his dream of attending Harvard College" and losing his full scholarship.
The sentencing motion also includes letters from Labrie's friends and psychologist who attest to his character, as well as one written by his mother, who says her son was suicidal after his arrest.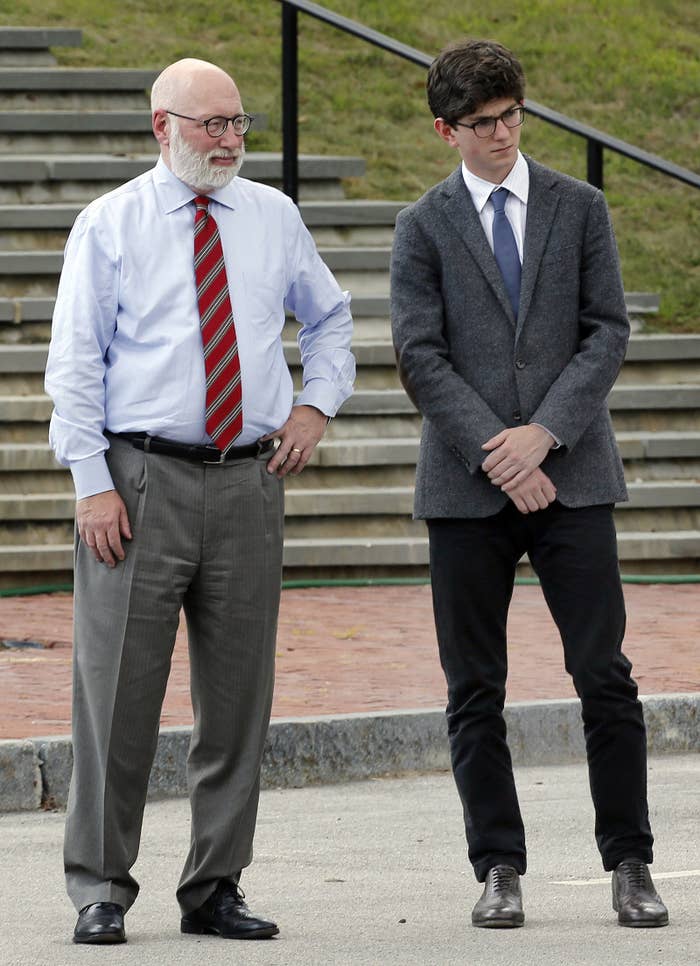 Carney maintained that the felony charge of using a computer to contact the girl should not be applied to a situation like this. He appealed, but a trial judge upheld the original conviction.
"If he had merely called the 15-year-old on the telephone or spoken to her in person, there would be no additional crime," Carney said, according to the Associated Press. "Yet because he prearranged the encounter through email and Facebook, he will be subjected to the scrutiny and humiliation of sex offender registration for the rest of his life."
In the sentencing motion filed by the state Thursday, prosecutors paint a picture of predator.
The prosecutors claim Labrie and his friends ritualized the "senior salute." As part of the sentencing motion, the state released Facebook messages and emails exchanged between Labrie and his friends which "show a callous, disrespect for young women."
In the messages, Labrie states that his style to approaching girls is to "feign intimacy … then stab them in the back … THROW EM IN THE DUMPSTER … I lie in bed with them… and pretend like I'm in love."
After the accuser first rejected Labrie's invitation to hang out, Labrie wrote to his friend that "she turned me down … fucking hate forbidden fruit … fuckin girls so much … another dumb cum-bucket struck from my nut sucking, suck it slut."
Smukler addressed the messages in his comments to Labrie. "I believe that you are not the angel as portrayed by your counsel" he said, "but neither are you the devil as portrayed by the prosecution."
The two-week trial called the "senior salute" tradition at the school — which boasts Pulitzer Prize winners, U.S. Ambassadors, and Secretary of State John Kerry as alumni — into question.
Prosecutors claimed during the trial that the tradition had morphed into a sexual contest with boys competing with each other for how many girls they can sleep with.
Prosecutor Catherine Ruffle said Labrie specifically targeted the girl, and much of the trial focused on consent and whether the accuser was a willing participant of the tradition. A number of emails and Facebook message exchanges were presented by Carney, who said the girl, now 16, knew what she was doing.
During her testimony, the girl graphically described how their sexual encounter quickly escalated. She said that after he ripped her bra off, he tried to remove her underwear and that she said "no." The teen testified that Labrie ignored her and proceeded to rape her.
Labrie maintained throughout the trial that the two students never had sex. While the two kissed, removed clothing, and put on a condom, Labrie said he had a moment of clarity and realized he should not have sex with the girl.