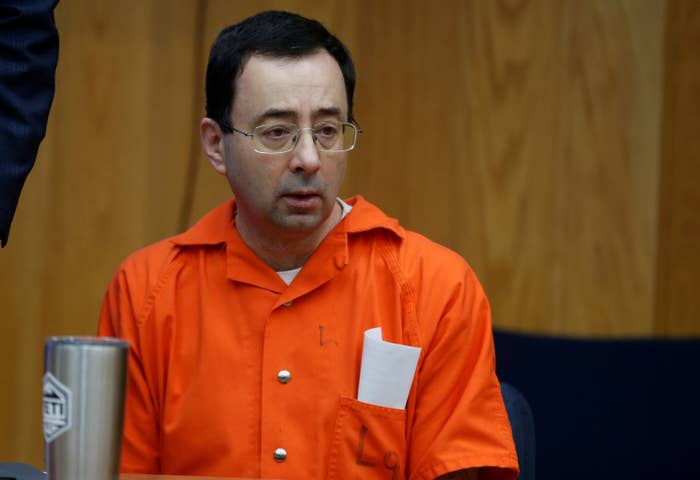 Larry Nassar, the former USA Gymnastics doctor who last week was sentenced to 40 to 175 years behind bars for sexually abusing young athletes under the guise of medical treatment, was in court again Wednesday to face sentencing on similar charges in a different Michigan county.

Nassar pled guilty in November 2017 to three counts of criminal sexual conduct in Eaton County, Michigan. The sentencing hearing, which began Wednesday morning before Judge Janice Cunningham, is expected to last several days as 65 women have said they want to give victim impact statements.
As part of the plea agreement, any victim impacted by Nassar's abuse is allowed to address the court.
Michigan's attorney general's office said they are still receiving new complaints from women who said they were abused by Nassar. To date, 256 girls and women have come forward, Cunningham said.
Last week's sentencing drew national headlines as more than 150 women — some publicly, some anonymously — delivered victim impact statements in Ingham County court, including Olympic medalists Aly Raisman, McKayla Maroney, and Jordyn Wieber.
The first person to speak Wednesday morning in Eaton County was Jessica Thomashaw, who also addressed Nassar at the previous sentencing.
"For the rest of my life I'm going to have to heal from what you did," she said, addressing Nassar.

Many of the women and girls who spoke Wednesday said they knew something about Nassar's treatments was not right but convinced themselves it was alright because he was a world-renowned doctor and were told by coaches to trust him.
"Maybe your hands slipped. I must have imagined it," gymnast Katherine Ebert remembered thinking. "Just like I must have imagined the bulge in your pants as you walked around the exam table."
Several women also slammed Michigan State University and USA Gymnastics for their role in the scandal.
Olivia Cowan, who also spoke in Ingham County, had a statement read on her behalf blaming the other organizations involved and demanding the be held accountable.
Last week Michigan State University Lou Anna Simon and the school's athletic director Mark Hollis resigned and on Wednesday the entire board of USA Gymnastics resigned after the US Olympic Committee demanded they step down.