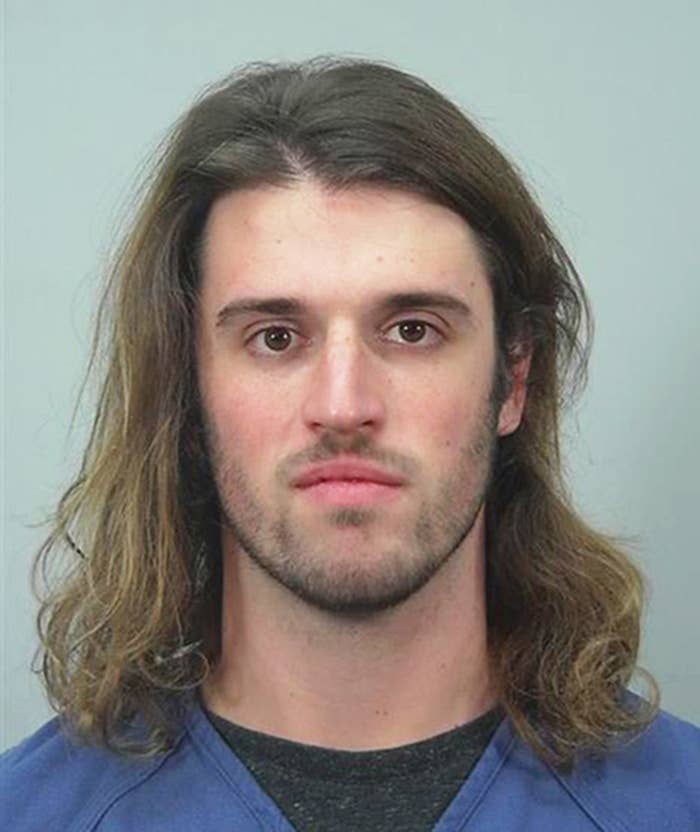 Five additional women have accused a University of Wisconsin student of sexual assault or harassment — raising the total number to 10 — leading prosecutors to file additional charges against him on Thursday.

Alec Cook has been held at the Dane County Jail since his arrest in October, and on Friday, the judge cut his bail in half, lowering it to $100,000. Prosecutors had asked the judge to raise bail to $500,000. He was released later Friday.
Cook's attorney, Chris Van Wagner, said he had explained to the judge in October that his client did not plan on posting bail until "the dust had settled," to avoid multiple arrests stemming from the various charges.
Van Wagner said Friday's hearing was the first serious discussion of bail, and that the judge concluded $100,000 is the appropriate amount based on the charges and that Cook does not have a criminal record.
The Dane County district attorney did not immediately return requests for comment.
The University of Wisconsin sent an email Friday informing its students that Cook will be posting bail and that he is still banned from campus. He remains under emergency suspension, university spokesperson Meredith McGlone told BuzzFeed News.

Cook was originally charged in October with 15 criminal counts, including 11 sexual assault charges involving five women. At the time, police said his arrest prompted more women to come forward and accuse him of related crimes.
The six new charges — the result of five more women coming forward, bringing the total to 10 — were filed on Thursday include felony stalking, fourth degree sex assault, and disorderly conduct, according to the criminal complaint. Cook now faces 21 charges.

One of the new victims accused Cook of sexually assaulting her. The other four women accused the 20-year-old of disorderly conduct and stalking them on the university campus.
Four of the new accusers allege that Cook stalked them on campus — including following them home from class — over several months. Another woman alleges that Cook groped her on a sidewalk of a busy street as she walked home.
"These are not strong charges," Cook's lawyer Chris Van Wagner told BuzzFeed News following Friday's hearing, adding that the additional charges stem from his client awkwardly flirting with a girl by smiling at her.
"They appear to be quite possibly the product of suggestibility. Each of the people named in the new count never did anything to report a crime at the time. It became a crime once they saw my client's picture plastered across campus and the internet."
Van Wagner said he plans on challenging some of the additional charges lodged against his client.
"I think back to college and wish I hadn't smiled as much in the library," Van Wagner said in a press conference after the hearing, saying that he thought the only reason the new charges were brought is because he filed a motion to reduce his bail.

Cook was arrested in October for allegedly raping a woman in his Madison apartment. News of his arrest led to more women reporting being sexually assaulted by him and "dozens of females … wanting to speak about unknown acts related to Cook," according to a Madison Police Department search warrant.
The first woman who reported Cook said they studied at the library together until about 11:30 p.m. on Oct. 12. She told Cook she didn't want to "move too fast" or have casual sex, and he replied, "we won't do anything you aren't comfortable with," according to a criminal complaint.
But when they went to his apartment, he began forcefully kissing and digitally penetrating her, the woman told police, despite her demanding he stop. He raped her for two hours, the complaint said, at one point choking and slapping her until she nearly passed out.
She told officers she started "accepting [my] fate" because "I realized he was bigger and stronger" and was afraid of what would happen if she fought back.
Cook told police the sex was consensual and denied she ever told him no or pushed him away — he admitted he pulled her hair. Cook didn't remember if he put his hands on her neck, because "sometimes I get lost in the heat of the moment."
At the time, Madison police collected a black leather book "with female names believed to be other victims" from Cook's apartment while executing a search warrant.