The assistant mass media professor seen on video asking for "muscle" to help remove a reporter covering public demonstrations at the University of Missouri resigned her courtesy appointment to the journalism school on Tuesday.

The announcement of Melissa Click's resignation came hours after she issued a public apology for her actions a day earlier.
"I regret the language and I used, and sincerely apologize to the MU campus community, and journalists at large, for my behavior, and also for the way my actions have shifted attention away from the students' campaign for justice," Click said in her statement issued through the university.
In the video posted to social media on Monday, Click confronts a freelance student journalist and asks for help in removing him from the scene of the demonstration.
"Hey who wants to help me get this reporter out of here," Click said in the video. "I need some muscle over here."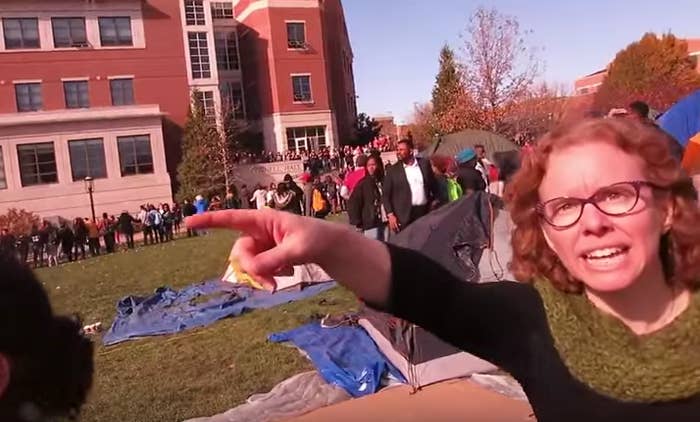 The man who shot the video, and identified himself as a reporter to Click, is Mark Schierbecker.

In her statement Tuesday, Click said that she had personally called to apologize to the journalist she confronted and that he had accepted.
"I believe he is doing a difficult job, and I am grateful to have had the opportunity to speak with him. His dignity also speak well to the journalism program at MU," Click said. "Again, I wish to express my sincere apology for my actions on Camahan Quad yesterday."
Protesters engaged in a weeks-long protest against university officials' handling of reported racism and racist incidents on campus. On Monday, University of Missouri Chancellor R. Bowen Loftin and University of Missouri System President Tim Wolfe both resigned from their positions.
Following Wolfe's resignation, students gathered on campus to celebrate.
As backlash against the video grew, Click's fellow faculty members announced that they would decide by vote on whether to strip the professor of her courtesy title.
A spokesperson for the journalism school told BuzzFeed News that Click's full-time appointment is with the communication department, and that she had a "courtesy appointment" with the Missouri School of Journalism — meaning she did research with a professor. It was not clear whether Click taught journalism students.
The Communication Department on Tuesday evening released a statement supporting the student journalists.
"Intimidation is never an acceptable form of communication," the department said.
Click wasn't the only person on the campus who tried to limit access to reporters as the celebration unfolded.
Earlier in the video, University of Missouri protesters are shown stopping a student photographer from accessing the demonstrations on the quad.
Photographer Tim Tai, who was on assignment with ESPN, was trying to take photographs of the protestors when members of Concerned Student 1950, the activist group that raised awareness about racism on campus, told him he needs to leave.

"I'm documenting this for a national news organization," Tai tells the protestors, adding that the First Amendment protects his right to be there.
At one point in the video, Tai is confronted by Janna Basler, the director of Greek life and leadership on campus, who told the photographer to "back off."
Basler told Tai he is "infringing on what [the protesters] need right now, which is to be alone."
Protesters started pushing forward, restricting Tai from snapping photos. Requests for comment from Tai were not immediately returned.
Reporters from across the U.S., meanwhile, took to Twitter to support Tai and his right to be on the quad documenting the protest.

The activists defended their position in a series of tweets.