Republican vice presidential candidate Mike Pence quieted a crowd at a Nevada rally Monday that booed a military mother who said Donald Trump had disrespected the armed forces.
At a town hall in Carson City, Nevada, Catherine Byrne, the mother of an active Air Force staff sergeant asked Pence how he can "tolerate his disrespect."
"Time and time again, Trump has disrespected our nation's armed forces and veterans — and his disrespect for Mr. Khan and his family is just an example of that," Byrne said. "Will there ever be a point in time when you're able to look Trump in the eye and tell him 'enough is enough'? You have a son in the military. How do you tolerate his disrespect?"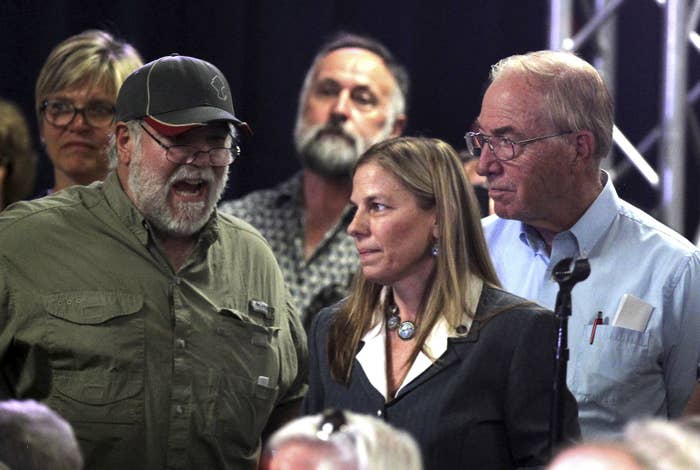 The crowd began booing Byrne halfway through her question, and Pence tried quietening the crowd saying, "folks that's what freedom looks like and what freedom sounds like."
The question comes four days after Khizr Khan, the father of a soldier killed in Iraq, gave a passionate speech at the Democratic National Convention calling out Trump for his comments on Muslims.
In response, Trump said Kahn "viciously attacked" him and had "no right" to make those comments. Trump also insinuated that Khan did not allow his wife to speak at the convention due to their Muslim faith.

Pence thanked Byrne for her son's service, adding that Khan's son is an "American hero."
"The only other thing I would say to you is having spent time with our nominee, I have never been around someone more devoted to the armed forces of this country, more devoted to the families of our soldiers, sailors, airmen, marine and coast guard, and no one more devoted to the veterans in this country," the Indiana governor said. "Donald Trump supports our soldiers and supporters our veterans like no other leader in my lifetime."

Byrne, whose son served in Iraq in 2009 and 2010 is on his second deployment on a base in the United Arab Emirates, told NBC News that she still intends to vote for Trump in November.
She said she thought Pence's response was respectful and that a number of audience members came up to her after the rally to thank her for asking that question.
"I knew that it was going to take bravery to mention Mr. Khan's name in that audience. I was ready and I was there for a while, but it was my opportunity to ask the candidates candid questions that are important to me," Byrne told MSNBC's Lawrence O'Donnell Monday night.