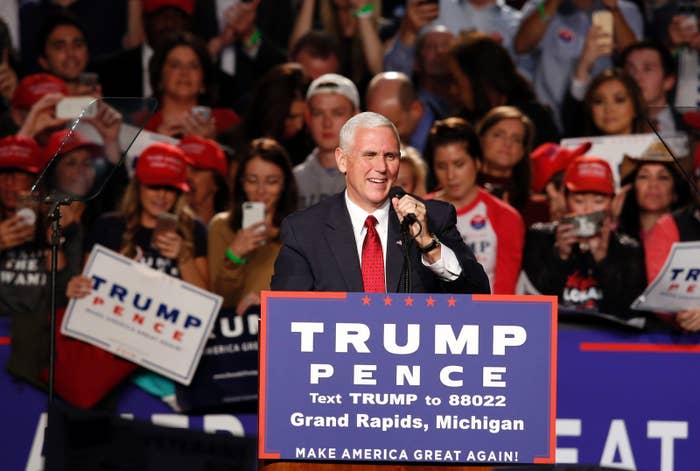 President-elect Donald Trump announced Friday that his running mate, Mike Pence, will replace Chris Christie as chairman of the Presidential Transition Team.
Christie, the governor of New Jersey, will now serve as vice-chair alongside Ben Carson, Newt Gingrich, Michael Flynn, Rudy Giuliani, and Jeff Sessions.
Rick Dearborn, the chief of staff to Sen. Jeff Sessions, will serve as executive director.

The advisors "will build on the initial work done under the leadership of New Jersey Gov. Chris Christie to help prepare a transformative government ready to lead from day one," Trump said in a statement.
Christie has been in the news recently after two of his former top aides were convicted of shutting a lane of the George Washington Bridge, the nation's busiest commuter span, and causing massive traffic issues as part of a political vendetta. Testimony in the trial suggested Christie knew of the lane closures.
"The mission of our team will be clear: put together the most highly qualified group of successful leaders who will be able to implement our change agenda in Washington," Trump said in his statement. "Together, we will begin the urgent task of rebuilding this nation — specifically jobs, security and opportunity."

Trump wants to take advantage of Pence's Washington experience and contacts as he assembles a government, the New York Times reported.
The president-elect's closest aides — including Giuliani, campaign spokesperson Hope Hicks, and former campaign manager Corey Lewandowski — arrived at Trump Tower in New York Friday morning ahead of the transition team announcements.
On his way out of the building, Giuliani told reporters he was "just giving advice" to Trump, but did not provide further detail.
"I can see already how he is going to be a great president and I'm glad I can play a small role in it," the former New York City mayor told reporters.
The new Executive Committee will be:

Congressman Lou Barletta
Congresswoman Marsha Blackburn
Florida Attorney General Pam Bondi
Congressman Chris Collins
Jared Kushner
Congressman Tom Marino
Rebekah Mercer
Steven Mnuchin
Congressman Devin Nunes
Anthony Scaramucci
Peter Thiel
Donald Trump Jr.
Eric Trump
RNC Chairman Reince Priebus
Trump Campaign CEO Stephen K. Bannon