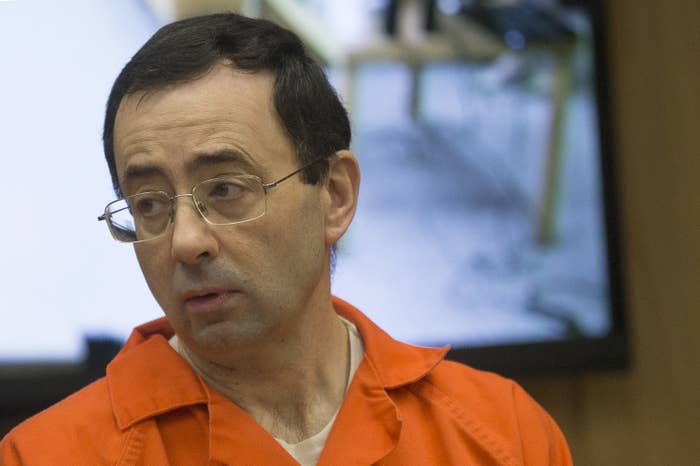 Michigan State University has agreed to pay $500 million to hundreds of women who say they were sexually assaulted by Larry Nassar, the former USA Gymnastics doctor who is in jail for sexually abusing young girls and women under the guise of medical treatment.
The payment resolves various lawsuits filed on behalf of 332 women and girls against the university, claiming MSU failed to protect them against Nassar. After Nassar's sentencing, MSU president Lou Anna Simon and athletic director Mark Hollis resigned following criticism over the school's handling of the abuse allegations.
The settlement applies to only Michigan State University and MSU individuals sued in the litigation.
"This historic settlement came about through the bravery of more than 300 women and girls who had the courage to stand up and refuse to be silenced," John Manly, an attorney representing the survivors said in a statement.

According to the terms of the settlement, $425 million will be paid to current claimants and $75 million will be set aside for anyone who comes forward with allegations of sexual abuse by Larry Nassar in the future.
The women will not be required to sign confidentiality agreements or nondisclosure agreements, according to the announcement of the settlement.
"Michigan State is pleased that we have been able to agree in principle on a settlement that is fair to the survivors of Nassar's crimes," Robert Young, special counsel to MSU said in a statement.

Nassar, who worked for nearly 30 years as a sports doctor at MSU and USA Gymnastics, was sentenced to 40 to 175 years in prison in Ingham County in Michigan after dozens of his victims, including Olympic medalists, confronted him in court. He was previously sentenced to 60 years in federal prison on child pornography charges.

Following Nassar's sentencing, Michigan's attorney general, Bill Schuette, announced that an independent special prosecutor will lead the state's "ongoing investigation into what the heck is happening at Michigan State University."
"I am pleased for the survivors of Larry Nassar's mistreatment that this settlement is occurring," Schutte said in a statement Wednesday. "This is about justice for the survivors; each of the women who came forward deserve justice. Those who spoke at the many days of sentencing remain in my thoughts every day, and their strength is an inspiration to us all."

Special counsel Bill Forsyth said in a statement that he hopes the settlement provides some relief to the victims, adding that his investigation is open and ongoing.
An investigation published by the Detroit News reported that at least 14 MSU officials were told about Nassar's sexual misconduct and eight women at the school who reported he abused them. According to the report, former MSU women's gymnastics coach Kathie Klages was told by a 16-year-old high school student in 1997 that Nassar had sexually assaulted her — almost 20 years before he was fired from the school and put on trial.