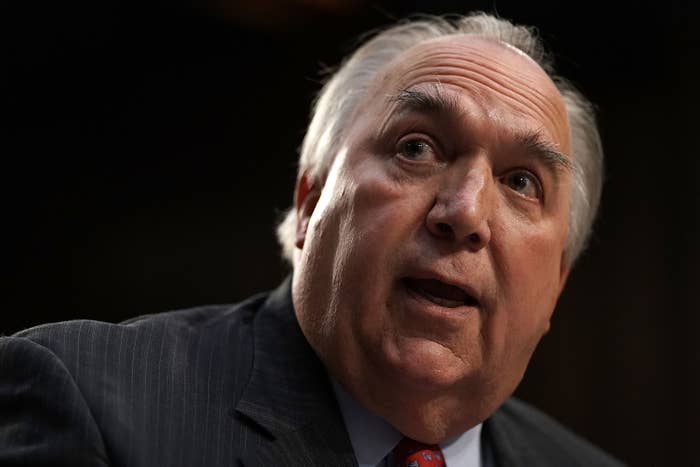 Michigan State University's interim president submitted his letter of resignation, which the board of Trustees accepted effective immediately, following comments he made that sports doctor Larry Nassar's victims are enjoying "the awards and recognition."
Nassar was sentenced to decades behind bars last year for sexually abusing hundreds of athletes under the guise of medical treatment while he was employed at Michigan State.

Calls for Engler's resignation came after he told the editorial board of the Detroit News last week that women who were sexually assaulted by Nassar are in the "spotlight" and "still enjoying that moment at times, you know, the awards and recognition."
"There are a lot of people who are touched by this, survivors who haven't been in the spotlight," Engler said, according to the Detroit News. "In some ways they have been able to deal with this better than the ones who've been in the spotlight who are still enjoying that moment at times, you know, the awards and recognition. And it's ending. It's almost done."
The comments sparked outrage, particularly within the MSU community. Board member Brian Mosallam on Wednesday tweeted, "JOHN ENGLER'S REIGN OF TERROR IS OVER."
Rachael Denhollander, the first woman to go public with her allegations against Nassar, also responded to Engler's comments on Twitter, detailing how the "spotlight" has turned her life upside-down.
With a majority of the board pushing for his resignation, Engler submitted an 11-page letter announcing his plan to step down next week while also defending his one-year tenure.
Engler said he "sought to move with urgency and determination to initiate cultural change" at MSU after being brought on, including restructuring access to mental health services, increasing accountability and communication, and improving transparency.
The Board of Trustees accepted Engler's resignation, saying it is effective immediately. They appointed as thew new interim president, Satish Udpa, the executive vice president of administrative services at Michigan State since 2013. According to the Detroit Free Press Udpa said he is not a candidate for the permanent position.
"A wrong has been righted today," board member Kelly Tebay said, according to the Detroit Free Press. "I'm sorry it took so long. Hopefully we restored some faith in your board. We thought it would send a strong message if we made the move today and we wanted to Upda to start immediately.
Engler, who is also a former governor of Michigan, was hired after Lou Anna Simon resigned following criticism in how she handled the Nassar scandal. Simon was later charged with lying to police during the criminal investigation.

"There are so many unsung heroes who have contributed to all we have done," Engler wrote in his letter. "You have stood up in the face of criticism and pressure to do what needed to be done."
But much of Engler's tenure as interim president was marked by the fallout of the Nassar trial. In June 2018, he came under fire after it was revealed in a leaked email that he said Denhollander had received a "kickback" for being the first person to publicly accuse Nassar.
Last month, a special prosecutor appointed to examine MSU's handling of the Nassar case also released a report accusing the school of stonewalling his investigation. The report detailed how the university drowned investigators with irrelevant documents and issued misleading statements to the public.
The prosecutor said in December that while the university publicly boasted about its cooperation with the investigation, claiming it handed over thousands of pages of documents, the reality was that much of the paperwork produced was irrelevant to the probe, including pages on the university's bed bug policy, various restaurant coupons, and documents on what employees should do if they forget their computer password.