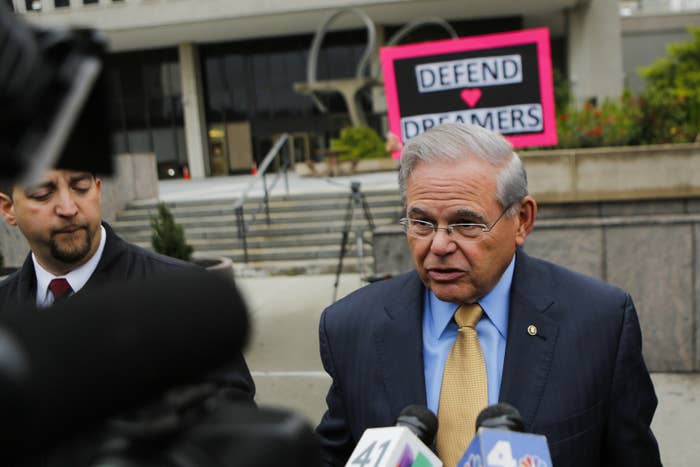 The federal judge overseeing the bribery trial of Democratic US Sen. Bob Menendez interrupted questioning of the first witness on Thursday to say he won't allow the proceedings to become a "tabloid trial."

The government called its first witness, an FBI supervisory intelligence analyst who reviewed and researched documents related to the Menendez's criminal investigation. Part of the documents the analyst reviewed included emails the senator sent Dr. Salomon Melgen regarding a 2010 trip to Paris.
But before government attorney J.P. Cooney was allowed to ask the analyst, Jane Ruch, too many questions about the type of hotel room Menendez chose for his stay at the Park Hyatt — a Deluxe King or a Suite King — Judge William Walls interrupted, saying he will not allow this to become a "tabloid trial."
"If they exchanged in bribery doesn't depend on whether the senator chose a more expensive room," Walls said.
"I suspect that we are now playing games by asking questions that are irrelevant," Walls added. "Who cares if the senator opted for the more expensive room? What is the point to be made?"
Before Walls interrupted, Cooney was questioning the witness about the different types of rooms and their corresponding rates. Cooney argued the questions are relevant because they'll show that Menendez's deliberately choosing the more expensive room illustrates the corrupt relationship between the senator and Melgen — and how Menendez never intended to repay his friend for the room. (Melgen ultimately reserved an even more expensive room than the one requested using his American Express credit card points.)
"That is a heavy leap you're making," Walls responded. "I don't think it's a sin for him to want a limestone bath per se."
"One of my favorite aspects is the rain shower. If anyone's been in a rain shower they'd appreciate that," joked the judge.
The FBI analyst testified that emails and bank records show that Menendez — who was traveling to France for a meeting with the American ambassador in Paris — asked Melgen to book and pay for the hotel room using American Express credit card points. Melgen booked the $4,934.10 stay at the hotel for three nights in April 2010 using the points.
The witness testified, as a government employee, that when she travels for work, the government pays for it.
During cross-examination, Menendez's attorney proceeded to point out that emails show his client began planning for the Paris trip on March 8, 2010. He reached out to Melgen about using the credit card points 16 days later. In the meantime, according to emails shown in court, Menendez first asked a member of his staff to research hotel rates.
Menendez, a New Jersey Democrat who was indicted more than two years ago, is the first sitting US senator to face federal bribery charges in 36 years. He was charged in April 2015 for allegedly accepting gifts and campaign contributions from Melgen, a Florida doctor, as bribes in exchange for his political influence. Both men deny the charges.

Prosecutors allege that Menendez used his office to help Salomon Melgen — a long time friend and donor — in exchange for lavish gifts, including a stay at a luxury hotel in Paris and trips on the doctor's private jet to his villa in the Dominican Republic.

An attorney representing Melgen told jurors in an opening argument on Thursday that his client is a generous and hospitable man who opened his modest family home in the Dominican Republic to the senator where they would hang out, smoke cigars, listen to music, and talk about politics.

Showing photos of the home, attorney Kirk Ogrosky said, "It's a very nice house but it's not what the government portrays. This isn't a fancy resort in a brochure but a family home."
Ogrosky said prosecutors will try to portray the men's friendships as "a sham," but Ogrosky argues you can't fake the decades-long relationship Melgen and Menendez shared. He called the flights Menendez took on the doctor's private jet "incidental to personal hospitality."
"When you do things for your friends because you love them like a brother, there is no bribe," he said. "When you do things for someone who is a friend, that is a complete defense to everything they are charging."
The two men supported each other through personal family matters: Menendez attended Melgen's daughter's wedding — and gave her $1,000 as a wedding gift. In turn, Melgen supported his friend when he divorced in 2003.
As for the political donations Melgen and his wife made, Ogrosky argued the doctor donated thousands of dollars to a number of politicians, mostly Democrats, but some Republicans who they believed were supporting Latino issues.
Since the Melgens began donating money in 1993, they have contributed to the Florida Democratic Party and Sen. Chuck Schumer, among others.
Ogrosky went on to say that Menendez and Melgen did not conceal their friendship, their trips, or the political contributions.
"There's nothing secret about the trips the senator made to the Dominican Republic," he said. "The senator and the doctor traveled around; they even did a media interview in 2006 on Sal's back deck. If they say it's concealment that he was going down there, all they had to do is look it up."