First lady Melania Trump made an abrupt appearance at a border facility holding children separated from their families Thursday, asking officials if the minors can make phone calls to relatives, what the children's physical and mental states are when they arrive, and how long it takes for them to be reunited with family members.
The visit was extraordinary in that it wasn't previously announced publicly and seems to have originated from the first lady herself, independent of President Donald Trump.
The visit was scheduled before the president signed a confusing executive order Wednesday attempting to address the immigrant children being separated from their families. Trump didn't schedule the trip for Melania, said her spokesperson, Stephanie Grisham, but supported it.
"She told him, 'I'm headed down to Texas,'" Grisham said, adding that the trip was "100%" Melania Trump's idea.
"She wants to see what's happening for herself and she wants to lend her support, executive order or not. The executive order certainly is helping pave the way a little bit, but there's still a lot to be done," Grisham said. "She wants to see these children and she wants to help children. It's not about anything more than that. ... She wants to see what's real. She wants to see a realistic view."
A statement from Melania Trump's office said she arrived in Texas to tour and be briefed at a nonprofit social services center. It added she wanted to hear more about "how the administration can build upon the already existing efforts to reunite children with their families" — which is confusing because that does not seem to be part of the administration's efforts.
When the first lady arrived, she quickly began asking the people running the Upbring New Hope Children's Shelter, which is operated by the Lutheran Social Services of the South, about the well-being of the children.

"I also like to ask you how I can help to be sure these children reunite with their families as quickly as possible," she said at a roundtable discussion with facility employees.

There are 55 children at the center — 27 boys and 28 girls ages 12 to 17. Most crossed the border as unaccompanied minors — six were separated from their families. Most are from Guatemala.

The first thing Melania Trump wanted to know was how many times the children "speak with their relatives or families per week."
Children are allowed to communicate with a family member twice a week with a 10-minute phone call, officials said. The facility needs to ensure the person the child is calling is in fact a family member.
She also asked about the children's physical and mental states when the arrived at the shelter.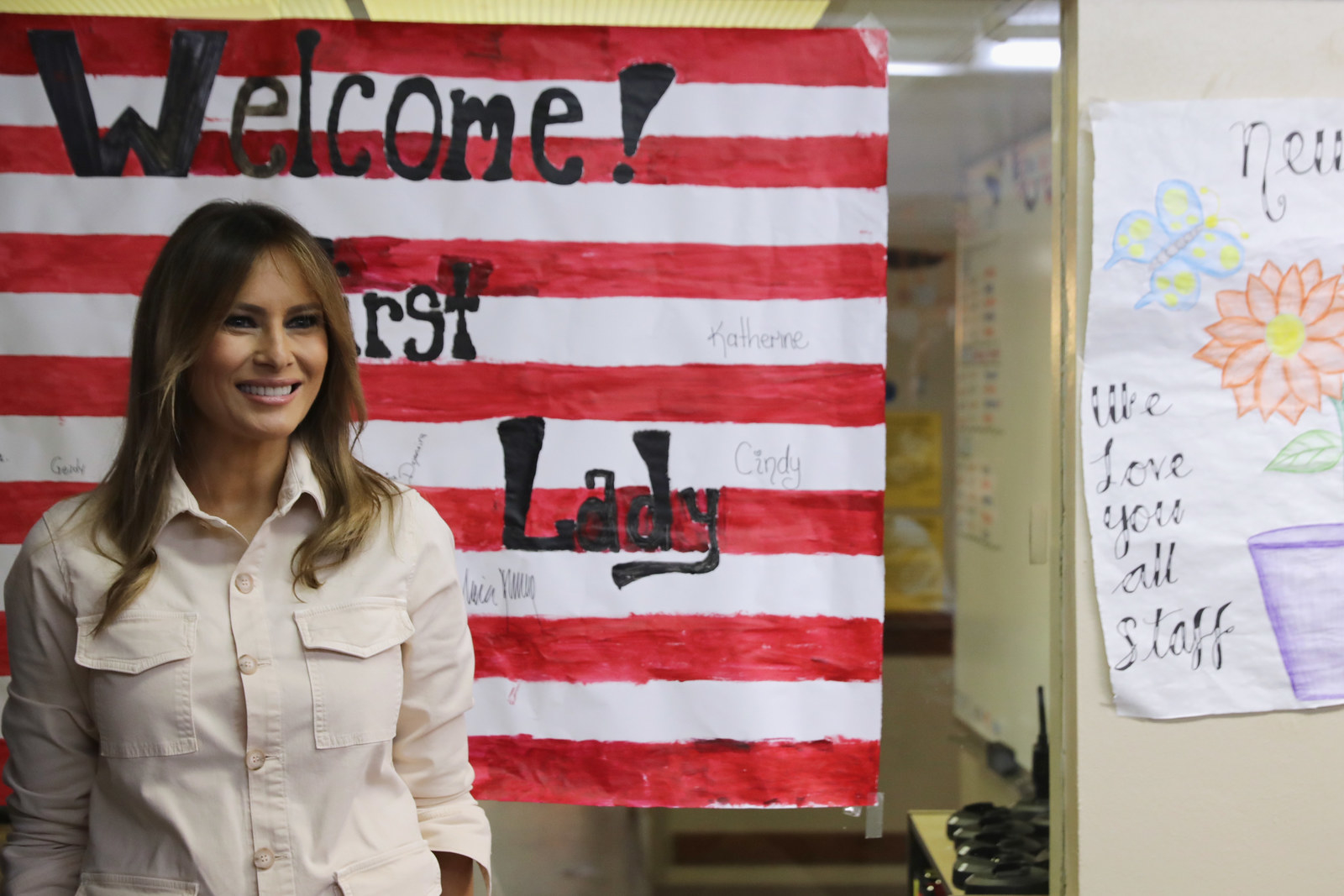 A clinician from the facility also told the first lady that many of the children "are very distraught" when they first arrive. They don't know where they are, the clinician said, adding that the first 24 hours are crucial for the facility in getting the children food, clothing, and other basic needs.
"When they see the environment and they see the yard" on the walls they settle down.
Melania Trump asked officials how long it takes for the children to be reunited with their family members and was told on average it takes 42 to 45 days.
Following the public roundtable, the first lady toured the facility, visiting three classrooms and interacting with dozens of children, according to pool reporters accompanying the visit.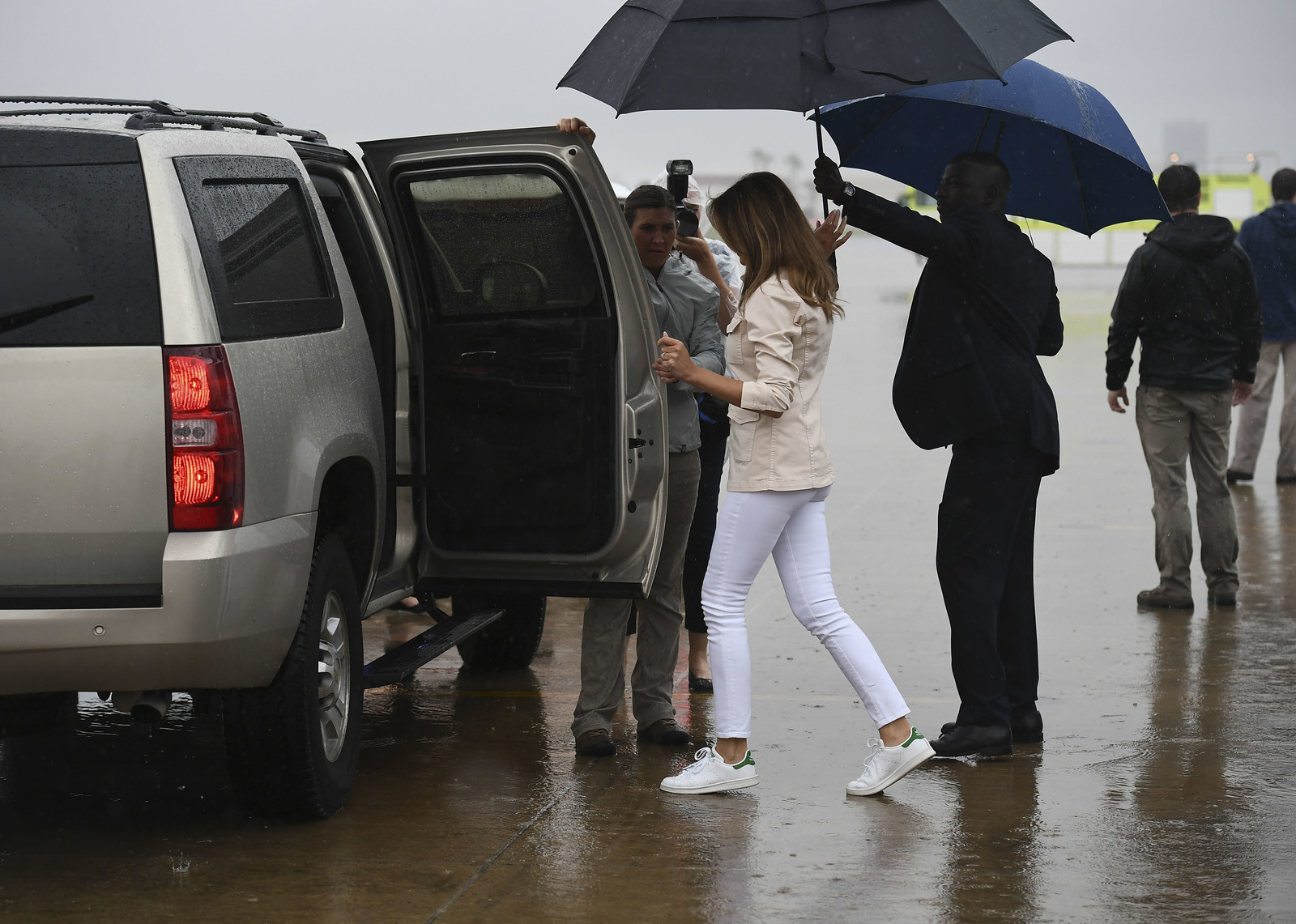 Melania Trump asked children individually where they were from and how long they've been at the center. Some children responded themselves, while others needed the teacher to translate for them.
"How long are you here? Where are you from?" she asked some children. She asked some children in a row together, "are you all friends?"

"Be kind and nice to [each] other, ok? Nice to meet you," the first lady told the children, urging them to be kind to each other because friendship "is very important."

According to the pool report, many of the children at Upbring New Hope Children's Shelter were wearing gray T-shirts that said "We Are One" in red, white, and blue.
Some had Spanish–English dictionaries in front of them and were in the middle of a counting exercise when the first lady arrived. Other students were learning about angles and lines and were partaking in a group project to construct model bridges. In another classroom, children were learning how to celebrate the Fourth of July.
Grisham told reporters that the first lady supports reunifying families, adding that the images and audio recordings of children separated from their families "struck" Melania Trump "as a mother, as a human being."
"She supports family reunification," Grisham said. "She thinks that it's important that children stay with their families."
The first lady was also criticized by some for sporting a controversial jacket on her way to board the plane to Texas. Written on the back of the Zara jacket were the words, "I REALLY DON'T CARE, DO U?"
CORRECTION
The name of Upbring New Hope Children's Shelter was misstated in an earlier version of this post.