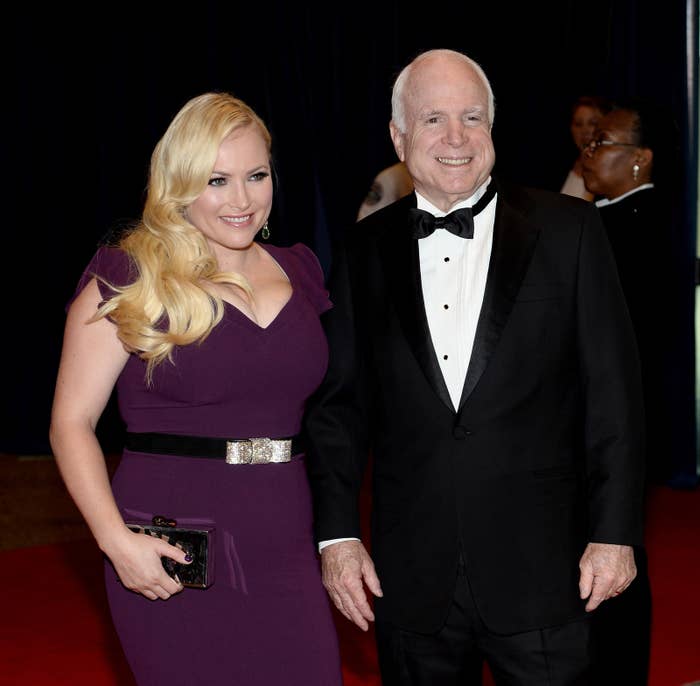 Meghan McCain on Friday fired back at the White House aide reported to have mocked her father's brain cancer by asking how the Trump administration employee still has a job.
Several media outlets reported Thursday that Kelly Sadler, an aide in charge of surrogate communications, brushed aside Sen. John McCain's opposition to Trump's nominee for CIA director by saying, "It doesn't matter — he's dying anyway."
"I don't understand what kind of environment you're working in where that would be acceptable, and you can come to work the next day and still have a job," Meghan McCain said Friday on The View.
The White House didn't deny Sadler made the comments, but said it respected McCain and his service "to our nation." White House Press Secretary Sarah Huckabee Sanders on Friday declined to condemn Sadler's remarks or comment on whether the aide still had a job.
"He and his family are in our prayers during this difficult time," it said in a statement to BuzzFeed News.
Sen. McCain was diagnosed with brain cancer in July 2017. The 81-year-old has been in and out of treatment, spending the bulk of his time at his ranch in Arizona.

"Kelly, here's a little newsflash, and this may be a little intense for 11 o'clock in the morning on a Friday: We're all dying," McCain said on The View. "I'm dying, you're dying, we're all dying."
McCain said her family has felt the love and prayers from well-wishers, adding that her father is doing very well.
"I really feel like I understand the meaning of life, and it is not how you die. It is how you live," she said.

The senator's wife, Cindy McCain, also pushed back at Sadler on Twitter Thursday.
"May I remind you my husband has a family," she tweeted to the White House aide.
Sen. McCain's former campaign manager tweeted that the White House aide "is vile, cruel, and indecent."
Former vice president Joe Biden also released a statement Friday saying, "People have wondered when decency would hit rock bottom with this administration. It happened yesterday.
"John McCain is a genuine hero — a man of valor whose sacrifices for his country are immeasurable. As he fights for [h]is life, he deserves better — so much better.
"Given the White House's trail of disrespect toward John and others, this staffer is not the exception to the rule; she is the epitome of it."
Former president Bill Clinton also supported McCain, calling him "one of the most remarkable patriots our country ever produced. I love the guy."