A visual effects designer in Los Angeles put his skill set to use by creating the "Trump Draws" Twitter account, which posts gifs of President Trump showing off kid-like drawings.
The creator of the four-days-old account, Mike, told BuzzFeed News he does not want to use his last name because he has yet to reveal himself to friends and coworkers.

"Every day for my job I put fake things on images and make them look as real as possible," he said.
Mike said he uses drawings that look like they were done by a child because, "the simpler it is, the funnier it seems to be."
The description of the Twitter account reads, "i'm the president and i like to draw."
"I was watching the news and they were talking about executive orders for the past couple of days," he said. "He kept holding up the signed executive order and he had this look on his face like he was so proud of what he just did."
Mike went on to say that Trump looked like a kid who had drawn something who just wanted his parents to be proud him.
"He looks like a kid that, no matter how horrible the drawing may be, just wants his parents to say 'wow, you did such a great job.'"
The image Mike used is from Jan. 28, when Trump signed three executive orders including one calling for a plan to be delivered to him within 30 days on how to fight ISIS.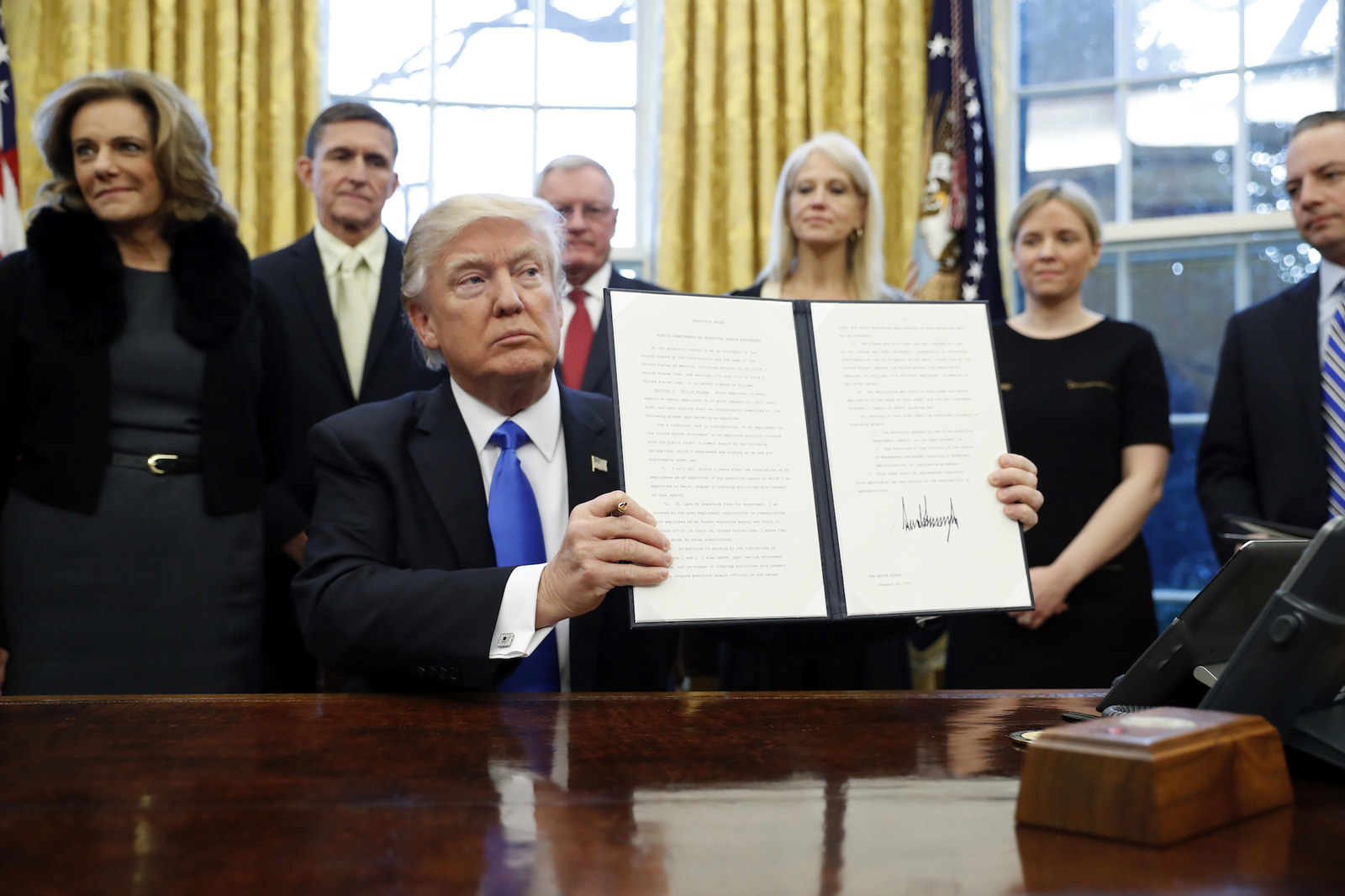 Mike insists that his tweets are not commentary on Trump and his policies — pointing to how his drawings are not a reflection of that. "I haven't drawn the wall, but I have drawn a flower, and a hand turkey," he said.
"The more simple the drawing, the bigger the response is," Mike said. "Simple drawings resonate with people — it's not political."

Mike said he's received messages from people who say that are big Trump supporters but still find the Twitter account pretty funny.
"There's an inherent making fun of him drawing like a child — that's as far as I've taken in."

The first image Mike posted to Twitter was on Jan. 31 when the account had just 8 followers.
Mike tweeted the account from his personal one thinking his friends would like it. By the next day he had 8,000 followers.
From there, the follower count kept growing. "The first day I got more than 100,000 followers," Mike said. "Never in a million years did I think I'd get that kind of response."

As of Feb. 4, the account has more than 336,000 followers.
"I don't know what the shelf life of this will be — I think people will get tired of it," Mike said. "For now I'm getting really great responses from people that that's fueling it. As long as I get good responses, I'll keep doing it."