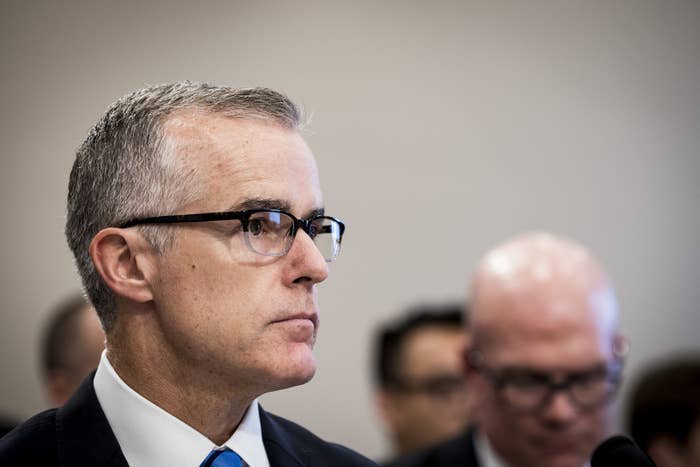 FBI Deputy Director Andrew McCabe has stepped down effective Monday, a senior government official told BuzzFeed News.
McCabe briefly served as acting director of the FBI after President Trump fired his predecessor, James Comey, last year. McCabe, who has been with the FBI since 1996, returned to his position as deputy director when Christopher Wray took over the FBI's top job in August.
A recent target of Trump's ire, McCabe was expected to retire in March, when he was eligible for a full pension. Despite stepping down, NBC News reported that McCabe will remain on the FBI payroll until mid-March.
A former Justice Department employment lawyer said that sort of arrangement is typical when senior employee needs to be removed quickly.
Julie Zebrak, who spent 18 years at the Justice Department, said McCabe's departure is likely a recognition that "it's untenable to keep him there."
"It's obvious that he needs to leave," Zebrak told BuzzFeed News. "Even though I don't agree with the pressure they put on him, if [FBI] Director [Christopher] Wray is not fighting for McCabe to stay, it stops the drumbeat if he leaves."
Zebrak said FBI and Justice Department leaders likely recognized the distraction McCabe was causing and likely told him, "It's probably best if you go now. It's just adding one more thing to Trump's list and to congressional Republicans' list of things to be enraged about."
McCabe, who is 49, joined the FBI in 1996 and had announced in late 2017 that he intended to retire in March when he became eligible for a federal pension. McCabe was a "career employee" – not a political appointee, who can be removed at will – and had substantial job protection because of his high rank.
"They can't technically force him out," said Zebrak, who worked at the Justice Department from 1997 to 2015. "McCabe would have had to have agreed to leave early."
"It takes years to get rid of career SES employees," Zebrak added, referring to the senior executive service, which encompasses the top echelon of federal employees such as McCabe. "Normally when someone is SES and is a poor performer or problem employee, they are moved to another job or encouraged to leave. Very rarely do federal agencies employ the removal process."
The FBI announced that David Bowdich is now the agency's acting deputy director.

McCabe had incurred Trump's criticism initially in October 2016 when news reports revealed that his wife, Jill McCabe, took nearly $500,000 from a political committee run by then-Gov. Terry McAuliffe, a longtime friend of Bill and Hillary Clinton, when she ran for the Virginia legislature in 2015 as a Democrat. Trump questioned how Andrew McCabe could have been involved in investigating Hillary Clinton's use of a private email server at the same time.
The Washington Post reported recently that Trump asked McCabe in an Oval Office meeting last year how he had voted in the 2016 presidential election. McCabe reportedly told Trump that he hadn't voted. According to the Post, McCabe found the conversation "disturbing."
Last week, Trump said he didn't recall asking McCabe how he voted, adding that he doesn't think such a question would be a "big deal."
Then-FBI director James Comey named McCabe deputy FBI director in January 2016, and he became acting FBI director when Trump fired Comey in May 2017. When Trump nominated Christopher Wray and the Senate confirmed him in August, McCabe returned to the deputy FBI director post.
White House Press Secretary Sarah Huckabee Sanders said today that Trump "wasn't part of the decision-making process" that led to McCabe's departure.
Trump did not respond to questions about whether he was aware of McCabe's decision.

During Monday's White House press briefing,Sanders said the White House was not involved in McCabe stepping down, despite Trump's repeated criticism of him.
Sanders said Trump stands by his previous comments and referred all specifics of McCabe's decision to the FBI.

"The president wasn't part of this decision-making process," she said.

The president had previously tweeted about McCabe's upcoming retirement, saying the FBI official is "racing the clock to retire with full benefits."
The Washington Post reported earlier this month that after Trump fired Comey, he asked McCabe in the Oval Office whom he voted for in the 2016 election. According to the Post, McCabe found the conversation "disturbing."
Trump has been an open critic of McCabe for months, citing McAuliffe's roles in his wife's failed Virginia state senate campaign. In December, Trump tweeted that McCabe's wife's campaign was given money by "Clinton Puppets."
Following Trump's dismissal of Comey, McCabe told the Senate Intelligence Committee that he would not provide the White House with updates on the FBI's investigation into any connections between Russia and the Trump campaign.
"The work of the men and women of the FBI continues, despite any changes in circumstance, any decisions," McCabe said at the time. "There has been no effort to impede our investigation to date."

During his testimony, McCabe also contradicted statements coming out of the White House, such as press secretary Sanders' assertion that "rank-and-file members within the FBI had lost confidence" in Comey — something McCabe said was "not accurate."
"I hold Director Comey in the absolute highest regard," McCabe said. "I have the highest respect for his considerable abilities and his integrity, and it has been the greatest privilege and honor of my professional life to work with him. I can tell you also that Director Comey enjoyed broad support within the FBI, and still does to this day."

McCabe also refuted Sanders' claim that the Russia investigation was "probably one of the smallest things" on the FBI's agenda.
According to McCabe's testimony at the time, the FBI considered it "a highly significant investigation."