Martin Shkreli Resigns As CEO Of Turing Pharmaceuticals
The company said Ron Tilles, chairman of the board of directors, will serve as interim CEO. Shkreli stayed mum on his revived YouTube livestream on Friday.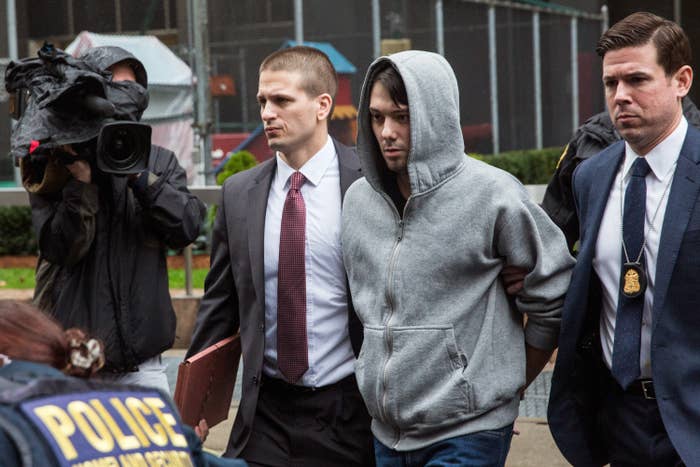 Martin Shkreli, the former hedge fund manager who was charged Thursday with securities fraud, has resigned from pharmaceuticals company he had been running.
"I'm not one for a lack of comments typically," he said on his YouTube livestream Friday, "But my lawyer said don't talk so I'm not going to talk."
As chief executive of Turing Pharmaceuticals, Shkreli became the subject of widespread scorn for defiantly raising the price of the life-saving drug Daraprim from $13.50 to $750 a pill, which he defended the increase as "a good business decision."
Following a deluge of criticism for the increase — including from presidential candidates Hillary Clinton, Bernie Sanders, and Donald Trump — Shkreli said he would keep the $750 price but offer volume discounts.
The announcement of Shkreli's resignation comes one day after he was arrested for allegedly using assets of new companies to pay off debts from bad trades he made while running two hedge funds. Once regulators and auditors began breathing down his neck, federal prosecutors claim Shkreli and his attorney, Evan Greebel, used cash and stock from Retrophin — a publicly traded company Shkreli founded in 2011 — to settle his debts.
Shkreli, who also founded Turin, pleaded not guilty to the securities fraud charges and released on $5 million bail.
In a statement Friday, Turing Pharmaceuticals said board chairman Ron Tilles will serve as interim CEO.
"We wish to thank Martin for helping us build Turin Pharmaceuticals into the dynamic research focused company it is today," Tilles said in a statement.
Shkreli made only a brief appearance on his YouTube livestream Friday, wearing plaid pajama pants and a purple t-shirt.
"Good to be back," he said and laughed.
"I'm good, I'm good," he said. "Thank you guys. I missed you too. "
He apologized that he couldn't live stream on Thursday. "I had a lot going on," he said.
He interrupted the live stream to take a call. Then came back to say that his attorney discouraged him from speaking.
"Everything will be on non-case work, non case stuff," he told his viewers. "Lemme run. I'll just mute it. Thanks. Bye."