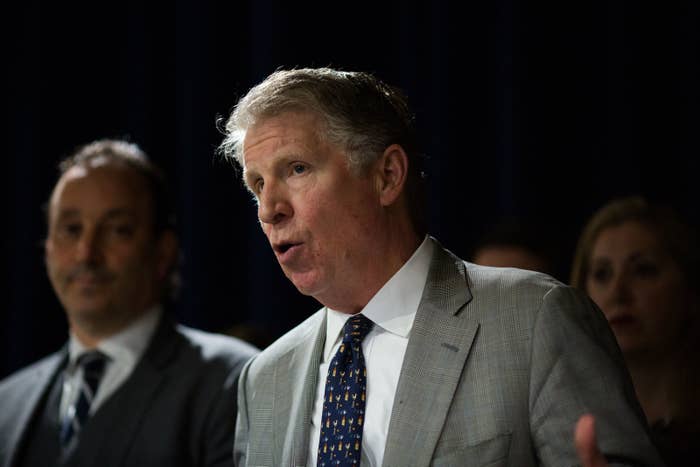 Manhattan District Attorney Cy Vance, who has come under fire for declining to prosecute some powerful men accused of sexual violence, said Thursday that he did not realize how widespread workplace sexual violence was prior to the #MeToo movement.
"I frankly was not aware of the extent to which workplace sexual violence existed, and perhaps I should have been," Vance said Thursday on BuzzFeed News' AM to DM morning show. "I did not understand the full scope of it."

Vance said it was "a revelation to many Americans" after hundreds of women came forward in the past year detailing harassment they faced at work — but "perhaps not women who were surviving these assaults," he added.
Vance defended his decisions to not prosecute famous sexual assault cases in the past — something for which he has faced widespread criticism.
In 2011, he dropped charges of sexual assault against French politician and former managing director of the International Monetary Fund Dominique Strauss-Kahn. A year later, he declined to prosecute Greg Kelly, news anchor and son of the then–NYPD commissioner. And in 2015, Vance said there wasn't enough evidence to bring charges against Harvey Weinstein despite police having a recording of Weinstein admitting to groping.
In March, New York Gov. Andrew Cuomo directed the state attorney general to review Vance's handling of the 2015 Weinstein case.
"The public is not aware of the many cases involving men of privilege that are prosecuted in our office," he said, adding that "the public perception that [a powerful] person is going to get an easier shake is inaccurate."

Prosecutors must operate in a world of what information is admissible in court, Vance said, and cannot be swayed by the public's opinion on a case.

"I'm not going to stop doing the job because I'm worried what you think of me, what the New York Times thinks of me, what an advocacy group thinks about me," Vance said. "If I start doing that, then it's time to leave the job."
Vance also talked about his new policy to not prosecute low-level marijuana cases — which went into effect Wednesday — admitting he had been "part of the problem" on why it took so long.
"I would first of all acknowledge that I have been part of the problem," he said. "I've been the district attorney and we've been processing these cases this way for some time. I do think in a job you evolve."
Vance said he wants to seal and expunge the records of people who were convicted on low-level marijuana cases.
"If we have determined that they should no longer be prosecuted, we then in fairness — we have to look at who was prosecuted and determine whether there are ways to seal those prior convictions or expunge them," Vance said, adding that he's working with the court system and public defenders to accomplish that.
Responding to a question on whether Attorney General Jeff Sessions, who has said marijuana use leads to widespread addiction, should try pot, Vance, who said he last smoked pot in high school, said, "I don't think we have to be afraid of marijuana in the way I think some people are afraid of it."