Man Convicted Of Killing A Gay Man In New York City Sentenced To 40 Years To Life In Prison
Elliot Morales was convicted of murder as a hate crime in March for murdering Mark Carson in New York City's Greenwich Village in 2013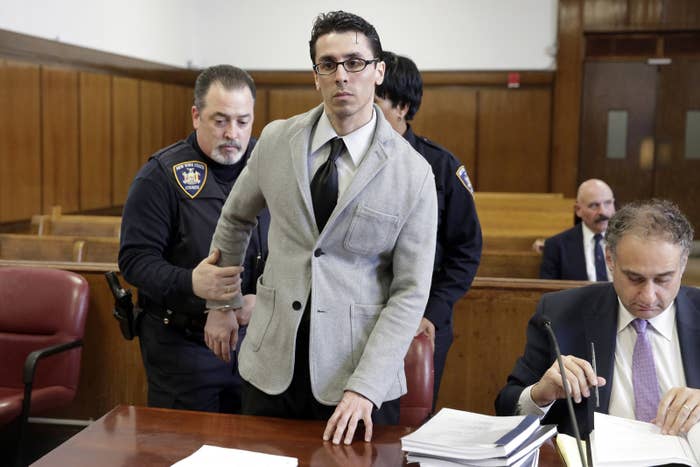 Elliot Morales, who was convicted of murder as a hate crime for gunning down a gay man in New York City's Greenwich Village in 2013, was sentenced Tuesday to 40 years to life in prison.
"Mr. Morales, yours is a legacy of death and fear, nothing more, nothing less," Manhattan Supreme Court Justice A. Kirke Bartley said. "I can't help but perceive or observe the parallel to the tragedy in Orlando, that parallel is revealed in hatred, self-loathing, fear and death."
The charge carried a minimum sentence of 20 years to life.
"To family and friends of Mark Carson, it is important to hear from me personally. I'm truly really, really, really sorry," Morales said at his sentencing hearing.
"He just had to say something and that's what he said. If he was sorry he would have never did it," Caron's aunt Florine Bumpars said of Morales' apology after the hearing, adding that "he got what he deserved."

In May 2013, Morales, 36, encountered Carson and another man walking down the street on a Saturday night and started taunting the two of them. He called them "faggots" and yelled other anti-gay slurs at the men before fatally shooting Carson point-blank in the head.
Morales, who represented himself in court, denied that the attack was hate motivated, saying he was bisexual and had had relationships with transgender women.
"It is beyond my comprehension how someone like myself, who is bisexual, part of LGBT community can be convicted of a hate crime," Morales said.
It took two days of deliberation in March for the jury to find Morales guilty of all charges against him.
"Any life lost to gun violence is a tragedy for our City," Manhattan District Attorney Cyrus Vance said in a statement. "But homophobic, hate-fueled incidents like this one are particularly unconscionable. As we mourn the lives lost in Orlando, we remain committed to doing everything we can to combat and prevent crimes against LGBT New Yorkers."