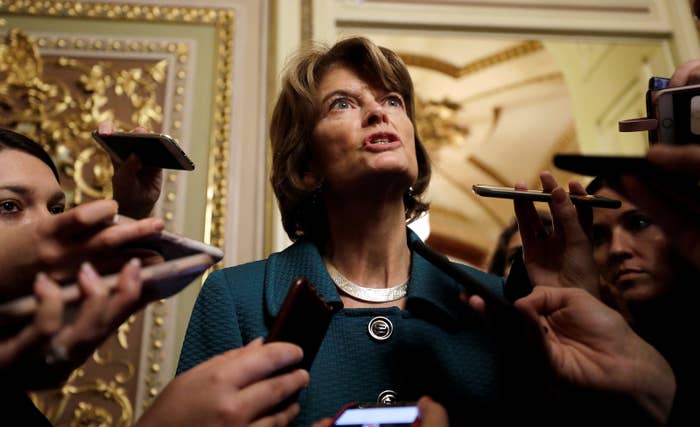 Republican Sen. Lisa Murkowski on Friday voted against advancing Brett Kavanaugh's nomination to the Supreme Court to a final vote.

Senators narrowly voted Friday to end debate on the matter, bringing Kavanaugh one step closer to being confirmed to the Supreme Court. By a vote of 51–49, Republicans voted to invoke cloture, which limits further debate and kills the Democrats' ability to filibuster, which would have effectively scuttled Kavanaugh's nomination.
The Senate will likely take a final vote this weekend.
Republican Sens. Murkowski, Jeff Flake, and Susan Collins, and Democrat Joe Manchin are considered the key swing voters who could determine the future of Kavanaugh's nomination.
Of those swing voters, Murkowski was the sole senator to vote no on cloture.
Unlike the bold gesture of John McCain when he killed Obamacare repeal on the Senate floor, both Murkowski and Manchin seemed almost bashful with their votes on Friday.
Murkowski said "No" so quietly that people in the gallery couldn't make out what she said. Manchin didn't say anything at all, but just stared ahead and lifted his thumb upward to express his yes vote.
Following Friday's vote, Murkowski said she decided on voting no on her way in to the Senate chambers, calling it "the most difficult evaluation decision I've ever had to make."
"I have been wrestling with whether or not this was about the qualifications of a good man or is this bigger than the nominee? And I believe we are dealing with issues right now that are bigger than a nominee," she said.

Murkowski repeated several times that she thought Kavanaugh was a good man and that the process had not been fair to him. But she said she feared that confirming him would damage public trust in the Supreme Court.

"I believe Brett Kavanaugh is a good man," Murkowski said. "In my view he's not the right man for the court at this time."

She added, "if people who are victims, if people feel that there's no fairness in our system, particularly within our courts, we've gone down a path that is not good and right for this country."
On Thursday, after the FBI completed its investigations into allegations of sexual misconduct against Kavanaugh, Murkowski told reporters she thinks it's important that all senators have time to review the 100-page report before Friday's vote.
She had previously criticized Donald Trump's comments mocking the testimony of Christine Blasey Ford, who is one of three women who have publicly accused Kavanaugh of sexual misconduct, calling the president's remarks "wholly inappropriate" and "unacceptable."
Sen. Manchin was the only Democrat to vote in favor of advancing the nomination. And while Sen. Collins and Flake voted to end cloture, they have not publicly stated how they intend to vote in the final round.
None of the four swing votes have said what their final vote will be. Collins said she will publicly announce her plans Friday afternoon.
Republicans control the Senate 51–49. Republicans can afford to lose only one vote — if all Democrats vote against Kavanaugh — to get the nomination approved.