Lawsuit Claims Tennessee County Runs "Extortion Scheme" Against Misdemeanor Offenders
The lawsuit claims that Rutherford County and Providence Community Corrections extort money from probationers and threaten them with jail time if they don't pay court fees.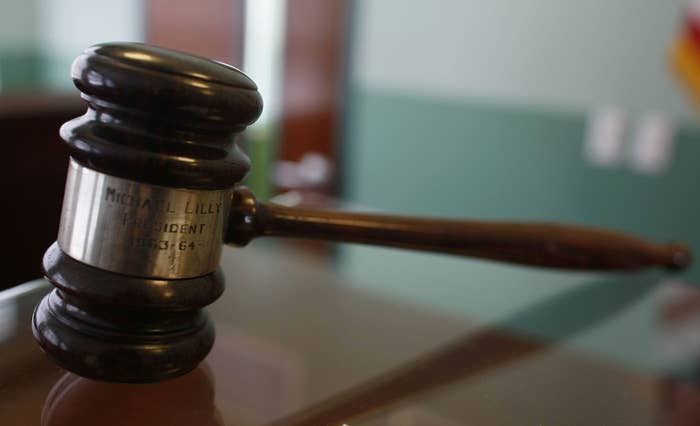 Cindy Rodriguez had a hard time providing for herself and her two children. She was disabled and relying on her Social Security disability to survive. Living in Rutherford County, Tennessee, she didn't have a bank account or any real property or assets.
Then, in August 2014, she was arrested on suspicion of shoplifting from a grocery store. Since Rodriguez, 51, did not have a criminal record, the district attorney told her the case would be dismissed and not go on her record as long as she complied with probation and paid her court debts.
But since Rodriguez was unable to pay the court fines – approximately $600 – she was put on probation for 11 months and 29 days and Providence Community Corrections (PCC) was assigned to oversee her term.
A new lawsuit filed Thursday on behalf of Rodriguez and six other plaintiffs by Alec Karakatsanis, founder of the civil rights group Equal Justice Under Law, claims that Rutherford County and PCC run "an extortion scheme" that "conspired to extract as much money as possible from misdemeanor probationers" who are threatened with jail time if they don't pay court fees.
"This cycle of ever-increasing debts, threats, and imprisonment has left the plaintiffs and thousands of people like them in Rutherford County trapped in a culture of fear and panic," the lawsuit states. "This specific contractual arrangement violates the basic notion of due process, neutrality, and fairness as those concepts have been understood throughout American legal history."
It is the third in a series of lawsuits Karakatsanis' group has filed claiming court officials excessively fine impoverished people. In February, he sued two Missouri towns, including Ferguson, for jailing people for unpaid traffic violations in order to raise revenue. Last month, Equal Justice Under Law sued the criminal district court in New Orleans alleging judges and court officials benefit financially via an "illegal scheme" of arresting and jailing poor people for their inability to pay court fines.
"Providence Community Corrections' mission is to encourage people to complete their probation successfully per the terms set by the courts, and while we have not yet been formally notified nor had time to review this case, what we can say is that in each of the states we serve, we steadfastly comply with the laws governing the probation system," PCC said in a statement.
After her arrest, Rodriguez was assigned a PCC supervisor who made her sign a list of conditions that allowed PCC to search her home at any time and required her to undergo random drug tests – even though drugs and alcohol had no relation to her alleged offense.
The PCC supervisor also repeatedly threatened Rodriguez with an arrest warrant if she failed to pay her fees.
PCC is "user funded," meaning the company does not charge the county for its services, according to the lawsuit. Rather, it depends on the fees paid for by people on probation to make a profit.
"No human being should be put in a cage because of her poverty, and no private company or local government should be pursing revenue by using jail and a threat of jail against impoverished and disabled people," Karakatsanis told BuzzFeed News. "The findings of our investigation are shocking and abhorrent."
By June 2015, almost 10 months in her probation, Rodriguez had paid virtually all of the original $578 court fees to PCC. The lawsuit claims that PCC chose to apply only $66 toward the court fees – the rest allocated toward PCC fines. Rodriguez's PCC supervisor told her she still owed $512 to the court.
Unable to make the remaining payment, PCC issued an arrest warrant.
Rodriguez suffered a panic attack and fainted prior to turning herself in. The fall from fainting caused her arm to break in three spots.
When she eventually turned herself in, the lawsuit claims Rodriguez was taunted and humiliated by jail officers. One officer allegedly told her that he would make sure the fingerprinting process really hurt her. He then tugged at her broken arm, which was in a sling, and moved it to take prints.
When Rodriguez cried, he allegedly called her a "wussy."
"In the year 2015, these practices have no place in our society," the lawsuit states.

Rodriguez's case is just one of the many stories of in the lawsuit that claims the PCC abuses the legal process in order to make a profit by setting high fees, performing drug tests, and threatening the probationer in order to extort money. On Friday, a judge issued a temporary restraining order for two of the other plaintiffs, barring Rutherford county agents and employees from serving or executing arrests warrants.
Read the full lawsuit:
Download PDF