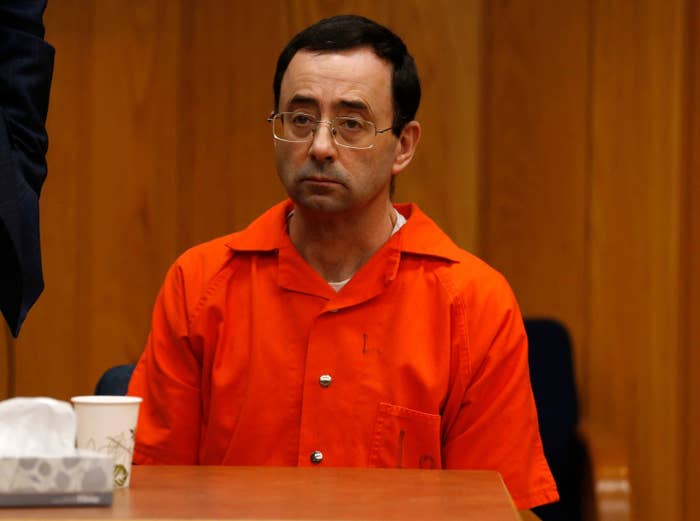 Larry Nassar, the former USA Gymnastics doctor who sexually abused young athletes under the guise of medical treatment, was sentenced for the second time on Monday to 40 to 125 behind bars, ending a case that continues to have far-reaching repercussions for the sport.
Two weeks ago, Nassar was sentenced to 40 to 175 years in prison in Ingham County in Michigan after dozens of his victims, including Olympic medalists, confronted him in court. In that case, he pleaded guilty to seven counts of first-degree criminal sexual abuse. He was sentenced for a second time in a parallel case in Eaton County, where he pleaded guilty to three counts of criminal sexual conduct, after many of his victims also read impact statements aloud in court.
Nassar was previously sentenced to 60 years in federal prison on child pornography charges. He will service his federal sentence first. The Ingham and Eaton County sentences will be served concurrently.

"I am not convinced you truly understand what you did was wrong and the devastating impact you've had on your victims, their families and friends," Eaton County Judge Janice Cunningham told Nassar in court on Monday. "Clearly you're in denial. You don't get it and I do not believe there is a likelihood you can be reformed."

Cunningham said "the sentence in this case must send a message" to other child abusers.
Nassar addressed the court on Monday saying "it's impossible to express how sorry I am," telling the survivors "the visions of your testimonies will forever be present in my thoughts."
The charges in Eaton County stem from sexual assaults committed against three minors between 2009 and 2011 at Twistars Gymastics Club in the area. The Ingham County charges were the result of abuse that occurred at Michigan State University, where Nassar worked for nearly 30 years as a sports doctor.
Between the two cases, more than 200 women — some publicly, some anonymously — delivered victim impact statements, in which they detailed the pain and suffering they endured after being sexually abused by Nassar. Many said they were abused when they were children or young teenagers.
Judge Cunningham told the victims she is "in awe" of them. She thanked them for putting their lives on hold to be in court and deliver victim impact statements.
"You will always be in my thoughts and prayers," she told them.
On Friday, after two sisters spoke in court, their father, Randall Margraves, tried to attack Nassar by charging him before being tackled and arrested by court officers. However, the judge refused to punish Margraves after he apologized for his behavior.

The case has sparked national outrage over how Nassar's abusive behavior was able to continue for decades. Many of the women who addressed him in court said they told officials about Nassar's abuse behavior — including a woman who filed a police report.
The scandal has spurred demands for change in the sport, resulting in the resignation of the entire USA Gymnastics board and the appointment of an independent special prosecutor to investigate Michigan State University.

Michigan's attorney general said the special prosecutor will investigate "who knew what and when, who took action, who failed to take action, what did or did not happen and what should have happened."
Several women in both court cases also slammed USA Gymnastics, alleging the organization turned a blind eye to Nassar's abuse. During the first sentencing hearing, Olympian Aly Raisman said the sport's governing organization is "rotting from the inside."