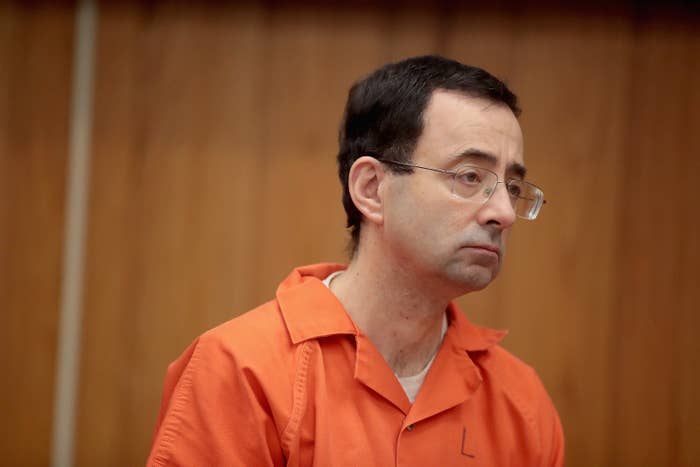 Larry Nassar, the former USA Gymnastics and Michigan State University doctor who was sentenced to jail earlier this year for sexually abusing hundreds of girls under the guise of medical treatment, still believes he did nothing wrong.

The independent special prosecutor appointed to investigate Michigan State University's role in the Nassar scandal told reporters Friday that when his team interviewed the disgraced doctor, he said his crimes "should have been handled as a medical malpractice case."
Nassar was sentenced to up to 175 years behind bars in February for sexually abusing young female athletes under the pretense of medical "treatment." Hundreds of women have come forward to publicly accuse Nassar of inserting ungloved fingers into their vaginas and rectums while they believed they were being treated for sports injuries and pains.
During his sentencing in Ingham County, Nassar addressed his accusers, saying, "Your words these past several days have had a significant emotional effect on myself and has shaken me to my core. I will carry your words with me for the rest of my days."
On Friday, independent special counsel William Forsyth said Nassar's statements of remorse "were a farce."
"Finally, and contrary to his sworn statement at the time he pleaded guilty, he was adamant that all of his 'treatment' was done for a medical purpose, not for his own pleasure," Forsyth wrote in his report.
According to Forsyth, Nassar said he only pleaded guilty because he lost support from the medical community after police discovered child pornography in his possession.
Forsyth, who led the "investigation into what the heck is happening at Michigan State University," released a status update report on Friday, detailing his findings so far. The investigation is not yet complete and will continue into 2019.
In his report, Forsyth blasted MSU for having "fostered a culture of indifference toward sexual assault, motivated by its desire to protect its reputation."
The yearlong investigation has so far led to criminal charges being filed against three people at MSU, including its former president, Lou Anna Simon, the former gymnastics coach Kathie Klages, and the former dean of the College of Osteopathic Medicine William Strampel.
Forsyth's status update report detailed how the university stonewalled the investigation by drowning investigators with irrelevant documents and issuing misleading statements to the public.
Forsyth told reporters Friday that while the university publicly boasted about its cooperation with the investigation, claiming it handed over thousands of pages of documents, the reality was that much of the paperwork produced was irrelevant to the probe, including pages on the university's bed bug policy, various restaurant coupons, and documents on what employees should do if they forget their computer password.
In addition, many of the documents related to the Nassar investigation were heavily redacted, Forsyth said, under the claim of attorney–client privilege.
While that privilege is legitimate, Forsyth said it indicates the university's cooperation was not as forthcoming as it publicly stated.
The investigation also discovered that 11 MSU employees failed to report Nassar's abuse.
Forsyth wrote in the report that out of the 280 survivors interviewed, 13 said they reported Nassar's abuse to an MSU employee — dating as far back as 1997 and as recently as 2015.
Ultimately, Forsyth's report concludes that MSU's inability to stop Nassar was "a failure of people, not policy."
"Policies are no better than the people tasked with implementing them," he wrote. "Until there is a top-down cultural change at MSU, survivors and the public would be rightly skeptical of the effectiveness of any set written policies."