Husband Says Kentucky Clerk Refuses To Resign, Will Remain In Jail As Long As It Takes
Judge David Bunning held Rowan County Clerk Kim Davis in contempt of court and ordered federal marshals to take her into custody after a hearing Thursday. BuzzFeed News' Dominic Holden is at the courthouse in Ashland.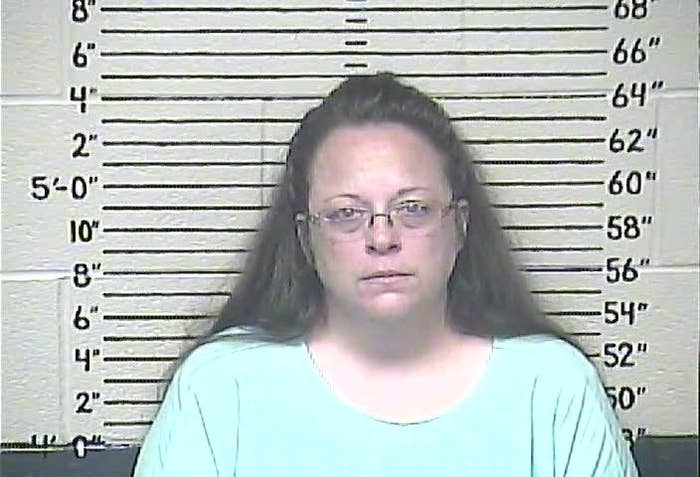 Kim Davis, the Rowan County, Kentucky, clerk who refused to issue marriage licenses after same-sex marriage was legalized, was found in contempt of court and jailed early Thursday afternoon. On Friday, Davis' husband said his wife is in good spirits, that she won't resign and will stay in jail as long as it takes, according to the Associated Press.
Hours after Davis was jailed, during dramatic courtroom testimony, five of her six deputies testified that they would issue the licenses in accordance with an August 12 order by U.S. District Court Judge David Bunning.
The only deputy who did not agree to issue licenses was Davis's son, Nathan Davis.
Speaking through her lawyers, Davis — who refused to return to the courtroom later that day — said she would not allow the five deputy clerks to issue marriage licenses if she were released. She remains incarcerated until she agrees to let her office issue marriage licenses. One of her attorneys, Robert Gannam, said, "We cannot represent to the court that she would allow the issuance of licenses."

Judge Bunning said the five clerks can start issuing licenses "as early as tomorrow." He added, "The court will continue to have oversight of this matter and I do expect compliance ... I'm not going to convene another one of these tomorrow."
Plaintiffs earlier had asked that Davis receive financial penalties and no jail time, but Bunning refused to fine her, saying he did not believe fines would bring about compliance because the fees could be paid for by outside sources such as the crowdfunding website GoFundMe.

Bunning said he had given the case a lot of thought. "The court does not take this lightly, ma'am," he told Davis.
The judge added that there was no "authoritative court finding that someone is presently unable to comply because they have a religious objection to doing so."

"[Davis's] good-faith belief is simply not a viable defense," Bunning said, adding, "The idea of natural law superseding this court…to let that carry the day would set a dangerous precedent."
After Bunning announced Davis was to be taken into marshal custody, two men in suits approached her table, where she sat with her lawyers. She was led out of the courtroom through a side door.
Mat Staver, Davis's lawyer, said, "Everyone is stunned at this development. Kim Davis is being treated as a criminal because she cannot violate her conscience. While she may be behind bars for now, Kim Davis is a free woman. Her conscience remains unshackled."
In the afternoon session, Bunning called all six of her deputy clerks back into court and put them under oath. Five said they would issue licenses if Davis were unable to interfere. In comments to the courtroom, Bunning seemed open to idea that he would purge Davis's contempt charge if she is willing to let her deputies issue the licenses.
White House spokesman Josh Earnest said Thursday that no public official, whether it be the president or the Rowan County clerk, is above the law. "That's a principle that is enshrined in our Constitution and in our democracy and it's one that obviously the courts are seeking to uphold," Earnest told reporters.

Earlier this week, the American Civil Liberties Union of Kentucky filed a motion on behalf of April Miller and Karen Roberts, who were denied a marriage license on Tuesday morning, to hold Davis in contempt. Davis refused to issue same sex-marriage licenses even though a federal judge ordered the Rowan County clerk to do so in August.
Davis's request to stay Bunning's original order was rejected by an appeals court and by the Supreme Court.

Following the Supreme Court's refusal to intervene in the case, Davis continued to deny marriage licenses — including to one of the plaintiffs, a same-sex couple — "under God's authority."
Crowds gathered outside the courthouse Thursday morning, with Davis's supporters outnumbering marriage equality advocates.
Outside the courthouse, a Davis supporter used a loudspeaker to say, "You are homo terrorists. You are rapists. Jesus Christ is the way."
Same-sex marriage supporters were also outside the courthouse by 9 a.m., two hours before the hearing was scheduled to begin.
On Wednesday, Davis's lawyers filed a motion in federal court arguing that holding her in contempt for refusing to issue same-sex marriage licenses would violate her right to due process and religious freedom.
According to Wednesday's brief, Davis could not comply with the judge's order "because it irreparably and irreversibly violates her conscience by directing her to authorize and issue [same-sex marriage] licenses bearing her name and approval."
Many supporters of marriage equality have called for Davis's firing, but as an elected official herself, she cannot be fired. Without her backing down or resigning or waiting out her term, other options are limited. The couples that have sued Davis are asking for her to be held in contempt and be fined. They are not seeking jail time.
"Plaintiffs do not seek to compel Davis' compliance through incarceration," lawyers for the plaintiffs wrote in a court filing on Tuesday. "Since Defendant Davis continues to collect compensation from the Commonwealth for duties she fails to perform, Plaintiffs urge the Court to impose financial penalties sufficiently serious and increasingly onerous to compel Davis' immediate compliance without further delay."
Heather Weaver, a senior ACLU staffer, told BuzzFeed News that "no one wants Davis to go to jail."
"We just want her to do her job and follow the court's order," Weaver said.
She added that asking for a "substantial fee" to be imposed on Davis would "induce her" to do so.