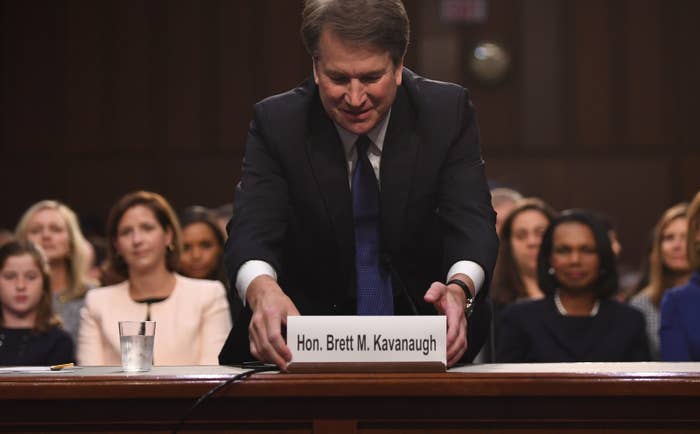 Four people submitted sworn affidavits to the Senate Judiciary Committee saying Christine Blasey Ford, who says Supreme Court nominee Brett Kavanaugh sexually assaulted her in high school, previously told them about the incident.
Ford's lawyers submitted the documents — an affidavit from Ford's husband and three from her friends — Tuesday night to the committee.
A committee hearing is set for Thursday to hear the testimony of Ford, now a professor at Palo Alto University, who has said Kavanaugh sexually assaulted her at a high school party when he was 17 and she was 15.

On Wednesday, Ford's attorneys released the results of a polygraph test she took in August 2018 showing that the probability she had lied was low. During the examination, she recounted the story of the high school party and Kavanaugh's alleged assault, according to the document. Through multiple statistical analyses, the examiner found that her remarks "not indicative of deception."
In her prepared remarks for Thursday's hearing, which were obtained by BuzzFeed News on Wednesday, Ford wrote that she and her family had been the target of harassment and death threats, and had been living in "various secure locales" since Sept. 16. Responding to claims that she was came foward for political reasons, she wrote, "I am a fiercely independent person and I am no one's pawn."
"My motivation in coming forward was to provide the facts about how Mr. Kavanaugh's actions have damaged my life, so that you can take that into serious consideration as you make your decision about how to proceed. It is not my responsibility to determine whether Mr. Kavanaugh deserves to sit on the Supreme Court. My responsibility is to tell the truth," Ford wrote.
Meanwhile, Deborah Ramirez, who attended Yale University with Kavanaugh in the 1980s, told the New Yorker in a piece published Sunday that Kavanaugh exposed his penis to her at a college dormitory party when he was 18 years old.

Ramirez's lawyers sent a letter to the FBI formally requesting an investigation into her allegations as part of Kavanaugh's background investigation Wednesday.

Her lawyers also sent an email to committee requesting an FBI investigation.
The letter also indicates that Ramirez is willing to cooperate with the committee, but that committee staff have refused to speak to her counsel. Instead, the letter states, staff has insisted Ramirez "provide her evidence," first.
"Respectfully, that demand misunderstands the process," attorney William Pittard wrote. "Ms. Ramirez has not conducted an investigation to gather materials that she now somehow can present, gift-wrapped, to the committee."
Iowa Senator Chuck Grassley, the Republican chair of the Senate Judiciary Committee, tweeted Wednesday afternoon that 20 committee investigators were speaking to witnesses and gathering evidence related to the allegations alongside federal law enforcement agents.
Kavanaugh has denied he sexually assaulted anyone. In his prepared testimony, which was released by the committee on Wednesday, Kavanaugh said he was not perfect in high school, and "drank beer with my friends, usually on weekends."
"In retrospect, I said and did things in high school that make me cringe now," he stated. "But that's not why we are here today. What I've been accused of is far more serious than juvenile misbehavior. I never did anything remotely resembling what Dr. Ford describes."
He also denied Ford's allegations "immediately, unequivocally, and categorically," adding that he has never sexually assaulted anyone.
"The allegation of misconduct is completely inconsistent with the rest of my
life," he said. "The record of my life, from my days in grade school through the present day, shows that I have always promoted the equality and dignity of women."

Kavanaugh's representatives previously said he has 1982 calendars from his time in high school that don't mention the party in question, and those calendars are now public.

The entries depict an activity-filled summer of camp, beach trips, hangouts with friends, and parties.
The calendar includes mundane details, such as doctors appointments, workout sessions, haircuts, and when he was grounded, as well as outings with friends to watch Rocky III and a trip to New York with his mom and dad.
The calendar lists a few parties that summer, including a "Holy Child" party on May 1, one on May 22 where he wrote "Timmy's party beach," another on June 25, "Go to party at boathouse with JC, Squi + Donny," as well as "Anne Dougherty's Party" on July 4.
Ford has said that she doesn't remember the specific date and location of the party where the alleged assault occurred, but that she believes it was in the summer of 1982 and that she was wearing a swimsuit underneath clothes.
Kavanaugh's lawyers argued that the calendar does not show a party consistent with what Ford described, according to the New York Times, adding that the entries don't disprove her allegations as there may have been a party Kavanaugh didn't write down.
In the affidavits released by Ford on Wednesday, each individual recounts when and where they were when Ford disclosed that she had been allegedly sexually assaulted by Kavanaugh.

Russell Ford, the professor's husband, said that details of the alleged assault first surfaced during a couples therapy session in 2012.
"She said that in high school she had been trapped in a room and physically restrained by one boy who was molesting her while another boy watched," Russell Ford wrote. "She said she was eventually able to escape before she was raped, but that the experience was very traumatic because she felt like she had no control and was physically dominated."
He later stated that his wife identified the alleged assailant as Brett Kavanaugh, adding that he remembers her saying "he was a successful lawyer who had grown up in Christine's home town, and that he was well-known in the Washington, DC community."
Her husband went on to say that Ford was very conflicted about whether to share her story publicly, but that "in the end, she believed her civic duty required her to speak out."
Keith Koegler, a close friend of Ford and her husband, also submitted a sworn affidavit saying he first learned of the alleged sexual assault in the summer of 2016.

While discussing the case of Brock Turner, the former Stanford student who was convicted of sexually assaulting a woman behind a dumpster in 2015 and was later sentenced by a judge to six months in jail, Koegler said Ford told him she was assaulted in high school by a man who was now a federal judge in Washington, DC.
The subject was brought up again in June, after Justice Anthony Kennedy announced his retirement from the Supreme Court.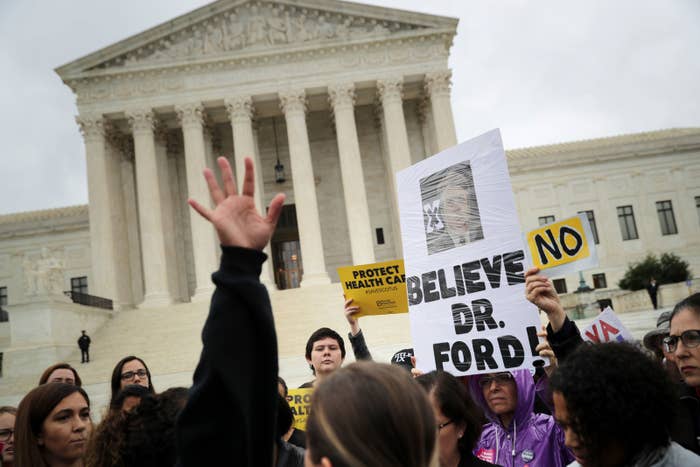 On June 29, Koegler said Ford sent him an email saying the person who assaulted her in high school was the president's "favorite for SCOTUS."
"I remember you telling me about him, but don't remember his name. Do you mind telling me so I can read about him," Koegler said he responded.
"Brett Kavanaugh," Ford replied, according to the affidavit.
Rebecca White, a friend of Ford's who is also her neighbor, said that Ford first told her about the alleged assault in 2017, after she read a social media post White wrote detailing her own experience with sexual assault.
"I was walking my dog and Christine was outside of her house," she wrote. "I stopped to speak with her. ... She then told me that when she was a young teen, she had been sexually assaulted by an older teen. I remember her saying that her assailant was now a federal judge."
Another longtime friend of Ford's, Adela Gildo-Mazzon, submitted an affidavit saying Ford told her about the alleged assault in June 2013 at a restaurant in Mountain View, California.
Gildo-Mazzon says she has a receipt from the restaurant for that day.
A sex crimes prosecutor from Arizona, Rachel Mitchell, will ask Ford questions on behalf of Republicans at Thursday's hearing. Mitchell is on leave as chief of the special victims division in the Maricopa County Attorney's Office and has decades of experience as a prosecutor.

Meanwhile, President Trump — who has called Ford's allegations a fabrication — said at the United Nations on Wednesday that he would have preferred if Kavanaugh had been voted into office last week so that people "wouldn't be talking about" the sexual assault allegations against him.
He added that Republicans "could not be more respectful to the woman."
Trump went on to call Kavanaugh — who has been accused of sexual impropriety by three women — "a gem. He's an absolute gem."
CORRECTION
Rachel Mitchell's name was misspelled in an earlier version of this post.