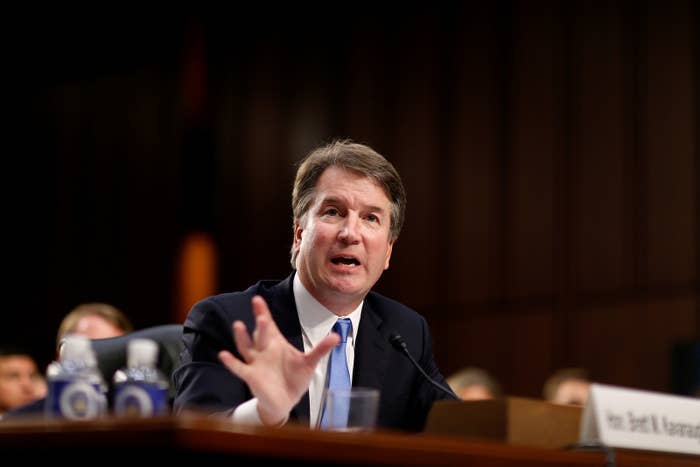 President Donald Trump said Monday he stood behind Supreme Court nominee Brett Kavanaugh "all the way," hours after a second woman came forward to allege he engaged in sexual misconduct.
Trump continued to cast doubt on the women who have made the claims against Kavanaugh, calling their stories "totally political."

"These are highly unsubstantiated statements from people represented by lawyers. You should look into the lawyers doing the representation. Judge Kavanaugh is an outstanding person," Trump said, adding, "there is a chance this could be one of the single most unfair, unjust things that to happen to a candidate for anything but I am with Judge Kavanaugh and I look forward to a vote."
He also referenced Kavanaugh's accusers coming "out of the woodwork from" decades ago.
Earlier Monday the White House launched an attack to discredit the second woman who accused Kavanaugh of exposing himself to her in the 1980s.
The White House's bullet-point press release was in response to Deborah Ramirez, who attended Yale University with Kavanaugh in the 1980s, telling the New Yorker in a piece published Sunday that the then-18-year-old Kavanaugh exposed his penis to her at a college dormitory party.
Ramirez told the New Yorker that she was drunk at the time, on the floor, and slurring her words. She recalls someone putting his penis in her face, which she pushed away. Students were laughing, she said, and she claimed she remembered Kavanaugh pulling up his pants.
In a statement, Kavanaugh denied Ramirez's allegation, saying "this is a smear, plain and simple."
In a letter sent Monday to Sen. Dianne Feinstein, the ranking Democrat on the Judiciary Committee, and Chuck Grassley, the Republican chair of the committee, Kavanaugh once again "categorically and unequivocally" denied the allegations.

"I will not be intimidated into withdrawing from this process," Kavanaugh wrote. "The coordinated effort to destroy my good name will not drive me out. The vile threats of violence against my family will not drive me out. The last minute character assassination will not succeed."

Titled "What You Need To Know About The Allegations Made In The New Yorker Article on Judge Brett Kavanaugh," the White House's response took aim at the accuser's memory gaps and reluctance to come forward while blasting the New Yorker for not having independently confirmed Kavanaugh was at the party in question.
The New Yorker reported that Ramirez hesitated to come forward because of the haps in her memory, but that she and her attorney now believe her recollections should be investigated by the FBI.

The White House is now using the Ramirez's own statements about the alleged incident to question her validity.
"It took six days of 'assessing her memories' for Ramirez to say she recalled Kavanaugh committing the alleged incident, and that came only after consulting with an attorney provided by the Democrats," the White House wrote.
The White House also tried to discredit the New Yorker by saying the magazine never confirmed that Kavanaugh was at the party in question and used a quote given to the magazine from classmates disputing Ramirez's account to further its point.
The Senate Judiciary Committee is set to hear testimony from Kavanaugh and Christine Blasey Ford on Thursday. Ford, now a professor at Palo Alto University, has said Kavanaugh attempted to rape her at a high school party when he was 17 and she was 15.
In a letter sent to Chairman Grassley on Sept. 22, Ford wrote that her decision to come forward "was a very difficult one, but I felt that this was something that a citizen couldn't NOT do."
"Kavanaugh's actions, while many years ago, were serious and have had a lasting impact on my life. I thought that knowledge of his actions could be useful for you and those in charge of choosing among the various candidates," she wrote.
Ford went on to say that even though she is frightened from receiving death threats, being followed while driving, and having to temporarily relocate her family, "my fear will not hold me back from testifying and you will be provided with answers to all of your questions."
Grassley replied to Ford's letter on Monday, writing that he was committed to "fair and respectful treatment."
"The arrangements made to re-open and continue the confirmation hearing on
Thursday will allow you to testify and also will allow the nominee to address the allegations made against him," he continued. "Both of you deserve a credible and fair process in a secure and professional setting."
On Sunday night Grassley's office also reached out to Ramirez, the second Kavanagh accuser, to inquire if she wanted to submit anything to the committee, but has not received a response.

Jane Mayer, one of the reporters of the New Yorker piece, told CBS Monday that Yale classmates had been talking about this alleged incident for weeks.
"There'd been an email chain of Yale classmates of Kavanaugh talking about 'will this thing come out' long before Christine Blasey Ford came forward. We felt the public ought to know about this," Mayer said.
Trump has previously defended Kavanaugh as an "outstanding person," and questioned why Ford did not report the incident to law enforcement 36 years ago and blamed the "radical left" for wanting to "destroy and delay" Kavanaugh's confirmation.
Hours after Trump's comments on Monday, unnamed Maryland investigators told the Montgomery County Sentinel that authorities are looking into a new allegation against Kavanaugh. But the Montgomery County Police swiftly issued a statement saying they have not received a request by an alleged victim to initiate a police report.

The police said they are ready to initiate an investigation if they receive a report of sexual assault.
"The Department recognizes that victims of sexual assault may not want to involve law enforcement and/or initiate a criminal investigation, and we respect that position," the statement reads. "The Department, however, stands prepared to assist anyone who reports being the victim of a sexual assault."
Reached by phone before that statement was issued, a Montgomery County Police spokesperson told BuzzFeed News the department is trying to confirm the news report.
Meanwhile, attorney Michael Avenatti — a vocal critic of the Trump administration — tweeted Sunday that he has "credible information" related to Kavanaugh from another woman, though he hasn't made public any of that alleged evidence.

On Monday, Avenatti shared an email he sent to the Chief Counsel for Nominations for the U.S. Senate Judiciary Committee, asking for an FBI investigation into his client's allegations.
Avenatti wrote in his email that his client is prepared to meet with the FBI, disclose witnesses to Kavanaugh's alleged conduct, and to take a polygraph test.
Avenatti told BuzzFeed News he plans on releasing additional information and evidence in the next 48 hours.
"We don't traffic in nonsense and rumor, we traffic in facts and evidence," he said in an email to BuzzFeed News.
The Republican chair of the Senate Judiciary Committee, senator Chuck Grassley, did not immediately respond to a request for comment Monday.
BuzzFeed News reporter Paul McLeod contributed to this report.